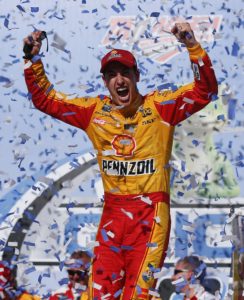 The last time Joey Logano earned a trip to Victory Lane was more than a year ago at Richmond, Va. He's come close, finished well and earned points, but missed capturing the checkered flag. That ended Sunday.
At the end of the GEICO 500 at Talladega Superspeedway, after the long-awaited "Big One" crash, Logano was out front, fending off Kurt Busch as he crossed the finish line.
"I'm so glad to get this (No. 22 Ford) back in Victory Lane," an effusive Logan said.
"There's no feeling like this," he said. "It's been quite the weekend. It's been a long time coming."
Despite a year without a win, Logano said he had confidence in his ability to earn a trophy. "I knew a win was right around the corner," he said.
Still, he wasn't taking Sunday's victory for granted. "It feels so good – I don't have to worry about the whole playoff thing!"
Winners during regular season are assured a slot in the playoffs that run concurrently with the final 10 races of the year.
Busch was stoic in his disappointment.
"I felt like I needed something different," he said. He had hoped to drive near Bakersfiled native Kevin Harvick and Ricky Stenhouse Jr., then use those drivers for the push he would need to get past Logano.
"It didn't quite materialize," he said. "I got outfoxed."
The loss "is a shame," he said. "This was one of the best Fords I've ever had. We were there. I thought we could make a move in the end."
Chase Elliott passed Harvick to finish third; Harvick settled for fourth, followed by Stenhouse, David Ragan, Aric Almirola, Alex Bowman, Ryan Newman and David Suarez for the top 10.
Of other California drivers, El Cajon's Jimmie Johnson was 12th; Grass Balley's Matt DiBenedetto was 19th; Alpine's Cole Whitt was 21st, Los Gatos native A.J. Allmendinger was 34th; and Elk Grove native Kyle Larson was 40th.
Talladega, in Alabama, is a restrictor-plate track, as is Daytona International Speedway, with cars equipped with the plates that force reduced speeds.
And it is specifically a track that is known for unusual happenings. Some have said the track is cursed, blaming either its construction on a Native American burial ground – a claim that so far has not been documented – or that a tribal chief died in a horse race on the spot.
In 1969, just four years after the track opened, driver Bobby Isaac was racing until a voice told him to pull over and park. He did just that, ending his full-time career.
Another year, driving teams arrived at Talladega to find their cars had sugar in their tanks, and brake lines and tires had been slashed.
Bobby Allison's car went airborne in 1987, and nearly went into the grandstands. Six years later, his son, driver Davey Allison, crashed and died while landing his helicopter on the infield.
This year, it seemed as if the track was having a charmed race, with just a few laps run under caution, for individual mishaps, the race's first two stages' completions and once for debris on the front stretch.
Fans, who had bought tickets so early the race had been sold out for weeks, focused instead on multiple lead changes as drivers sought to improve position.
Among those who had a turn leading the pack was William Byron, the 20-year-old college student who drives Hendrick Motorsports' No. 24 Chevrolet that once was piloted by Vallejo native Jeff Gordon. He was out front 14 laps
DiBenedetto also got his turn to lead for 6 laps, and Allmendinger led for 2 trips around the track.
But 23 laps from the finish more than a dozen drivers got caught up in the long-anticipated "big one," a crash that involves much of the field. This one snared more than a dozen cars. Allmendinger's car was pushed by hand off the track; others were towed. A few, including Johnson's, resumed racing after the caution ended.
Johnson's car suddenly turned toward the inside, possibly because aerodynamics were affected by a wind crossing the track in that area. He collided with Byron, and the pileups started collecting other cars.
Spotters worked furiously to guide their drivers through to open spaces. "Stop – stop – stop! Low, low low," Martin Truex Jr. heard through his earphones, while Allmendinger's spotter kept uring, "Go! Go! Go!" until his driver got hit.
Kurt Busch's brother, Kyle, went down the track sideways, and other drivers managed to slip through the metallic carnage, although some were blinded temporarily by clouds of dirt thrown up in the crashes.
No driver was hurt, although many were examined in the track's care center while their cars were taken to their garages – or straight to the hauling trailers.
"I got track position back on the restart." That came after Timmy Hill caused a caution when his car experienced equipment failure with 34 laps left in the race.
"Bummer," Brad Keselowski said.
Clint Bowyer said he had locked the right rear wheel of his car and had revisited pit road, and had to work hard to get his lost lap back. "Then we wrecked," he said, calling Sunday's contast "a weird race."
Paul Menard said he, too, hit Byron's car. "We all came together right there." He said he got caught up in the wreck after he "ran out of real estate."
Denny Hamlin had a speedy car and led four laps, but finished 14th after earning multiple penalties for speeding on pit road, including one for speeding while serving a penalty.
Logano had been a challenger throughout the race, second to Keselowski at the conclusion of the first state and to Menard, who won the second stage.
He also had taken turns leading, grabbing it for good on Lap 138, except through cycles of green-flag pit stops. He kept that lead to the end despite challenges from racers driving two or three wide as the laps wound down and that "big one" piling up behind.
Logano's win ended Kyle Busch's quest for the moment for four wins in a row.
Drivers next head to Dover, Del., for the AAA 400 Drive for Autism at Dover International Speedway. Broadcast on Fox Sports One starts at 11 a.m. Pacific time Sunday, May 6.