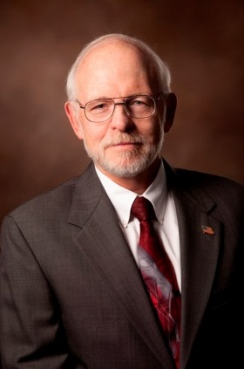 Martinez City Manager Brad Kilger has announced he will retire in January 2019.
In a statement released Friday, Kilger said Jan. 1, 2019, would be mark his 40th year in public service. He has been Martinez's city manager since June 2016, and prior to that, he was the city manager in Benicia, Ceres and Yucca Valley.
He also has brought his experience as community and economic development director for Modesto, Murrieta and Apple Valley; planning director for the city of San Bernardino; and deputy planning director for San Bernardino County.
"The nature of a city manager's job requires that you are on duty 24/7," Kilger said in the statement. "I have spent most of my career away from my family, and after discussing it with my wife, we decided it was time."
Councilmember Noralea Gipner regretted the city was losing Kilger.
"I'm very sad about Brad leaving. He's helped me a lot," Gipner said.  When she was elected to the panel two years ago, he supplied her with reading material to bring her up to speed.
Explaining that she has plenty of passion for her work on the Council, she said, "He understands me…. I'm going to miss that."
Gipner continued, "I want to make sure with all the studies he's done that we follow through on this." She also said the Council needs to make sure Kilger's successor is as well-qualified and ready to move forward on city projects.
By announcing his retirement this early, he said, the Martinez City Council will have time to recruit and hire a new city manager, which he said could take six or seven months to complete.
"I wanted to make sure there would be smooth transition to the next Martinez city manager, something that has not happened in Martinez in almost a decade," he said.
In addition, several important city projects and organizational changes are underway that would need attention. "I want to minimize the impact of transitioning to a new city manager," he said.
Since he was hired two years ago, Kilger, the city's staff and the Council have tackled multiple "difficult issues." Among them was the change in Council elections from at-large to district voting, which will affect this year's races for the seats currently held by Vice Mayor Lara DeLaney and Councilmember Debbie McKillop.
Of those on the panel, only the mayor, currently Rob Schroder whose position also is up for election, remains chosen city-wide.
The city was accused last year by Malibu attorney Kevin Shenkman of violating the California Voting Rights Act through at-large Council elections, because that approach interfered with minorities and other protected groups, especially Latinos and Hispanics, electing their preferred candidates.
City officials vigorously disagreed, denying the accusations. But no city has successfully fought Shenkman's accusations, and those failed battles have been costly.
Kilger, city staff and consultants crafted Council districts according to the Council's preferred design, and the new election system was put in place during the short time Martinez was protected by law from Shenkman's threatened lawsuit.   
In the 2016 election the Council rushed to put a road repair and maintenance half-cent sales tax before voters who enthusiastically passed the ballot measure. They may decide whether to tax themselves another half-cent this November, with the revenues to be used on a variety of city expenses, including police salaries.
During Kilger's time here, Martinez and Contra Costa County have had lengthy discussions not only to keep the county's administration offices in the city's downtown but to have the current towering building replaced by a streamlined four-story structure with additional parking.  
Kilger also has been here for the dissolution of the Martinez-Pleasant Hill Joint Facilities Agency, the city's lease with the Martinez Clippers baseball club, continuing homelessness issues, as well as labor, staffing and budget matters.
"My job was to make sure that it was handled, regardless of other pressing issues that needed to be dealt with," he said. "I credit the Council with making the decision to hire an experienced city manager, whether it was me or someone else. The average person does not understand how complicated it is to run a city, regardless of the size.
"Of course, the credit for our successes must go to the excellent and talented staff that I was very fortunate to have working for me: Mike Chandler, Anne Cardwell, Christina Ratcliffe, Rica Guidry, Bob Cellini, Tim Tucker and others, who never said, 'It couldn't be done,'" Kilger said.
"Actually, I was amazed at what we were able to accomplish in such short timeframes and under very hectic, politically charged environments. We also received excellent advice and assistance from our city attorneys, Walter-Pistole."
Under Kilger's guidance and with Council authorization, the city has examined how it is organized. Besides moving toward greater efficiency through technology, the city is making changes to bolster its Community and Economic Development Department and is looking at ways to adjust its Public Works Department to assure citizens' services aren't interrupted.
"Step by step over the last two years, the improvements I have sought, the Council has supported," he said.
But the job isn't over yet.
"Keep in mind, I'm around for another six months, so I am not ready to list my final accomplishments and ride off into the sunset," Kilger said.
In fact, the city manager has a full plate – completion of the General Plan update, the water rate study, the Fiscal Year 2017-18 budget audit, several major capital improvement projects and the dissolution of the Joint Facilities Agency through negotiations with the California Public Employees Retirement Service, Internal Revenue Service and Social Security.
Also on his "to-do list" are initiation of the State Trust Land Use Plan for the Martinez Marina; installation of the Finance Budget module; expansion of the Martinez Coordinated Outreach, Referral, Engagement (C.O.R.E.) program to build trust with the homeless population and encourage them to use available programs that could lead them to permanent housing; adoption of the city's cannabis program ordinance; complete the re-use of the former Southern Pacific Railroad Depot; and the purchase the remaining portion of Parking Lot 4, converting it to parking and finding places for former tenants to lease.
Before he retires, Kilger also wants to complete negotiations for the purchase the Alhambra Highlands subdivision, which is authorized for development but its owners have opened the door to preserving that acreage as open space.
Additional zoning code changes are needed,  the city's housing program needs provisions for accessory dwelling units, often called "granny flats" or mother-in-law apartments; a Project Labor Agreement (PLA) needs to be drafted and presented to the City Council, and the recommendations from the city's organization scan and Public Works assessment need to be put in place, he said.
So Kilger will be kept busy before he hangs up his hat.
He was the Council's selection after a review of more than 40 applicants that came from a nationwide search. When Kilger's appointment was made, Schroder said the new city manager would bring the "perfect blend" of professional experience and creative leadership.
The Council specifically sought an experienced city manager whose strengths included project management, who could look at how the city is organized and see where staff training and development would enhance and strengthen its operation.
Shortly after his arrival, Kilger had the city's operations assessed. That showed a need to invest in new technologies, staff development and succession planning, especially since some of the department heads also are nearing retirement age.
That analysis also showed Martinez needs to implement state regulatory requirements consistently, to improve its management practices and to fill key vacant staff positions.
Based on the assessment report and Kilger's recommendations, the Council took several actions, including updating its strategic plan, vision mission and goals; hiring key personnel especially in the area of economic development; crafting long-term fiscal forecasts and seeking additional revenue approaches; changing the city's organization to focus limited resources on the Council's and the community's top priorities; and purchasing the technologies Martinez needs to keep a better eye on city finances.
Kilger said the changes clearly were needed, especially to give hard-working city employees "better tools and modern processes put in place if they are going to be able to continue to provide the level of public service that citizens of Martinez expect in a cost-effective manner."
He is a member of the International City/County Management Association, the California City Manager's Foundation and the American Institute of Certified Planners, and is the former president of the League of California Cities City Manager's Department.
Besides the city's organizational changes, Kilger said he's also proud of the way Martinez has revitalized its economic development program.
"The foundation is there," he said. "The last remaining pieces in Planning were recently put in place, so once the last remaining positions are filled, I expect a lot from them in the coming year."