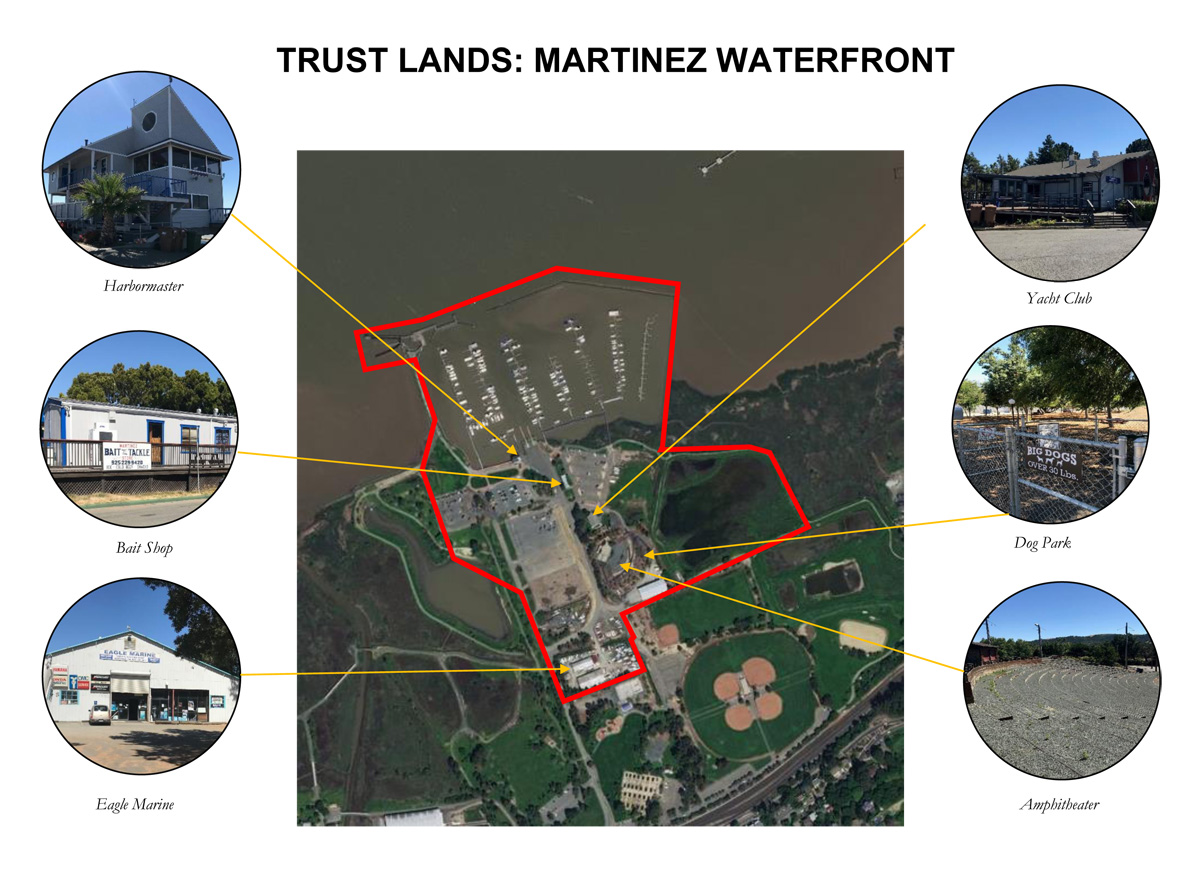 MARTINEZ, Calif. – Tonight there is a community workshop/meeting to find out what the public would like to have or do at the Marina. The City must create a Martinez Trust Lands Use Plan (TLUP) for 68-acres contiguous to the waterfront and submerged lands.
Parcels of land in that area are owned by East Bay Regional Parks, some belong the City, and some are railroad land. This piece is held in trust by the City of Martinez.
The Harbormaster building, Bait Shop, Yacht Club, dog park, amphitheater, Sea Scouts clubhouse and a large parking lot are among the present users.
Everyone interested in the future of this area is asked to share opinions and ideas with city officials either by speaking at the meeting or sending an email or letter to City Planner Margaret Kavanaugh-Lynch. She said those emails and letters will be become part of the public record and be considered, as part of the planning process.
This is an urgent matter for two reasons: the five-year state deadline for the submission of a plan is approaching, and the Trust Lands Use Plan will be a foundational document for work on the Waterfront-Marina Master Plan in Jan. 2020, according to Kavanaugh-Lynch.
The Waterfront-Marina Master Plan involves a much larger area, and she described that planning process as "very robust…with more outreach."
The meeting tonight will be about the TLUP property only and is the first step in that larger plan.
Basically, State guidelines do not allow any housing and require the site to be publicly accessible for recreational uses. Also, planners for the TLUP need to take a look at how they propose to make it viable.
City planners will blend the public's thoughts with stakeholder input, California State requirements, physical characteristics of the site, and the likelihood of economic viability of various combinations.
"Christine O'Rourke (City Consultant) is already interviewing stakeholders," Kavanaugh-Lynch commented.
The best and most feasible plan proposal will be presented at a Second Public Workshop, Aug. 20, for public feedback. There could be staff adjustments related to feedback, then the Planning Commission is expected to review it and make recommendations at the Sept. 10 meeting. A draft of the TLUP will be completed for public review. The draft plan will be reviewed by the City's Parks, Recreation, Marina and Cultural Commission, and go to City Council in the fall.
It is possible the Martinez Shoreline Joint Planning Agency could have an interest in the plan. Mayor Rob Schroder represents the city with that agency which includes East Bay Regional Parks.
A map and schedule of the process and meeting dates is available on the city website.