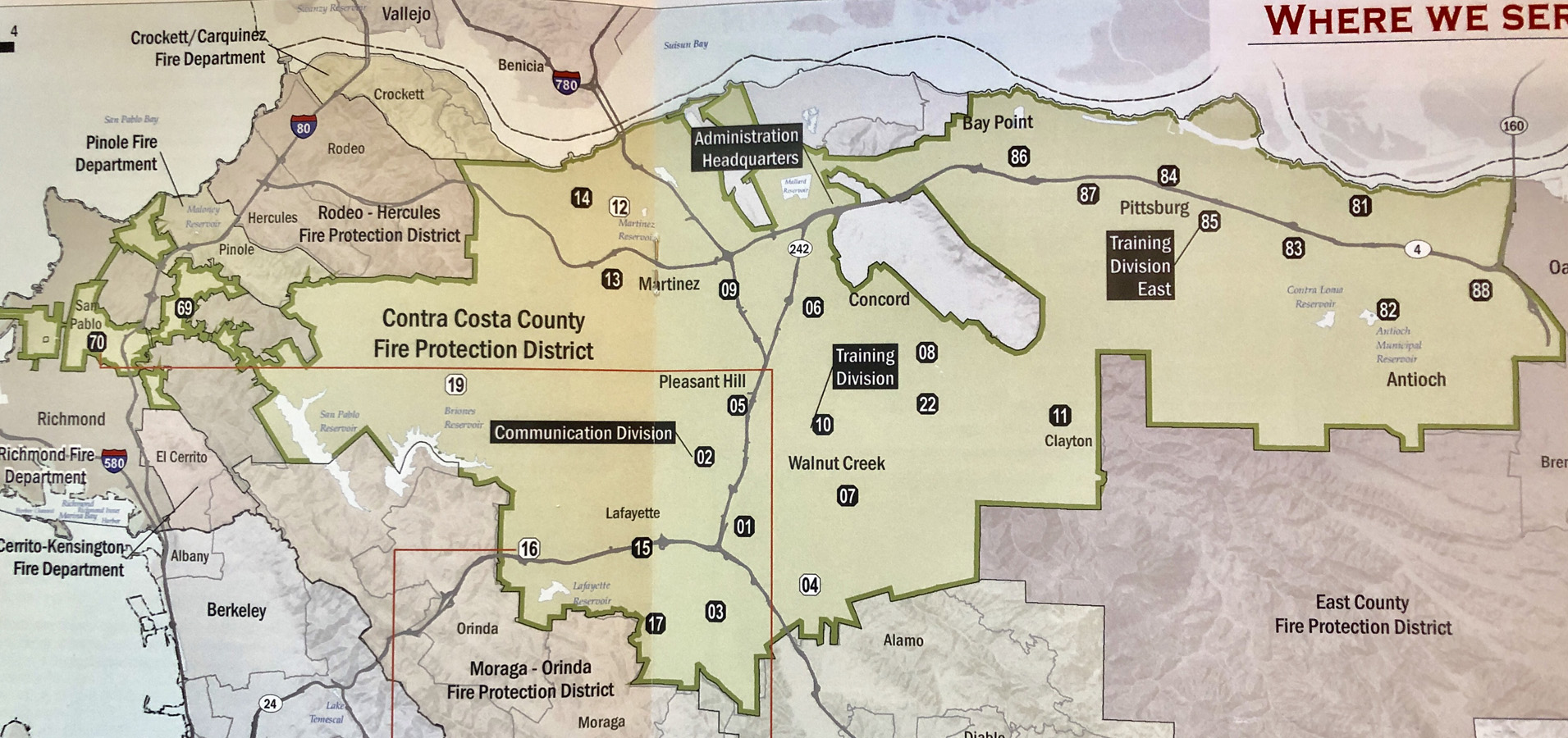 MARTINEZ, Calif. – The City Council praised Contra Costa County Deputy Fire Chief Lewis T. Broschard III for his comprehensive report on fire danger in Martinez and big changes at the Contra Costa County Fire Protection District (Con Fire).
Broschard said he was relieved to find the western hills of Martinez had been mowed recently. He had been watching them with concern because the highest danger is where urban-wildland interfaces with developed property and the Highway 4 hills area has a history of grass fires.
Using a map labeled "It Could Happen Here," Broschard warned homeowners in those and similar areas to plan and prepare for evacuation, as well as making their own property as fire-safe as possible.
He noted that the community profile of densely populated areas near significant vegetation and hilly terrain is similar to that of Napa and Sonoma counties where the devastating occurred in 2018.
The length of the "fire season," when residents should be mindful, can vary. "It is usually September and October, but it went to November last year," he remarked. "The FIRST first responder is the citizen who prepares in advance." Getting to know your neighbors and working together makes a difference.
Con Fire responded to 354 vegetation fires, 696 structure fires, and 1,859 other fires in 2018.
Broschard, who was the Con Fire representative to Martinez prior to becoming Deputy Chief received a warm welcome from the Council. There have been organizational changes of the leadership structure and the consolidation and relocation of all administrative functions into a single up to date facility in North Concord since his last talk to the council.
He described how the District has been expanding. Last year it averaged two calls a day. The same or more is expected this year and firefighters expect a 25 percent year-over-year increase in mutual aid requests, according to his comments.
In 2018, Con Fire personnel responded to multiple strike team task force requests for major fires in California, and as part of FEMA Urban Search and Rescue Task Force 4, responded for hurricanes and flooding across the Southern United States.
Since 2018, work at Lafayette fire station has been completed, Engine 16 has been re-staffed there, work on the San Pablo station has begun, Con Fire began providing firefighters to hazardous materials incidents, hired 36 firefighters, added more dispatchers and there are plans for work at fire stations in Pacheco and Bay Point. Broschard said there are seven dispatchers to answer calls now.
According to the presentation, the majority of calls are for emergency medical service requests. Fire trucks have made those calls in the past, but now Con Fire is contracted to provide almost all of the ambulance services in the county. (A few jurisdictions provide their own, Moraga-Orinda, San Ramon Valley, for example.)
Last year, there were a total of 74,822 reported Con Fire incidents. Broschard said only about 15,000 were Non-EMS. The service is provided using a combination of Con Fire paramedics on fire engines, trucks, and other apparatus, as well as through ambulance services.
Steve Hill, Con Fire public information officer later explained, "In EMS, the number one priority is response time, especially for cardiac and stroke events where time is of the essence. So we often dispatch both a fire apparatus and an ambulance to ensure we arrive on the scene as soon as possible."
Last year Con Fire dispatched some 90,000 ambulances on nearly 75,000 EMS calls, in addition to the nearly 15,000 non-EMS responses, according to Hill.
Not included in those figures are more than 2,000 vehicle accident responses, 704 rescues and 4,659 incidents in a category called "Other".
Mayor Rob Schroder said a similar topic came up at the recent Mayor's Conference, and he is going to invite PG&E to make a similar update presentation to the Martinez City council.
Con Fire has produced a plethora of materials with instructions on how to prepare for fires and other major disasters, such as an earthquake, and an informative 2018 Annual Report. Most of them are available at www.cccfpd.org or by request at Contra Costa County Fire Protection District, 4005 Port Chicago Highway, Suite 250 Concord, CA 94520-1180, Phone : (925) 941-3300.