(Concord Police Dept. press release) – On Saturday, several callers reported a black SUV driving recklessly while exiting southbound HWY 242 at Solano Way and Grant St. The left front tire completely came off of wheel, but that didn't stop the suspect from continuing to drive while dwindling down the rim.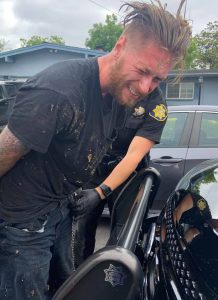 Once the SUV reached the city streets of Concord it came to its resting point on the center median. The suspect frantically exited, but not before grabbing a backpack and a few boxes of tools . He then ran into a nearby neighborhood where several callers witnessed him jumping fences into various backyards.
At this point, our Dispatch received information from Martinez PD that the SUV was involved in a hit-and-run collision in their city after the driver stole tools from the Martinez Home Depot. Minutes later, Concord Dispatch got a call from a Concord resident wanting to report their SUV stolen. Turns out, the license plate number provided by the registered owner matched the one that the suspect used in his crime spree.
While Concord Officers were searching the area, another caller reported seeing the suspect jumping fences. Officers arrived at the address within seconds and found the suspect, who continued on his path of poor decisions, and ran. Officers gave chase and after a brief foot pursuit were able to apprehend the suspect without incident. Additionally, the suspect attempted to discard a backpack he was carrying while running, which was discovered to contain the stolen tools from Martinez.
The suspect in this case was identified as 24-year-old Martinez resident, Antonio Neely. A records check revealed he is on felony probation for robbery and evading police. For his actions, Concord PD placed Neely under arrest for a surfeit of criminal violations and provided him with a ride to County Jail.
In 2015, Neely was charged with three count of auto theft during a 30-day period. During August 2015 he was also charged with two counts of burglary and possession of stolen property. During the summer of 2015 Neely ws arrested eight times by MPD. His rap sheet of alleged crimes includes counts of Possession of Stolen Property, Possession of Controlled Substance, Trespass, Auto Burglary, Identity Theft, Battery on Peace Officer and Petty Theft.