By COURTNEY MASELLA-O'BRIEN
Contributor
The Martinez Community Swim Team (MCST) had a busy and successful start to its season, winning both of its meets at home over the weekend. The team's first dual meet of the season was Saturday June 9, 2018 at Rankin Aquatic Center against the American Canyon Ahi.
MCST won the meet with a combined score of 355. The Ahi scored 248 points.
MCST's annual 8 and Under Invitational was held on Sunday June 10, 2018 at Rankin.
MCST won the meet with a combined team score of 1,054 points. Oakwood Athletic Club placed second with 634.5 points and LMYA Dolphins third with 529.5 points.
On Saturday, Martinez 15-year-old Sydney Bower tied with two American Canyon swimmers to achieve first place for the girls, each earning 15 points. Bower placed first in the 100 yard freestyle, 100 yard butterfly, and 100 yard backstroke.
Ana Rubio, age 16, took fifth place overall, earning 11 points for Martinez. She won the 100 yard IM for the 15-18 girls with a time of 1:14.03.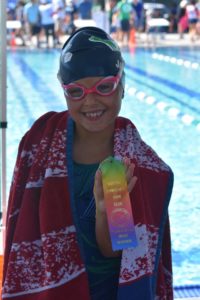 Tatum Cue, age 13, and Casey Concepcion, age 14, tied with Ahi swimmer Mari Yanez-Regalado for seventh place, all earning 10 points for their teams. Layna Panaguiton, age 12, tied with an Ahi swimmer for tenth place, earning 9 points. There was a four way tie for twelfth place: Briar Cue, age 9, Bella Wilhite, age 8, Jaiden Pastor, age 6, all of Martinez, and Alejandra Valladares of American Canyon, age 11. All earned 8 points for their teams.
For the boys, Martinez swimmers Max Keifer, age 14, and Jackson Barnacle, age 13, tied with American Canyon swimmer Joshua Mora, age 16, for second place for the boys, all earning 13 points for their teams.
MCST's Del Roderick, age 15, tied with Ahi Sebastian Contreras-Vigil for fifth place, earning 10 points. Three MCST swimmers came in seventh: Shawn Keifer, age 10, Duke Zak, age 7, and Chandler Kent, age 8.
Four MCST swimmers earned tenth place for the boys: Finn Morabe, 15, Isaac Madrigal, 10, Sam Benz, 14, and Kyle Takamoto, 12. Each earned 9 points.
MCST's Noah Gutierrez, age 10, and Max Schulze, age 9, tied for fourteenth place and earned 8 points each for their team. Del Roderick, Max Schulze, Duke Zak, and Max Keifer each won the 100 yard IM for their respective age groups.
Jaiden Pastor of MCST placed third overall for the girls at the 8 and Under Invitational on Sunday.
Pastor, only six years old, earned a whopping 60 points, placing first in freestyle, butterfly, and backstroke.
Bella Wilhite, age 8 of MCST, took seventh place, earning an impressive 56 points. Wilhite placed third in backstroke, seventh in butterfly, fifth in breaststroke, and fifth in freestyle.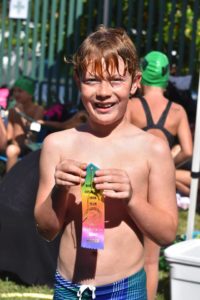 Martinez swimmers also took tenth through fourteenth place with six year old Claire Padilla coming in tenth with 48 points, six year old Paige Russey coming in eleventh with 47 points, eight year old Ava Hansen placing twelfth with 46 points, Rachel Delgado, 6, placing thirteenth with 42 points, and tying for fourteenth place, Maeve Mullen and Hailey Trim, each six years old and earning 36 points.
For the boys, taking third and fourth place were MCST's Carter Burns, age 6, and Hunter Burns, age 8, with a magnificent 61 and 60 points respectively.
Carter achieved pop times in all four strokes, improving his time in 25 yard butterfly by over 5 seconds. MCST six year old Oliver Cutting came in eighth overall for the boys with 42 points and Martinez swimmers Logan Moschell, age 6, Chandler Kent, age 8, and Isaac Le, age 6, tied for thirteenth place with 38 points each.
Check out www.gototters.org for a complete schedule for the season.