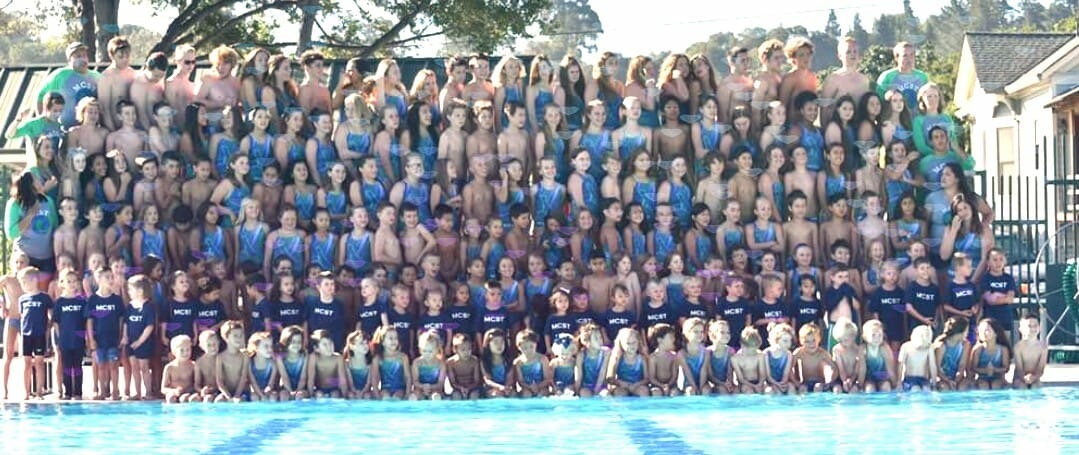 By Courtney Masella-O'Brien
Special to the Gazette
On June 13, 2018 the Martinez Community Swim Team (MCST) Otters had their first away meet of the season at Gehringer Park in Concord. It was a close meet with excellent swims by both teams. The final combined team scores were MCST 328, Gehringer Park (GPST) swim team 292. The girls' team scores were incredibly close: MCST 162, and GPST 152. The boys' scores were also close: MCST 176 and GPST 130.
For the boys, four Martinez swimmers tied for fifth place overall: Carter Burns, age 6, Jack Keifer, age 13, Del Roderick, age 15, and Jackson Barnacal, age 13. All earned 10 points each for MCST.
Jackson Barnacal earned a county meet qualifying time in the 50-yard freestyle, finishing in 25.71. Hunter Burns, age 8, earned a county time in the 100-yard Individual Medley, finishing in 1:24.84. Del Roderick qualified for the county meet in the 100-yard butterfly, swimming it in 1:00.95.
Five Otters tied for tenth place, all earning 8 points each for MCST. They were Oliver Cutting, age 6, Noah Gutierrez, age 10, Max Keifer, age 14, Kyle Takamoto, age 12, and Max Schulze, age 9.
For the girls, five Martinez swimmers tied for eighth place, earning 10 points each for their team.
They were Sara Meadors, age 12, Ava Hansen, age 8, Layna Panaguiton, age 12, Bella Wilhite, age 8, and Tatum Cue, age 13. Jaiden Pastor, age 6, earned 8 points for MCST as did Frankie Schulze, age 12. Thirteen-year-old Sara Cutright, earned 6 points for the team.
The Otters visited Vista Diablo in Concord on Saturday June 16.
Among the top scorers for the Martinez boys were Logan Moschell, age 6, Liam Morabe, age 11, and Finn Morabe, age 15, who earned 8, 8 and 6 points respectively for the Otters. Louie Cevasco, age 14, also earned 6 points for MCST. Anderson Newell and Oliver Cutting, both age 6, each earned 5 points for the Otters. Noah Nevares, age 11, earned 4 points for Martinez.
Martinez's Logan Moschell and Austin Briley, both age 6, placed first and third in the boys' six and under 25-yard freestyle. Aydan Silveira placed third in the boys 50-yard freestyle in the 9-10 age group.
Aaron Tornero and Spencer Ryan placed third and fourth in the boys 11-12 age group. In the breaststroke, six-year-olds Isaac Le and Zander Smyth finished third and fourth in the 25-yard race. Jason Le, age 8, placed second in the 50-yard breaststroke. Shawn Keifer and Agi Montes, both age 10, placed first and second in the 9-10 age group. Kyle Takamoto and Noah Nevares placed third and fourth in their age group.
Fourteen-year-old Taylor Holland finished fifth in the 13-14-year-old category and Finn Morabe, Stefano Costa, 16, Brynn Crowley, 17, and Jake Spencer, 15, all finished in the top 5 in the 15-18 group.
Martinez star butterfly swimmers included James Volk, 8, Duke Zak, 7, Kirby Davoren, 10, Linel Tolentino, 11, Beau Cutright, 15, and Elam Bender, 16. In the backstroke, Owen Briley, 8, Gabriel Robinson, 7, and Ruadhan Melendez, 11, all finished among the top.
Several Martinez girls were among the top scorers at Vista Diablo. Casey Concepcion, age 14, earned 10 points, tying her team mates Sara Meadors and Bella Wilhite for second place overall. Anna Rubio, age 16, and Jenna Hekl, age 9, each earned 8 points for the Otters. Chiara Ke, age 11, and Mia Harbaugh, age 15, earned 8 points each for the Otters.
Six Martinez swimmers tied for 14th place, each earning 6 points for the team: Annette Cevasco, age 12, Jocie Yee, age 14, Rachel Delgado, age 6, Briar Cue, age 9, Dani Morrill, age 10, and Rosy Deilke, age 13.
Many of the Otter girls finished among the top in their age groups' freestyle races.
They included Grace Willis, 6, Libby Thomas, 6, Daphne Smyth, 8, Sadie Fuller, 8, Sierra Thompson, 10, Emma Kolb, 12, Isabelle Cooley, 11, Elva O'Brien, 11, Rilie Bennett, 13, Grace Barnacal, 14, Rowan Crowley, 13, and Payton Foxworthy, 15.
Top breaststrokers included Gabriel Duque de Estrada, 8, Gracie Belle Klein, 7, Millie Thomas, 8, Shasta Thompson, 7, Madeilein Melendez, 9, Tanner Lopez, 9, Lilli Harbaugh, 11, Kaitlyn Sterry, 12, Janelle Tria, 14, and Aspen Dexter, 13.
In the butterfly, Haley Trim, 6, Noelle Wilhite, 6, Kaylee Salazar, 10, Kendall Foxworthy, 11, and Sydney Bower, 15, finished among the top swimmers. Laila Diaz, 5, Gianna Smith, 8, Gianna Arias, 9, Vera Montes, 11, Jayen Ayers, 11, Chava Anderson, 14, and Hailey Greenwood, 14, were in the top of the pack in their age groups in the backstroke.
Up next for the Otters are meets at the Antioch Delta Skimmers on June 30 and hosting Bishop Estates at Rankin Aquatic Center on July 7. MCST will also be marching in the Martinez Fourth of July parade.
All photos by Staci Brunton Thompson