By BILL SHARKEY III
Martinez News-Gazette Columnist
TWO OBITUARIES this past week told us of the passing of two men in our town who were well-known and admired as they had spent lifetimes serving the community in different endeavors. One, Allan DeFraga, an attorney and civic leader in a prominent law firm; the other, "Tuti" Aiello, a craftsman, fisherman, merchant mariner. Both had many friends and interests in the community. Both helped make our community better.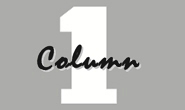 Many of our town's 'old timers' will remember Allan's parents, Harold DeFraga as our Mayor, and Muriel DeFraga, a popular school teacher here. Ann DeFraga, Allan's late wife, a Stanford graduate as was Allan, was a librarian in Orinda.
Allan and I had many good conversations over the years, sharing thoughts and ideas, mostly about what's doing in Martinez. Many were when we met in the aisles of Nob Hill Market and spent time as our groceries got warm or cool, whatever. Our backgrounds and civic endeavors provided for good conversations.
A number of years ago at SFO, while standing in a check-in line, a loud voice hollered, "Hey, Bill and Jeanne." A couple lines over were Allan and Ann, son Matt and Ann's mother. We learned quickly we both were going on a cruise in the Baltic on the same ship. Good!
Once aboard the ship in Tilbury, we waited for our luggage to arrive. A knock on the door meant the bags had arrived. I stepped out into the passageway as the door in the next cabin opened, and out walked Allan. About the same time, door on other side of our cabin opened, and out came Ann. Pleasant surprise for all. There had been no prior knowledge, different travel agents, etc. A great trip with Team Martinez winning trivia. Half way around the world from our favorite town. And, for a brief break in shipboard action, we watched O.J. Simpson's infamous pursuit in the white Bronco for miles.
A thought crossed my mind; this would not have been a 'fun' cruise if one was sneaking a trip with someone else's spouse. Two weeks not able to leave the cabin?!?
Oh, yes! On the same cruise, during intermission of a cultural event in St. Petersburg, three rows over in the theater were Bernice and Ernie Lasell, who were traveling on a different vessel. Small world?
OUTRAGE FATIGUE was a term used by Dan Rather during a discussion recently on CNN. He commented that the current situation in our nation is so chaotic that the citizenry is overwhelmed by the nearly-daily 'happenings'. There is no 'normal' now. Each day brings a new crisis to deal with, politically or emotionally, locally or nationally, brought about by the leadership in Washington, be it White House, Congress or Justice Department. The Supreme Court, too.
DIVISION is a key word in what is taking place in our great democracy today. Many 'sides' tearing apart others. Individuals lashing out at those who do not agree. Vitriolic comments made in current times which were not heard in our past. The terrible derogatory nasty name-calling by the Oval Office Occupant against anyone with whom he disagrees, including his cabinet members, staff or whomever.
THIS WEEK'S target for the wrath of the great negotiator is Harley Davidson, a shining star some months ago because they make their 'bikes' in the USA. Oh, Oh!! The ill-advised tariffs laid on products which will cause prices to rise, is causing manufacturers to think 'overseas'. Of course, in one announcement, Harley has become an ugly word, and doomed to failure., according to 'himself'. Could it be that the 'tariff guy' could have guessed wrong? Absolutely not. 'We are never wrong and do not admit fault.
CHILDREN caught up in the horrendous fiasco at our southern border are suffering terribly now, but for years to come most will be haunted by the memories of separation from parents and siblings. The immediate trauma for them and their parents is unbelievable. Worse than that. All those politicians and bureaucrats responsible for what is happening should be exposed to some trauma themselves, like lashes from an old-fashioned buggy whip? Where to start?
AS A PARENT, we can't imagine having one of our children taken away. We already know that there are concerns about not knowing where these youngsters are being held. What are the chances that they may end up in another family, by mistake of by design? Who knows what their needs are now…feeding, medications or special needs. Who knows who they are? "Hi, Little Girl. What is your mother's name?""It's Mommy." And so, the monstrous tragedy continues. What name will this event be known as in the future? This shameful national disgrace witnessed by the entire world.
By the way. Would you trust the safety and security of one of your children to the apparent unprepared slipshod work of your Federal government? How is each child identified?
MY FAIR LADY ran one night this week; a movie from eons ago. What a great evening of music, fun script, dancing, and more. Rex Harrison and Audrey Hepburn.Couple hours running time and not one nanosecond of violence. Hope a lot of viewers were able to share our enjoyment. Truly delightful.
CHEERS for July 4th celebrations, especially in Downtown Martinez. Lots of events including a flag raising, pancake breakfast at Roxx, parade at 10 o'clock with some 40 entries; and more. Join your friends and neighbors to celebrate our nation's founding. Also this summer are the Thursday Evening concerts and movies 6 to 10 p.m.; the Second Sunday Open Air Market, and more. Enjoy!