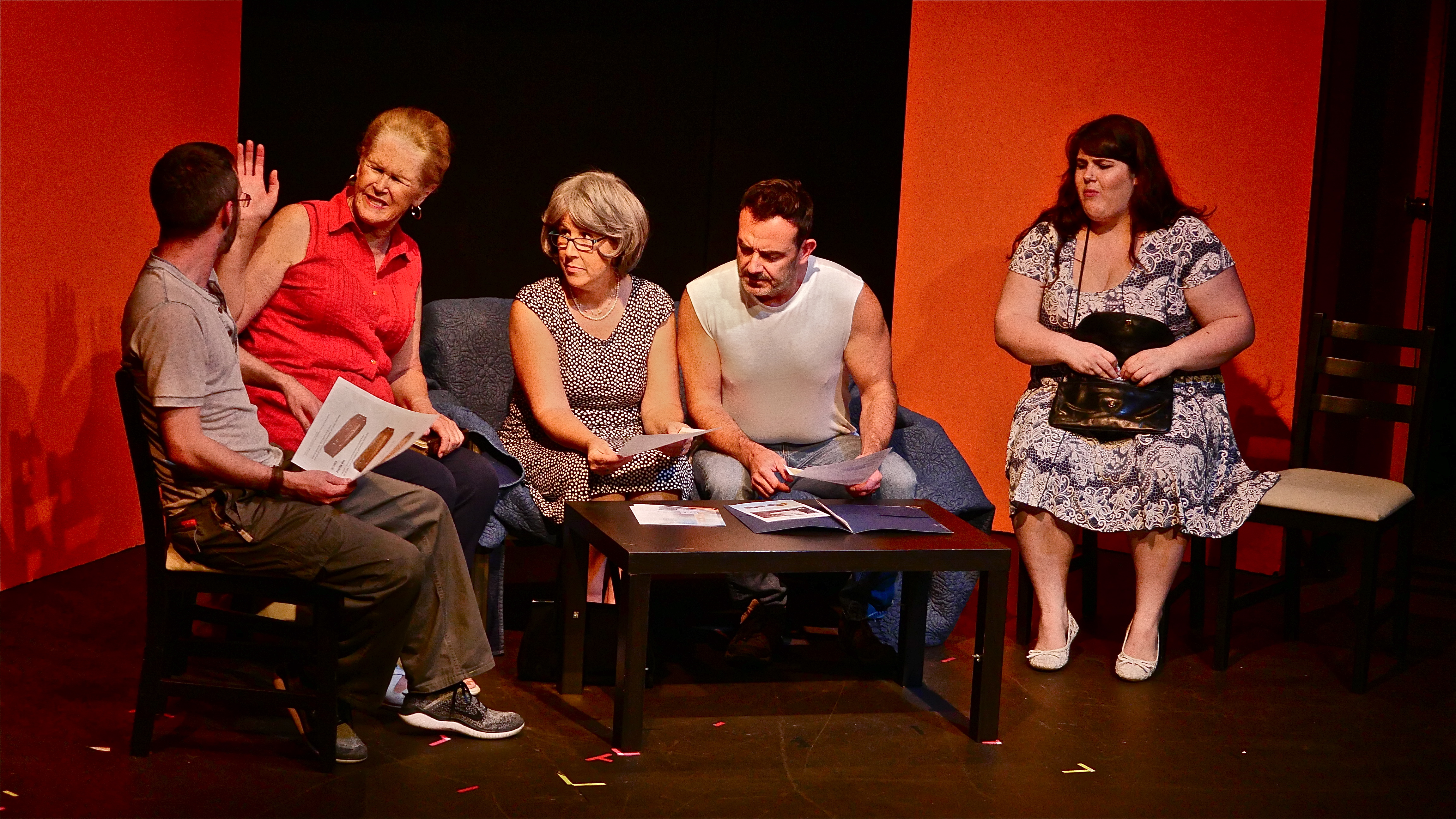 By SCOTT BABA
Art and Entertainment Editor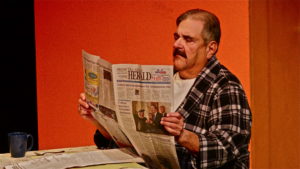 Women of Words premiered its sixth show at the Campbell Theater this weekend, opening "Dearly Departed" on Friday, a goofy southern comedy about life, death, and family.
Written by David Dean Bottrell and Jessie Jones, "Dearly Departed" premiered in New Haven Connecticut in 1991, and that same year gained critical acclaim for an off broadway production in New York. Bottrell and Jones quickly adapted their play for the big, and wrote a script for the film adaptation "Kingdom Come," which came out in 2001.
Set in a town that is unnamed but, according to the authors, "somewhere below the Mason-Dixon line," the play explores the troubles of life after death – for those left behind to pick up the pieces.
In many ways, the play is rooted in Bud Turpin (Jeff Sloan), the grumpy, impersonal, uncommunicative father of three – although Bud is only on stage for about five minutes before he abruptly keels over dead mid-breakfast. What follows is two hours of charming farce, as the entire squabbling Turpin clan comes together, trying to put together the funeral of a man nobody had an easy relationship with.
Bud's widow Raynelle (Lisa Luttinger), for example, has spent much of the past 30 years unhappily married to him, and when asked by the Pastor to describe him for the eulogy, sums him up simply as "mean and ornery."
Marguerite (Cecelia Warick), Bud's sister, is a devout Christian, the kind who is judmental and overbearing, who will brook no taking of the Lord's name in vain and who sings hymns down the phone at her wayward son Royce (Moses Kaplan) in hope that it will somehow reform him. Bud's apathy towards religion and lack of a dedicated church has been a point of contention between them for years, and now, at the event of his death, she finds herself worried about the state of his immortal soul.
Bud's children appear to remember him with a little more fondness, but they have problems of their own. His daughter Delightful (Kaitlyn McCoy) is taciturn and unresponsive to those around her. His son Junior (Tony Rocha) has lost everything on an unsuccessful business venture, and, partly due to that, his marriage with wife Suzanne (Alicia Rydman) has hit an extremely rough patch. Bud's other son, Ray-Bud (Scott Poitras), is a recovering alcoholic who is stressed out by the death of his father and the financial burden of the funeral, which nobody else seems bothered by, because nobody else will be paying for it. Ray-Bud's wife Lucille (April Wright-Hickerson) is the most grounded member of the whole family, trying her best to hold everything and everyone together through the conclusion of the funeral. But her good-natured sensibility is itself a mask to hider her own long-standing pain.
Writers Bottrell and Jones keep a light hand on the narrative tiller, never forcing the plot hard in any particular direction. Instead they spend much of the play relying on the characters themselves to do the heavy lifting in small intimate – often intensely funny – scenes, telling the story in these individual moments between husband and wife, mother and son, brother and brother.
The cast does a fine job with these interactions, breathing life into the characters and making real both their dysfunction and love for one another.
Director Clinton Vidal said that these family interactions were the heart of the play, despite its outward appearance of being about death.
"The funeral is just the backdrop for the family getting together to take care of the arrangements, but it's not done in a way that's morose or sad – it has all of these other things going on – the inter-family dynamics," Vidal said. "These people all love each other despite their little foibles. So it's got a nice theme of love conquering all."
Producers Gwendolyn Sampson and Theresa Deed agreed, and argued that in fact the family and funereal elements of the play dovetailed nicely.
"The comedy about a funeral is pretty funny in the quirky way it's being presented," said Sampson. "I think all families go through something like this in funerals – maybe not to the same degree, but I think everybody can relate to something in this play."
"At the end of the day, they love each other," added Deeds, "But, I mean, what family isn't dysfunctional, right?"
Ultimately, "Dearly Departed" is a fun comedy for anyone who has ever needed a reminder about why they love the ones they love.