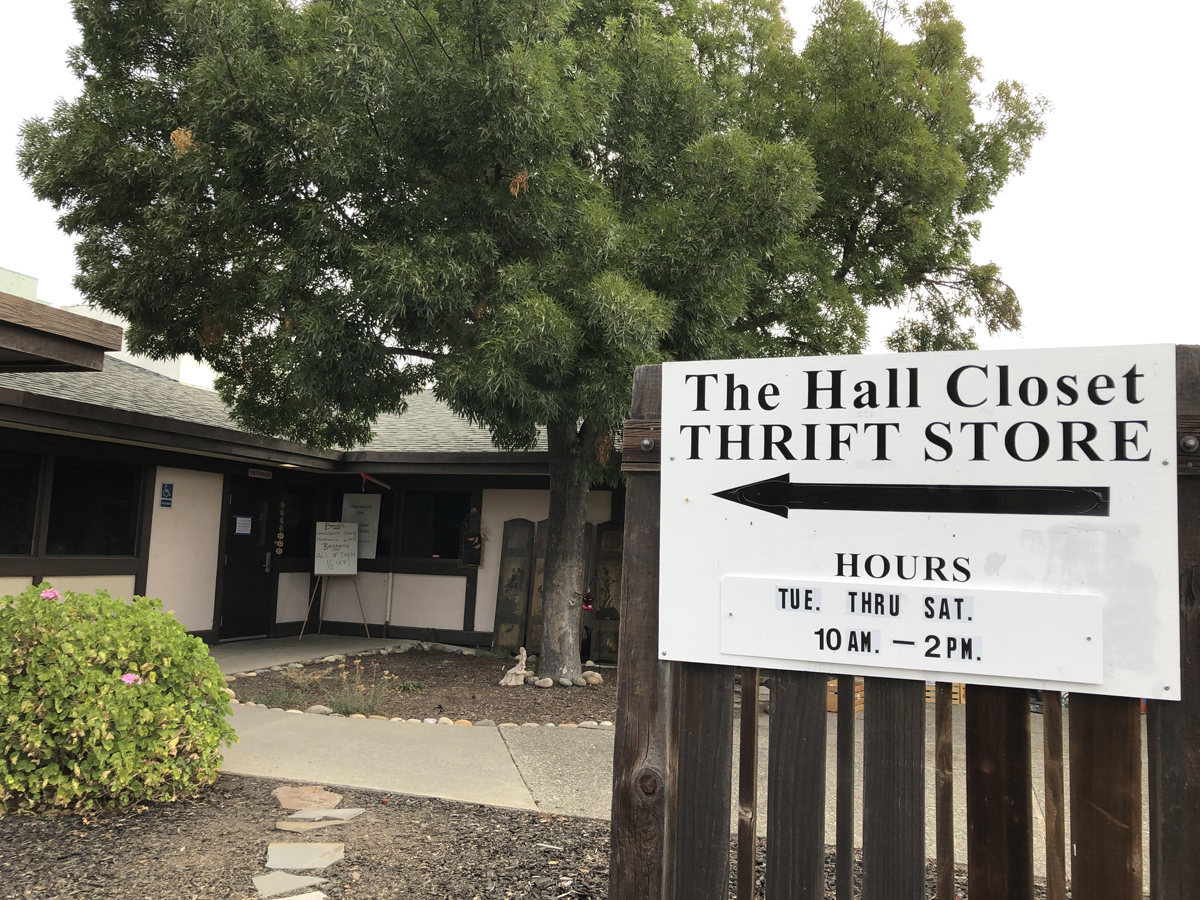 MARTINEZ, Calif. – Burglars broke a window to enter the Hall Closet Auxiliary store and stole an estimated $3,000 in cash, the cash register, special donations jar, and merchandise.
The Hall Closet is a thrift shop run by the 60-year old non-profit that helps kids who are at Contra Costa County's John A. Davis Juvenile Hall detention center for low-level juvenile offenders.
The actual burglary happened on a Sunday, when the shop, which is run by 35 volunteers, is closed. County personnel discovered the thefts on Monday, and called Auxiliary board members, according to former Martinez City council member AnaMarie Avila Farias, who has been a Hall Closet board member for about four years.
Criminal activity began a few weeks earlier at the obscure site at 202 Glacier Drive behind the Sheriff's Office. "The non-profit is not well-known….We would say it is one of the best-kept secrets," Farias commented. Apparently, the secret is out.
Greg Young, board chair of Juvenile Hall Auxiliary and long time Martinez resident, "We are making some upgrades and purging, and uncluttering. It is disheartening when folks feel the need to burglarize an organization whose whole purpose is to provide young people in juvenile hall with support in there and when they leave."
First, copper plumbing pipes were stolen. Because the Auxiliary store space is an unused County building, that was reported to the County, according to Farias. There was an attempt to break into the store's storage POD just outside the store. The burglars reportedly could not get the lock off, but the lock and the POD were damaged and there was other vandalism.
Among the stolen items were 50 vintage cameras that had just been cleaned and fixed, some coach bags, jewelry, and new luggage, Farias said.
Kevin Murray collects cameras and he advises the Hall Closet staff on care and marketing of cameras.
"Those things are gone, but the potential revenue from their sale is the real loss. People can help by donating their old cameras," he said."Lenses sell very, very well. For each mount, there is an adapter for a modern camera and people buy the 35mm lenses."
That too was reported to the County, but she is not sure to what department it was reported. "This costs the taxpayers," she observed.
Now, the challenge is to assure volunteer safety and protect donated items that are for sale. A gate, a fence, motion-detector activated lighting and security cameras are being discussed, but all of that adds to the loss.
According to Farias, the county may take care of the needed repairs and they are talking about the gate and fence, to protect county property.
The timing of the break-in and theft is unfortunate too. "We had just spruced up the store, fixed everything and there were a lot of new things fro Costco," Farias remarked. "The person must have noticed it."
Volunteers are preparing for the annual October Fall Tea (Thanksgiving dishes and decorations), and November Christmas Decorations sales events.
Funds from sales at the Hall Closet store are used to provide life skills training, school back packs, diversion programs, scholarships, help with work force jobs, eyeglasses, Thanksgiving turkeys and Christmas gifts.