By CHARLIE JARRETT
Special to the Gazette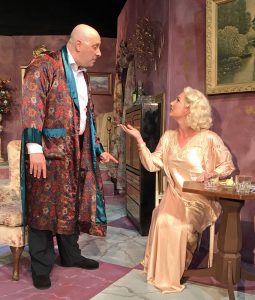 This week, I want to introduce you to a great little theater called the Chanticleers, located in Castro Valley. This is one I have gone to for many years but not recently. The Chanticleers Theater is currently presenting the very funny political comedy, Born Yesterday.
This story was first immortalized in the 1950 award winning movie by the same name which starred William Holden, Broderick Crawford and Judy Holliday. Under the superb direction of the much sought after and highly respected director, Michael Sally, this bombastic, gritty, and delightful comedy is bound to make you laugh, clap your hands, and practically cry with the realization that after 60 years the corruption in our American government has changed very little.
The story focuses on uncouth and corrupt millionaire junk dealer, Harry Brock (Jason Berner), his less than brilliant, trophy-girlfriend, Billy Dawn (Laura Zimmerman) and his attorney, Ed Devery (Kyle Smith), mixing with the political machinery in Washington DC.
Harry Brock has come to the political swamp to buy himself some senators! In an effort to connect Harry Brock with as many congressmen and senators as possible during his relatively short stay in the capital city, Devery promotes Brock by having him interviewed by popular journalist, Paul Verrall (Mike Ettel), whom his attorney feels will provide him with some good publicity about a self-made millionaire businessman. It is quickly discovered by Brock and Devery, that girlfriend Dawn (a former showgirl), is not adept at entertaining and engaging with people in higher society and their circles of influence.
Following the interview with reporter Verrall, Brock wonders if this obviously astute and well-educated communicator could be employed, part time, to "wise up" his girlfriend so that they could appear as a more socially acceptable couple, increasing their chances of improving influence over Congress. Verrall reluctantly accepts the challenge to assist in the edification of Billy Dawn, and before long, Brock discovers that sometimes more education and the ability to communicate may have a clear and present danger.
The superb cast engaged by director Sally is more than up to the task providing the audience with memories that are sure to last.
This 10 person cast also includes Sen. Norville Hedges (Edward Pleczenik), his wife Anna Hedges (Ann Barnett), Brock's enforcer, Eddie (Bruce Kaplan), Helen the maid (Heather Warren), with minor supportive role characters played by Liva Langer and Santiago Sena-Gerra. The portrayals by each prime actor are on an absolute professional level, convincing, articulate, and wonderfully engaging. Brock and Billy Dawn literally steal the show with their bombastic word war, antagonistic overtones, timing, and card turning theatrics. After seeing the play in Castro Valley, I went home and watched the 1950 movie again, and now feel that in many ways the acting and directing was even more powerful in this local production. Further, costumes designed by Piper Ferguson and the impressive set designed and decorated by Jon Gourdine, Georgia Lee and Lisa Papciak rounded out the high quality of the show, making this a Do Not Miss Show.
Born Yesterday continues Fridays and Saturdays at 8 PM the sun day twilight matinees at 6 PM (except on July 21). The Chanticleers Theater is located at 3683 Quail Ave., Castro Valley 94546. Tickets are more than reasonable at $25 for adults, and $20 for seniors/students/military. Call 510-733-5483 if you need more information.
By all means, visit their website at www.chanticleers.org for more information on the show. Parking is convenient, safe, and free in the adjacent parking lot. If you enjoyed the original movie, which was a huge hit for Judy Holliday, you may enjoy this play even more!
Moving on, some of us may fondly remember the times and events when our school age child or children performed in public; perhaps as musicians, or dancers, or theatrical performers. One thing I enjoy most about being a theater reviewer is the opportunity to occasionally attend student theatrical performances and watch all the eyes light up, those of the children, the parents, and the relatives.
I attended the Pinole Community Players Teen/College Summer Musical play (based on the 1998 movie, The Wedding Singer), in which 19 of their student actors participated.
Some of the cast clearly have done considerable acting, singing, and dancing, and some equally clearly, have not. None the less, even with a few notes off key and some not projecting as well as they should, this is a very funny version of the 1998 Adam Sandler/Drew Barrymore movie that promises that adverse situations, including weddings that don't work out as planned, can carry with them the seeds for a better, greater, and more positive opportunity, if nothing else, through the lessons we learn in the process.
This story is about a wedding singer who is crushed when he is dumped at the altar. As he prepares to sing for another wedding shortly thereafter, the young waitress about to be wed, discovers that she is more fond of the wedding singer than her wealthy fiancé. This delightful play is absolutely pure fun, both from the things that worked very well, and even those that did not.
I especially want to give kudos to several outstanding performers and production staff, including, Logan Burkhart, Melissa Marie, Kara Thomaselli, Joshua Golsan, Grace Lemmon, Torrell Henderson, Daniel Simone and Aurora Miner (as both actress and photographer). The show even has a live 4-piece band, directed by Chie Treagus. Anjee Norgaard-Gallia directs the entire production, except for the music portion, which is directed by G.A. Klein.
The Wedding Singer tickets are only $18 each, the theater is very comfortable, parking safe and convenient, and the show times are conveniently early (allowing you to get home early). The performances this coming weekend are on Friday (the 26th) at 7 pm and Sunday (the 27th) at both 2 & 7 pm. The theater is located at 601 Tennent Ave, Pinole, CA 94564. For tickets go to www.PinolePlayers.org where you can "click" to order tickets on line, or call (510) 724-9844 for more information.