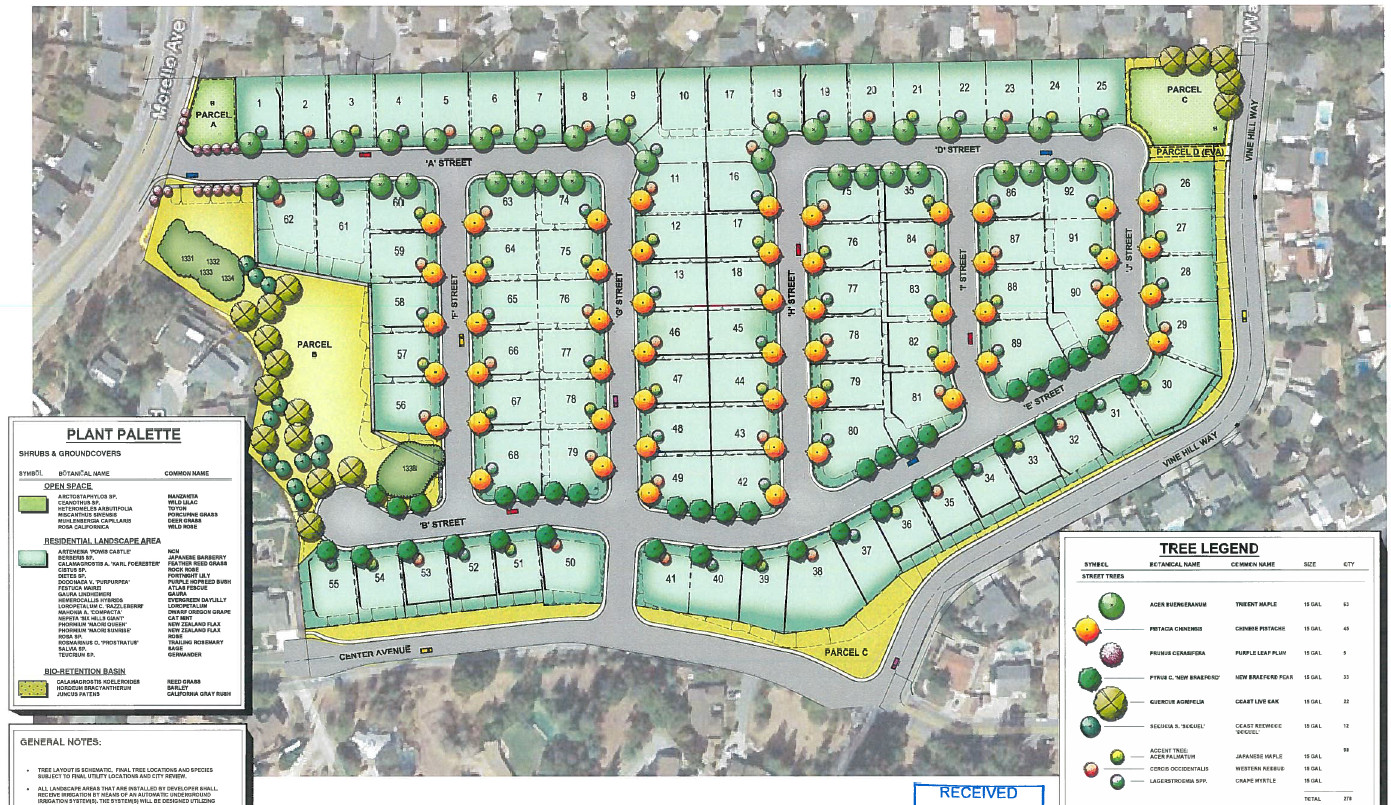 MARTINEZ, Calif. – A new nine-acre city park will be created on the former Pine Meadows Golf Course land at Vine Hill Way and Morello Avenue. To the Parks, Recreation Marina and Cultural Commission (PRMCC) and city planners, the property is a fresh pallet waiting for a public vision, or wish list.
Christina Ratcliffe, AICP community and economic development director is inviting the public to a charrette. It will be held Saturday, August 10, 2019 at noon in the City Hall Council Chambers located at 525 Henrietta Street. This is the first step in the public process to determine park improvements at Traditions at the Meadow, a new 65-home development to be constructed at the same time by DeNova Homes.
Anyone with ideas or preferences for the park is asked to attend the charrette or send an email to CRatcliffe@cityofmartinez.org as soon as possible. The PRMCC will be reviewing a proposed design and making a recommendation to the City Council at the regularly scheduled meeting of Aug. 20.
Discussion at the charrette will take federal and state regulations, existing wildlife and vegetation, size and topographical limits, costs, and the like into consideration with a focus on potential designs and uses.
"First and foremost the city should figure out what it can actually afford to do at that spot. We need to make sure we have the income to maintain it, whatever it is," Councilwoman Noralea Gipner advised. "I am a small business owner and a homeowner. I operate under the rule that if you cannot afford to maintain it you should not have it."
There were a variety of uses mentioned during the long, tumultuous planning and legal processes preceding the park's conception, the parties involved are not talking about it reportedly because they agreed to not comment on the settlement of a disagreement that had been running for years.
DeNova Homes planned nearly 100 homes with some open space, paths, and landscaping. A community group, Friends of Pine Meadow, objected to the city's decision to make a zoning change permitting new residences. The result was a public initiative that passed, giving the public a vote (Measure I) on such matters. The city argued it was not valid for a number of reasons, and series of lawsuits and countersuits including individuals in the "Friends" group, DeNova Homes, and the City and other entities ensued.
Settlement of those lawsuits allowed a 65-home development and created the 9-acre park, to be owned by the City of Martinez with the builder's commitment to provide $1 million in services or funds for the improvement of the park, open space, and pedestrian paths.
All parties agree to make clarifying changes to Measure I's language and
DeNova Homes will also donate $500,000 toward acquisition and/or improvement of public open space or parkland in or near the City. Finally, city agreed to make an effort expedite the park planning process, according to Ratcliffe.
In the new development plan, as many healthy trees as possible are preserved and many more will be planted. Significant grading will be needed. In order to grade the new park and prepare lots for homes at once, it is important to have the park design as soon as possible.
In reference to the cost of park maintenance, Gipner said, "I understand we are under a time limit but we need to really know this information going in."
This is a chance for residents in the area, and inspired thinkers from across the city to make a good place better. Because the property was a golf course, how about a putting green? There was talk of a play structure and picnic tables
Richard Patchin, asked for a dog park located on the Southside of HWY 4, at a recent city council meeting. Would a small, second dog park fit in the new park? (Patchin is a Parks, Recreation, Marina and Cultural Commissioner.)
The property was previously zoned Open Space/Recreational. Some raccoons and birds might be temporarily displaced. Perhaps a natural setting for sitting or walking in quiet moments would preserve that spirit?
Review of the proposed park plan is scheduled for the Planning Commission, Aug. 27.