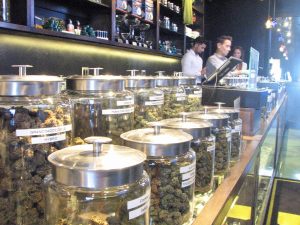 Martinez Planning Commission may decide Monday whether a medicinal marijuana dispensary is appropriate to open in a suite at 4808 Sunrise Drive, in the same building of an athletic gym that says more than two-thirds of its clients are minors.
Brian Millar, contract planner, wrote in his report that while the applicant, Firefly Health Corporation and Farid Harrison, have satisfied the question whether enough parking is available for dispensary clients, the question remains whether the gym, Power Endurance, could be considered a "youth center."
Originally, the application was heard May 8, and at the time, city staff recommended approval of a use permit as well as a recommendation to the Martinez City Council to approve the associated development agreement.
"Prior to the hearing, staff was unaware that minors utilized Power Endurance," Millar wrote. "It was thought that the facility was for adult use." State law requires a 600-foot buffer between cannabis businesses and youth centers.
The Commission agreed to delay voting on the matter, which then was put on its June 26 agenda, to give staff more time to research both the use of the gym as well as questions about parking. However, at that meeting, Harrison and Firefly requested another continuance.
Since then, city staff has been communicating with both Harrison and Power Endurance's owner, Maurice Jones-Drew.
Research indicates there is sufficient off-street parking, based on square footage of different businesses in the building, Millar wrote.
But questions about the health club's clientele remain, he wrote.
At the June 26 meeting, city staff members asked Jones-Drew for additional information to support his company's estimate of youths who visit Power Endurance. He sent 405 forms July 19, of which 380 had ages of participants. Of those, 258 were younger than 18, Millar said.
"Staff calculated that this represented 57.9 percent of the forms submitted that listed ages," he wrote. State law defines a youth center as a public or private place that primarily is used by minors. The city's cannabis ordinance consultant, HdL, helped staff conclude that "primarily" means more than 50 percent.
"However, it is unknown whether these forms reflect current gym clients or are a listing of all the clients that have used the gym since it first was opened," Millar wrote. Nor do the forms show whether the clients are there for a day, a weekend, a month or are regular participants at the gym, he wrote.
"City staff suggested that Power Endurance submit two individual months of records that included the ages of the clients," he wrote. "That information would give a snapshot in time of the percentages of minor clients using the gym and how frequently they were on premises. This would give the Commission a clearer idea of the day-to-day clients of the facility." However, that information hadn't arrived by the time Millar submitted his report.
He wrote that Firefly's attorney has challenged the June 26 staff report, saying that since Power Endurance doesn't call itself a youth center, it can't be defined as one under state code. The attorney also said that text messages indicate Power Endurance was amenable to Firefly's presence.
"The issue is not the way in which Power Endurance has referred to itself or their opinion of Firefly," Millar wrote. "The issue is how the state code defines a youth center and if Power Endurance qualifies as a youth center under that definition." Since Martinez has not codified a different distance between a marijuana business and a youth center, the city must adhere to the state's 600-foot radius, he wrote.
He also disagreed with the applicant's assertion that the state definition of youth center only refers to public or nonprofit entities, or that Martinez's own code doesn't list "youth center" as a use.
"The applicant is confusing city code with state code," he wrote. Age of clients has no bearing under Martinez codes, he wrote. "The state code, however, does concern itself with uses primarily serving minors within 600 feet of a cannabis business, and this is the crux of the matter."
Other points raised by the attorney also are irrelevant, because they refer to situations in which a city already had issued licenses or permits for cannabis businesses.
Martinez currently has a moratorium on authorizing such companies while it crafts its own ordinance, which is allowed by state law, and the City Council made an exception to that moratorium solely for Firefly's application.
Millar stopped short of making a recommendation to approve or deny Firefly's application. "While staff and the city are supportive of medicinal cannabis dispensaries, staff believes that the location of an existing youth center (if Power Endurance is, indeed, a youth center) in the same building as the proposed dispensary would violate state law," he wrote.
"Should the commission determine that the evidence submitted and adduced at the Commission's hearing shows that Power Endurance is a youth center, then staff recommends the Commission deny the Use Permit and recommend to the Council denial of the Development Agreement," he wrote.
"If the Commission does not find that there is sufficient evidence showing Power Endurance qualifies as a youth facility, then the Commission should approve the Use Permit and recommend to the Council approval of the Development Agreement." He said drafts of findings and resolutions have been composed for both options.
The Planning Commission will meet at 7 p.m. Monday in the Council Chamber of Martinez City Hall, 525 Henrietta St.