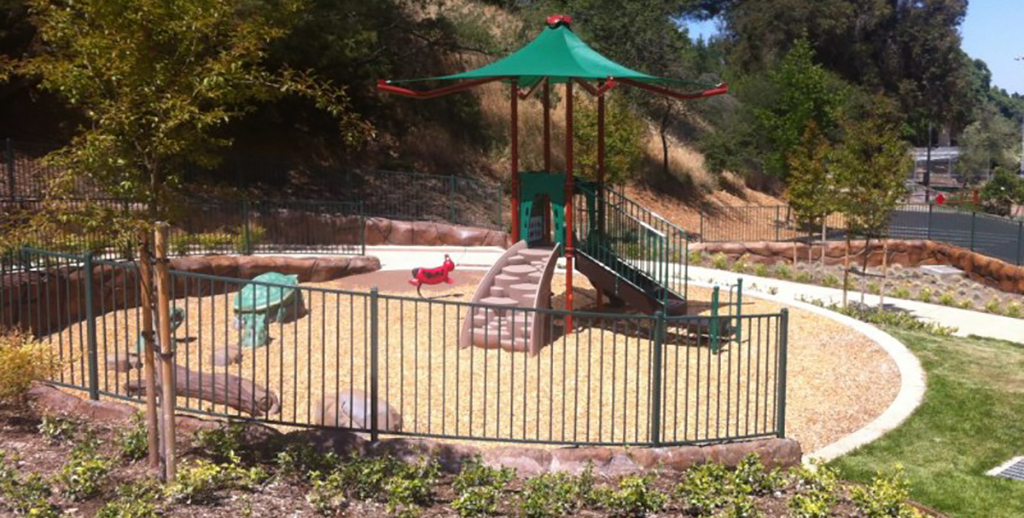 MARTINEZ, Calif. – Martinez Police Chief Manjit Sappal and Officer Rodney Brinser praised the improvements at Martinez Waterfront Park Tuesday, telling the Parks, Recreation, Marina and Cultural Commission (PRMCC) that some new elements will make their jobs easier.
"The park is absolutely gorgeous," said Brinser, whose assignments include reaching out to the city's homeless population. Some of the improvements involved weed abatement, and the removal of non-native vegetation "has been a tremendous help."
Sappal said that if people are playing bocce there, if they can see nearby parking areas clearly, they can call for help if something amiss is happening.
People aren't supposed to camp in city parks, which are closed from sunset to sunrise. However, the vegetation had provided places to hide bags, bicycles and other property. Now that cover is gone, Brinser said.
But there are some new amenities that are being used in ways that hadn't been anticipated when the improvements were designs. "The sinks are a nice addition, but now transients use them to do laundry," Brinser said.
Someone had been breaking into electric boxes installed in the middle of the park. That's been discouraged by the city, which shuts off power to those boxes unless space is being rented.
"We're still learning the new park," Brinser said.
Despite the new challenges, there have been strides made in reducing problems in the park, the pair said.
Officers made 350 security checks on the park in the past year, and there have been no vandalism reports in three months – not only in Waterfront Park, but at others as well.
Erecting portable cameras and signs announcing their presence stopped vandalism at one park overnight, Sappal said, adding he is a proponent of installing security cameras.
Sappal and Brinser were responding to questions the Commission had asked at an earlier meeting. Commissioners also had asked about locked restrooms.
They're locked during the day for damage repair or maintenance, Sappal said. Locks are on timers that secure the restrooms from 7 p.m. to 7 a.m. Restrooms near the bocce courts had suffered from people flushing needles and other damage. Some locked restrooms had their locks broken, or they were jammed even when not being used to secure the doors.
However, if denied restrooms, homeless people will relieve themselves outdoors, the Commision heard. Some temporary restrooms are self-cleaning, which would save on labor. In some places, they have reduced crime. However, in other sites, crime increased after their installation.
Martinez chose instead to make conventional portable toilets available, Sappal said. And in the month and a half since they were put out, none has been vandalized, he said.
Brinser said he speaks to the homeless people to build relationships with them. He spoke to some of them, explained how the city would be making the portable toilets available so long as they weren't damaged.
"The transients were grateful," he said. And some of them have taken on the role of monitoring those toilets to discourage their misuse. "They could lose the privilege."
He said he told the homeless, "We're not trying to treat you badly." But if one person misbehaves or vandalizes city property, "all pay the price."
One concern commissioner Rob Parolek had was needle disposal boxes. Brinser said he's looked into them, and discovered only certain types are effective. They must be shaped so only syringes or needles can be deposited, or people use them to discard bullets or other items, he said.
Right now, he said, he can't find a company that is willing to supply the city, although he continues to look for a style that is both secure and easily emptied.
He is hopeful that transient drug users would use the boxes. As he meets with them, he sees food canisters and other containers into which they've put used needles, suggesting they'd transition easily to using the boxes.
Another challenge facing Martinez Police are "side shows" – large gatherings of motorists who spin their cars into tight circles called doughnuts.
In October, a 15-year-old Alhambra High School student, a passenger in a car that was being spun at the Martinez Marina, was seriously injured when he fell out of the vehicle and was struck.
A crowdfunding effort at https://www.gofundme.com/mehdi-ziani-medical-fund has raised $11,140 of a goal of $30,000 to help Mehdi Ziani through his recuperation and to help his father stay home to help his son recover.
He's undergone 10 surgeries since the accident and has been battling a deep infection, according to the funding site's updates.
Some residents suggested stop bars that would have prevented both side shows and the parking lot's intended purpose of letting tow vehicles haul and park boats for launching at the marina.
Sappal said his department has looked at elevated domes that resemble larger versions of lane-marking traffic bumps. However, those have caused problems elsewhere, and Sappal said his department is looking at other options, including making the pavement itself rougher.
And Waterfront Park isn't the only place such antics are going on. Sometimes drivers have gathered in the Walmart-Home Depot lot.
Cameras caught some drivers driving in circles at Rankin Park, they said. In that case, the cameras were monitored, and officers were able to stop the motorist. Having the video not only let officers show it to the motorist, it became evidence as Martinez Police made its case against the perpetrator.
Stopping sideshows is hard, the two said. Sometimes 100 cars will be gathered at the site, but one driver will be posted as a lookout, to telephone the others in case a patrol car is spotted.
Cameras could help in those cases, recording the car that actually is "doing doughnuts," since Martinez doesn't have a large force to deal alone with 100 cars. But a video can identify the driver putting on the show.
While cameras help discourage sideshows, vandalism and other unwanted activities, they are expensive and have specific requirements. A two-camera setup that could provide good coverage of a spot can cost $30,000. Even if the department finds funding for the cameras, it also has to acquire another server, since the one it has is at capacity.
Sappal said he's determined, since he sees their value in deterring crime. "We'll make it work."
Meanwhile, the city has cameras in some of its parks already, he said. The cameras transmit information to notes, and those nodes must be in "line of sight" of each other, and the camera feed needs constant monitoring, he said.
Footage is stored on a server for 60 days unless it becomes evidence in a case. In that situation, the footage is kept until the case is adjudicated, Sappal said.
Some Commissioners worried whether using those cameras violate the civil liberties of residents and visitors.
Sappal replied that if people who are in a public place, there is no expectation of privacy. In keeping with that, cameras aren't placed in park restrooms, where privacy is presumed, he assured.
In addition, good signage gives fair warning that cameras are in use, he said. The parks that experience the most problems, that's where Sappal wants cameras placed first. Cameras also are useful in discouraging robberies and burglaries.
And once the server situation is resolved, his department can push forward, possibly allowing officers to see a feed through a cell phone. "We're constantly evolving," he said.
In other matters, the Commission agreed with a proposed list of work plan projects for 2019-20.
Deputy Director of Administrative Services Michael Chandler said the panel will see the list as an action item next month.
The list doesn't have items that would be part of the Commission's capital improvement plan recommendations or those that would be considered after the updated General Plan is adopted.
The remaining items are updating and consolidating the Municipal Code concerning the Commission's roles, responsibilities and bylaws; modifying the Municipal Code to address administration of special events, revising outdated provisions within the Park and Recreation Area Regulations and clarifying the PRMCC's relationship with the Planning Commission; updating the Parks System Master Plan; and finally, helping the Community and Economic Development Department to market Martinez.
The latter task originally included verbiage that said the city would be promoted as a "point of destination," but Parolek suggested instead what should be promoted are the things that make Martinez unique. He reminded the panel that members don't know how Main Street Martinez or the Martinez Chamber of Commerce intend to advertise the city.
Once the work plan is approved by the Commission, it will be presented to the City Council at a joint meeting, Chandler said.
Chairperson Dylan Radke asked Chandler to schedule a discussion at a future meeting whether Martinez is complying with Assembly Bill 2404, which forbids discrimination in athletic programs. He said some nearby cities are worried they aren't complying with the gender equity portion of the law in their sports programs.
"Are we in compliance?" he asked. "How do we determine if we are in compliance?" He asked for staff to research those questions.
Commissioner Adrienne Ursino, referring back to a citizen's concern about restroom conditions on East Bay Regional Park District property, asked that representatives from the District address the Commission about those issues, and Parolek asked Chandler to report whether 4-H has adopted any exclusion policies concerning gender identity, since it uses the city-owned Kiwanis Building.