Flea Market? Of course! I love any place where there is a chance at finding treasure. When my friend Peggy Hagerthy asked me if I'd like to check out the Galt Flea Market last Wednesday, I didn't say no.
I set Gertie Garmin, my GPS, for the Galt Flea Market and away we went. We drove over the Antioch Bridge, turned right at Rio Vista and then traveled on through fields and orchards until we popped out in Galt.
Peggy and I walked up and down every aisle in the ten acres holding 400 vendors, looking for treasure. I bought some melamine bowls, five pounds of walnuts in the shell, and a few other little things. Peggy bought some strawberries and blueberries for 99 cents a pound. All that walking in the sun made us hungry for lunch.
"Have you heard of 'Al the Wop's?" Peggy asked. Wow. I hadn't heard that name in years. The last time I was there was more than fifteen years ago with my older sister Karen. Before that it was with my mother more than forty years ago. I didn't remember much about it, but with that name, it was hard to forget I'd been there.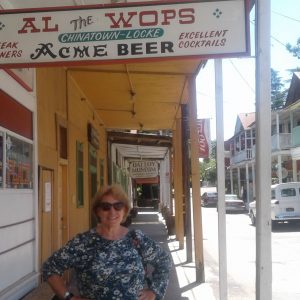 We found "Al the Wop's," now called the more politically correct "Al's Place" in Locke, (although the sign still reads "Al the Wop's"). Both the restaurant and the town are historical artifacts.
The unincorporated town of Locke was established in 1915 by Chinese immigrants and is the largest, most complete example of a rural, agricultural Chinese American community in the United States.
During the latter half of the 19th century, many Chinese came to California to work in the gold mines and then on the railroads. When the railroad was completed in 1869, the immigrants were enlisted to help build the extensive levee project in the Delta. The Chinese had knowledge of how to develop farmland in river valleys from their experience developing them in their homeland. The Chinese built earthen levees in the Sacramento-San Joaquin River Delta that turned 500,000 acres of marsh into some of California's most valuable farm land and still hold back the river. After the project was completed, many of the Chinese workers stayed in the area as farm workers and lived in towns like Walnut Grove, Isleton, and Rio Vista.
When a fire destroyed the Chinese section of Walnut Grove, some stayed and rebuilt, and some chose to start fresh a mile north. They verbally leased land from George Locke. Because of the California Alien Land Law of 1913, non-US citizens were prevented from owning land. The Chinese immigrants owned the buildings on the land, but not the land itself. It's the only town built by the Chinese workers specifically for Chinese in America.
Locke was listed on the National Register of Historic Places in 1971 and was designated a National Historic Landmark District in 1990. Today, Locke is a tumble-down Western frontier-style street with buildings leaning every which way but straight. It reminds me of an old West movie set. It has raised wooden sidewalks, rickety wooden balconies, and wooden signs overhead, wavering in the wind. I walked down the street, half expecting a drunken cowboy to tumble out from swinging saloon doors.
Locke had a shady reputation at one time. During Prohibition, gambling houses, brothels and speakeasys abounded. After WWII, the town began to fade, with the younger generation moving to bigger towns and cities. The town now has very few Chinese residents.
Peggy suggested we go to "Al the Wop's" for lunch because she was hankering for a steak sandwich. Al's is famous for their steaks, often served with peanut butter. Alas, the lunch menu has changed since she was there last. We both ordered sandwiches, a burger and a grilled cheese. Neither of us were disappointed. I'd call it a "Do it again" restaurant.
The restaurant building was originally built in 1915 as a Chinese restaurant. In 1934 Al Adami came up the river from Ryde to open the only non-Chinese business in town. In a self-deprecating manner, he called himself "the Wop" and it stuck. Al wanted to keep his joint casual. If a man came into his place wearing a tie, Al was known to clip off the tie with a pair of scissors.
Peggy pointed at the ceiling for me to look up. There were dollar bills stuck up there! She told me about the time she and her husband, also named Al, went there, about thirty years ago. Her husband told her to give the bartender a dollar bill. She watched the bartender stick a thumbtack through the bill and then wrap the bill around a silver dollar. The bartender then put it in his hand and as he threw it up towards the ceiling, he slapped the throwing hand with his other hand to give it more momentum. The paper dollar stuck to the ceiling and the silver dollar fell back down with the bartender catching it.
Al the Wop worked in his restaurant until his death in 1961. The restaurant is now owned by a former employee who has kept the menu as close to the original as possible while adding a few new popular items.
After lunch, Peggy and I walked through the old town. It was a weekday so it was quiet. We perused a used book and gift store, then walked through a small Chinese Culture shop. I bought a couple of post cards and a bar of jasmine soap.
As we headed for home, we passed through Walnut Grove on the other side of the river. I spied the ice cream shop at the same time Peggy saw a thrift shop. We parked. We shopped. We enjoyed a lovely ice cream cone as we headed back to Martinez. It was a lovely day at the flea market.
The Galt Flea Market is open on Tuesdays and Wednesdays from 7am to 2pm. For further information call 209-366-7160 or go to their web site at: http://www.ci.galt.ca.us/city-departments/galt-market
To learn more about the town of Locke: http://www.locketown.com
Locke is approximately 11 miles from Galt.