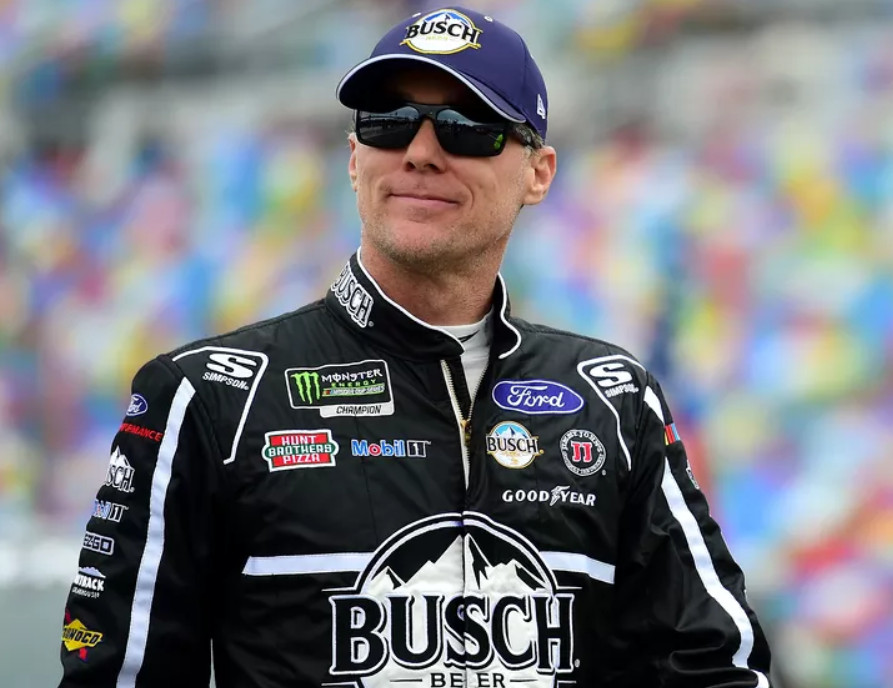 "I want to race NOW!" past Monster Energy NASCAR Cup Champion Kyle Busch summed the activities leading up to Sunday's race.
The 40 competitors in the season-opening Daytona 500 today at Daytona International Raceway, Daytona Beach have been making sponsor appearances, participating in an all-day series of interviews with news reporters and taking side trips with their families to Central Florida theme parks.
They've also spent time on the track in practice and in non-points races, the Gander RV Duels and the Advance Auto Parts Clash.
But they're driving race cars with new configurations and rule changes that increase in the likelihood of disqualification for infractions. And they're anxious for that famous green flag to drop.
The Daytona 500 is a tough race, as well as one compared to football's Super Bowl – except it starts, rather than finishes, the season.
"Half the battle of this race is getting to the finish," said Bakersfield native Kevin Harvick.
El Cajon native and seven-time Cup champion Jimmie Johnson said the package changes to the Daytona 500 restrictor plate car are small, compared to the car designs drivers will race at other tracks. And they drove the restrictor plate design three times last year.
If the restrictor plate reconfiguration is subtle, it still could affect race technique, Johnson said. The spoiler is 2 ½ inches wider on each side, and that will impact side drafting significantly.
Atlanta is where the drivers will meet the new design for the first time in a full 40-field contest, he said.
And anyone who says they know how it will affect the racing "is lying," Harvick said. The new design has been tested, such as in a 12-car experiment in Las Vegas. But the real test is with a 40-car field going side by side at 200 mph.
 Harvick said he is anxious to try the new package, and put the new rules in place so folks will start talking about racing rather than technicalities.
And he said he's hoping the stricter penalties will make racing "black and white, and eliminate the gray area."
Kurt Busch agreed, recalling times he finished second to a driver that received monetary and points penalties after being cited for various infractions, usually when a car fails post-race inspection. However, that driver still kept the "win" on the racing record.
NASCAR President Steve Phelps has talked about making other changes, hinting at returning to more "old school NASCAR," to inject new interest into stock car racing.
He's said "everything is on the table," from adding more short tracks and road courses to modifying the season length. Fans may see some of those changes as early as next year.
Someone who wants to be part of NASCAR's future while restoring the legacy of a ride made famous by Vallejo native Jeff Gordon is William Byron.
Just 21 and a junior in college, Byron won his first career pole in the start of his second year in the No. 24 Hendrick Motorsports Chevrolet.
Once chosen for that ride, the second to pilot the car after Gordon's retirement, Byron said he hoped fans would remember his name and associate it with the No. 24 for his own accomplishments. He achieved that, driving strong against more seasoned drivers to start today's race from the No. 1 spot.
He's also going to try to achieve something that hasn't been done in nearly 20 years – win from the pole.
"Super nervous" in his first Daytona 500, Byron said he now has familiarity with the track. Still, he said, "It's a tough track to get a hold of….It's the first race of the year. It's the biggest race for us."
Besides actual car time, he sometimes uses the iRacing online simulation as another form of practice for upcoming contests.
And he's hoping that other iRacers who see youthful drivers having success on actual tracks will take the next step forward, to get into a real race car.
A junior at Liberty College, Byron said juggling so many responsibilities forces him to pay attention to details and manage his time precisely. He acknowledged that his dual career, as professional driver and student, has made him grow up fast and learn to handle responsibility.
And some of that responsibility is to Hendrick Motorsports, his team owner. A past racing powerhouse, Hendrick didn't have a strong 2018 season. Byron believes that will change this year.
"Hendrick has taken a 'no holds barred' approach – take names and win races."
And while winning the pole is a start, "there are other things I want to do," he said. "I want to bring the No. 24 back to its legacy."
Clint Bowyer wants racing to be exciting again – maybe not as exciting as the final wreck of last week's Clash, which affected nearly the whole field before rain forced an end to the race and Johnson was declared the winner. But close.
He said he found the 2019 Super Bowl "a snoozer," with not enough exciting plays to make a decent highlight reel.
Bowyer doesn't want races to be like that – with "something you take away and bring home – something that makes you say, 'You should have been there.'"
His Stewart-Haas Racing No. 14 Ford is a Mustang, and Bowyer is looking forward to taking it around the track at racing speeds. "NASCAR is supposed to be muscle cars," he said. Some past car designs disappointed him, reminding him of rental cars.
He said racing is not only a sport, one which requires a surprising amount of athleticism.
"It's entertainment," he said. "We're doing it for them (the fans.) We need to make it a big show."
The show that is the Daytona 500, the 2019 Monster Energy NASCAR Cup season opener, will be broadcast on FOX at 11:30 a.m. Pacific time today.