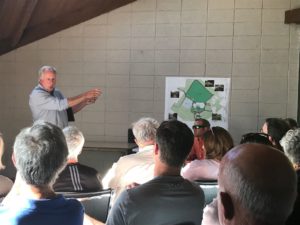 MARTINEZ, Calif. – A new clubhouse will be erected, a covered picnic area in a remote corner will be removed, lighting will be improved and adjustments will be made to make Golden Hills Park more accessible to those with disabilities, City Engineer Tim Tucker told more than two dozen residents Thursday afternoon.
The new community room will replace the oddly-configured one, and will be rectangular, with an exterior water fountain nearby and more windows. Work also will be done on a pathway from Reliez Valley Road.
Its restrooms should be better than the current building's restrooms, which one resident said children are afraid to use.
The new building will be equipped similarly to the current one, and will resemble the building erected at Nancy Boyd Park, although this one would be larger, Tucker said.
It will be designed to be visually compatible with the rest of the neighborhood, and will have a large overhang for additional shade. Tucker said.
The remote corner's picnic tables have attracted the "wrong" activities, and city employees constantly are cleaning up broken bottles and cans, he said. That area is a candidate for additional lighting, too, he said, although one woman suggested thorny bushes be planted there.
The area could be a passive picnic area, Tucker said, suggesting families might be encouraged to bring their own tables and chairs.
New illumination will be light-emitting diodes (LEDs), which will be brighter, but are expected to be less disruptive to neighbors, he said.
Tucker did more than describe the park's future, a project originally estimated to cost $1.2 million of Measure H bond money, but likely will cost $1.7 million or more. He also answered questions and took notes on suggestions.
For instance, Tucker heard one resident wonder about the park's tennis courts. The solution isn't easy, he admitted, because the ground likely will cause the same problems soon after the courts are resurfaced.
Tucker suggested a slip coating that resembles the felt paper and tar used on roofs. "It's weird, but it works," he said.
Some residents asked about additional shade, and Tucker said that's often an expensive addition. "But we'll put it on the list," he said. That shade may come in the form of trees, rather than structures.
And when one resident suggested thinning some of the trees always growing there, a woman who lives next to the park's wooded area said she likes the atmosphere those trees bring, as well as the shade that cools her home.
Gophers are another problem, and the little animals dig holes that some residents said can cause injury.
Eradication is a possibility, but the city must strive to keep gophers at bay. "It's an ongoing problem," he said.
One resident suggested installing owl houses, which Tucker said he would consider including as plans for the park progress. He promised to speak with Friends of Alhambra Creek to get their comments or advice on owl boxes.
One resident asked why Golden Hills Park has a gravel path, rather than asphalt paving, from its parking stalls. Tucker said that path would not compliant with the Americans with Disabilities Act specifications even if it were paved. Those in wheelchairs or have other disabilities have other ways to reach the park, he said, but he agreed to see if that pathway could be paved.
Dogs are another problem, especially those off-leash, a resident told Tucker, suggesting that when the park is rebuilt, larger signs should be placed advising pet owners to keep their animals leashed.
About that time, someone pointed out a dog running loose in the park.
Tucker said the city has a concern in most of its parks about loose dogs, dogs being walked in prohibited areas and pet owners failing to clean up their pets' leavings. Some of those parks have larger signs, but some will walk up to the sign, pass it, and disobey the rules, he said.
"The problem is too big for the police to take care of," he added.
However, he promised to consider larger signs and install dispensers of dog clean-up bags.
When Tucker said the city is winding down on spending the Measure H revenues, one resident asked why Golden Hills Park, at the end of Bernice Lane and Blue Ridge Drive, had been placed so low as a priority.
It's because the playground equipment was new and ADA compliant when the list was made, and the playground equipment remains in good condition, he said. Other parks were in "decrepit" states, he said.
When one resident asked whether work would come in phases, he said that would make the project even more expensive, and the city may be shuffling money, perhaps using gasoline tax revenues on the walkway from Reliez Valley Road.
During construction, the park's perimeter will be fenced. "It will be inconvenient for those who walk the park," he said.
Tucker said residents' comments would be put on the city's website and would be considered as the final design is drafted.
The park is expected to take seven or eight months to complete, and should reopen next spring, Tucker said.