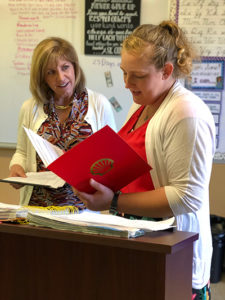 Caroline Knapp, a 5th-grade science teacher at St. Catherine's Elementary School, has been awarded a $2,000 scholarship from Shell to attend the National Energy Conference for Educators in Galveston, Texas, in July.
Ms. Knapp was given the scholarship after attending an April 18 Shell-sponsored National Energy Education Development Teacher Seminar at the Shell Martinez Refinery's Clubhouse. The conference was sponsored by Shell Martinez Refinery and the Shell Eco-Marathon.
Ms. Knapp says she hopes to integrate energy into her science curriculum, and to help other teachers at St. Catherine's be able to integrate energy lessons into their curriculum. She also wants to make lessons very hands-on.
She also says they are working on making a Science, Technology, Engineering and Math (STEM) lab at the school, and she hopes the materials can be used by students at many grade levels.
The April 18 seminar at the Shell Clubhouse was hosted during Shell's Make the Future and Eco-marathon event, held at the Sonoma Raceway. The festival and Eco-marathon brought thousands of visitors and hundreds of student competitors to the raceway.
The NEED Project designs and delivers teacher-tested educational materials, evaluation techniques and tools, recognition of student achievement, and professional development for educators. NEED materials and training programs provide comprehensive, objective information about the scientific concepts of energy and the sources of energy, including their use and their impact on the environment, the economy and society.