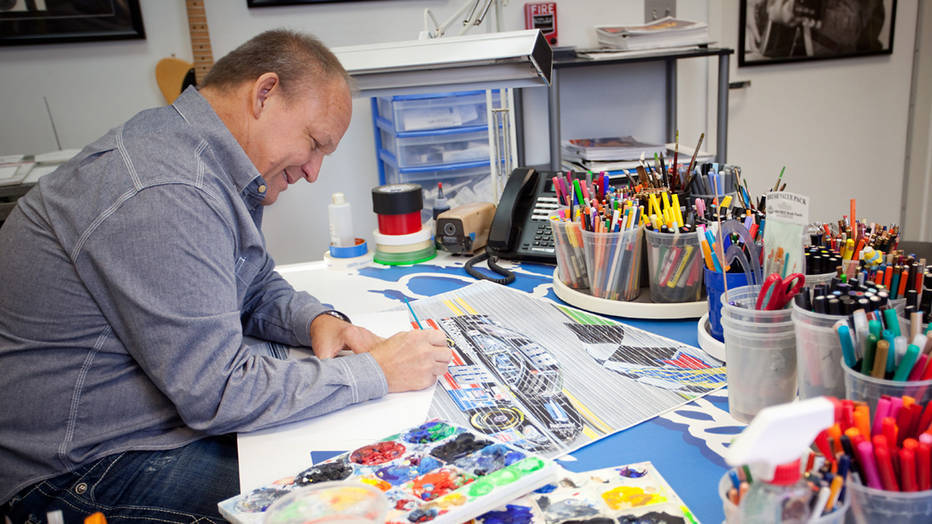 After a long battle with kidney disease, motorsport artist Sam Bass died Saturday at 57. His wife, Denise, made the announcement on his social media account.
Bass was NASCAR's first officially licensed artist who was asked to design a program cover for the 1985 Coca-Cola 600 in 1985, a year after he moved to Charlotte, N.C., from his native state of Virginia. Up to his death, he had done the race's program each year afterward.
He also provided illustrations for the minor league baseball club Hannapolis Intimidators.
Bass called himself a racing fan who got to "live out my dream of painting, drawing and designing race cars and creating artwork for great drivers and sponsors."
In addition to designing program covers, he also created car paint schemes for some of stock car racing's top stars, from Vallejo native Jeff Gordon to seven-time winner Jimmie Johnson, as well as Dale Earnhardt. Jr. and Tony Stewart.
His work is in the NASCAR Hall of Fame, in Charlotte, N.C.
Frequently, the performers in the Daytona 500 pre-race shows would be awarded a Sam Bass-painted guitar. Nashville (Tenn.) Superspeedways began awarding Bass-painted Gibsons to race winners.
The artist sometimes would spend weeks painting the guitar, and in 2009, Kyle Busch shocked Bass when in a few seconds he smashed the Les Paul model instrument so he could give his team and crew pieces of the one-of-a-kind trophy.
Busch told Bass he meant no disrespect. The artist was shocked and disappointed. At the same time, Bass encouraged one writer not to hold the act against Busch, advising, "He doesn't understand what he's done."
Bass's art has been praised by many in motorsports as well as the entertainment industry.
"We worked hard to help Sam," Earnhardt said Saturday, adding that it was difficult to realize he wouldn't see Bass again.
"Everyone knows how great he was," he said. "There are not many people you meet in your life who are so happy to see you every time they see you." Bass's attitude and demeanor demonstrated "how to treat people and maintain relationships."
Earnhardt said Bass always seemed grateful for anything that happened to him. "I hope he's celebrated."
NASCAR issued its own statement: "Though he may have never turned a lap or a wrench, few captured the essence of our sport through his work more than Sam Bass. He was a consistent presence in the NASCAR garage, and his ever-present smile and endearing personality welcomed all.
"Though we have lost a member of the NASCAR family, his legend will continue in his art – all of which illustrated the greatness of our sport and the talent of a true friend."
Speedway Motorsports President Marcus Smith issued his own statement, saying, "Our deepest sympathies are with Denise and her family today. Sam Bass has been a significant part of NASCAR's history.
"He poured his heart, soul and talent into producing souvenir program covers at many speedways including Charlotte for more than 30 years," the statement continued.
"His work provided our fans a keepsake to treasure, and that was so appropriate, because Sam was always such a fan of our sport and he was such a treasure to the entire NASCAR family. His body of work will be a legacy that lives forever. We will miss Sam's smile and positivity."