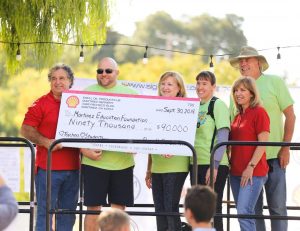 MARTINEZ, Calif. ­­– Joseph Huang was first in the men's 10k category, and Sigrid Fallentine was first in the women's category in the same event in Sunday's Shell/MEF Run for Education.
Lev Afonine won the men's 5K category, and Lisa Allan continues her reign as the women's 5k category winner.
But the real winner is the Martinez Education Foundation (MEF), as well as the students and teachers who will benefit from the 16th annual Run for Education.
Athletes of all ages helped raise $90,000 for MEF, according to information provided through Ann Notarangelo, external relations manager for Shell Martinez Refinery.
That's more than last year, when runners raised $75,000 for the cause, and also more than the 2016 run, which raised $77,000.
"This is the single largest fundraiser for MEF," said Cheryl Verreschagin, vice president of the MEF Board of Directors. "The contributions go directly to programs, technology and supplies teachers can't otherwise afford. Shell has been an amazing partner to us."
"It was truly a community effort," Notarangelo said.
That "community effort" has raised a total of $815,000 since the Run For Education began in 2003, Notarangelo's announcement said.
To receive a share of that money, teachers draft then submit grant applications, explaining what they would like to accomplish. Once approved by the Board, teachers use the grants for many things, such as laptops, science and art supplies, robotics equipment, books and tricycles, Notarangelo said in the news announcement.
This year, 825 runners and walkers competed in the event's 5k and 10k events on courses that took them through downtown Martinez. Helping them were dozens of volunteers, individuals, those from Shell, Community Emergency Response Team members, those from community organizations and students from Martinez Junior High School and Alhambra High School.
The Alhambra High School marching band entertained them as they assembled at Main Street Plaza, then a motorcycle officer from Martinez Police Department escorted the participants.
Many of the runners and walkers in the 5k race were accompanied by their children and dogs. Those running in the longer 10k tackled a course that took them up Carquinez Scenic Drive.
Before Sunday's run, the Martinez Rotary and Kiwanis clubs also raised money through their Family Fun Night Saturday at the Shell Clubhouse.
The Shell/MEF Run for Education was started with the dual purpose of supporting Martinez schools and promoting health and wellness. From the 2003 event, it has become the hallmark community event of Shell Martinez Refinery, which contributes staff time in organizing the run and money in matching contributions.
Other corporate sponsors gave money and in-kind contributions this year, and those giving $2,500 were KevComp, JL Molular and HydrochemPSC. Shell Martinez Refinery gave an additional $30,000, the announcement said.
More donations came in from what Notarangelo's announcement described as "friendly wagers" on the outcome of the Golden State Warriors playoff games with colleagues at Shell Deer Park and Shell Norco.  In the same vein, Houston and New Orleans refineries each gave $5,000 to MEF as the Warriors marched on.
Huang, 32, of Woodland, was first in the 10k run with a chip time of 41.08. and a clock time of 42.08.9. Behind him to round out the top 10 came Loren Baker, 32; Kehi Bandt, 37; Jose Lorenzana, 33, Adam Welcome, 39, Kevin Searls, 60; Philip France, 43; Tyler Allan, 13; Mark Ross, 61; and Ryan Spencer, 41. Fallentine, 36, was 16th with chip and clock times time of 49.45.7. Most of these runners were from Martinez. Besides Huang, Lorenzana is from Walnut Creek and Welcome is from Lafayette.
Afonine, 14, came in first in the 5k run-walk with a chip time of 18:07.2 and a clock time of 18:07.4. Rounding out the top 10 in that race were Joel Timbrell, 23; L. Afonine, 12; Max Keifer, 15; D. Allan, 11; Lisa Allan, 39; Greg Smyers, 58; Brian David, 32; John Hughes, 41; and Elijah Frierson, 14. All are from Martinez except Smyers and Hughes, who are from Lafayette.
Full results are available at https://runscore.runsignup.com/Race/Results/?raceId=4790#resultSetId-131282.
"We are so glad to partner with Shell on this great event that brings the community together for the benefit of our children," said C.J. Cammack, superintendent of Martinez Unified School District.
Notarangelo said she's already looking forward to the 2019 Shell/MEF Run for Education, and to races beyond, when the total raised will break the $1 million mark.
"This run is so wonderful on so many levels," she said. "It celebrates our schools and raises money that goes right into the classroom."