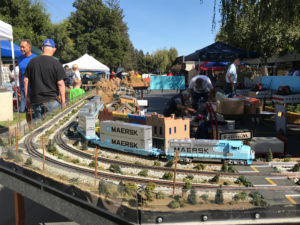 MARTINEZ, Calif. ­­– From massive outdoor garden-scale layouts to tiny but detailed N-scale railroads, model train exhibits will be filling the parking lot in front of Just Trains for its annual open house.
Just Trains, owned by Jim Anthony, is aptly named. It's one of the few San Francisco Bay Area stores catering to model railroading and one of the fewer still that sells only train-related items.
Anthony has owned the store for more than three years, but the business has catered to the hobby for the past 32 years. During those decades, children have grown up with Thomas the Tank Engine, the popular character in "The Railway Series" of books and the television program, "Thomas and Friends."
At the same time, the N scale has grown to rival the larger, standard-size H-O scale in details and layout accessories. Brass locomotives, still considered an industry standard, now face competition from those made of other materials.
Some who like to work in even larger scale opt for O-gauge trains, and others turn their back yards – or their entire home lot – into model train layouts in Garden-scale. Manufacturers have accommodated those enthusiasts through garden-scale layouts, often featuring well-known historic locomotives as well as more modern engines.
Visitors to the open house will see operating layouts brought by the Bay Area Garden Railway Society, the Central California Coast OM30 Group, Golden Gate American Flyer Club, Golden Gate Lionel Club, Diablo Pacific Shortline, European train Enthusiasts, Northern California Narrow Gaugers, Carquinez Model Railroad Soc, the Walnut Creek Model Railroad Society, Black Diamond Model Railroad Club and the Carquinez Toy Train Operating Museum,
Several individuals also will be bringing railroad layouts as well. Those stopping by will see examples of N, H-O, O and G, or Garden, scale trains and railroads. They'll get to watch as operators mimic the operations of a full-size railroad line – switching in a yard to assemble a train of various cars, then pulling the train out to travel along the rails.
Visitors can use the open house to inquire about various elements of the hobby, from benchwork, the supporting foundation of a layout, to modular layouts that can be hooked together in different configurations, particularly for traveling displays.
They also can compare scratch-built layout elements with those made using kits. Some displays they'll see will resemble existing railroads; while others come from the imagination of their designer. In Anthony's store, a railroad where customers can test or run their trains, has such scenery as farms and industrial areas. But it also has a few dinosaurs and "Bruce," the shark from "Jaws" as added whimsy.
Many enthusiasts say no layout is ever finished. The industry has been making improvements to sound, lights and other special effects. Accessories look better or operate more realistically. Amid the layouts of rumbling trains will be tables where manufacturer representatives from LGB-Marklin, Sprog, Airwire and the newcomer to the group, WiFi Model Railroading, will describe their companies' new developments and upgrades. Other companies are sending gifts for the door prizes that will be given away during the day.
Trains remain a popular hobby. In past years, the National Garden Railway Convention have attracted 1,200 attendees to the Bay Area to see layouts in the yards of Martinez residents.
Anthony has his own garden scale layout in his house's back yard, and recently welcomed the Bay Area Garden Railway Society to watch locomotives pull cars along his tracks.
Model railroad clubs, including those participating in the open house, operate throughout the Bay Area, including those in the East Bay Regional Park District – the Golden State Model Railroad Club in Point Richmond, and the Redwood Valley Railway, in Tilden Regional Park. Alameda County Central Railroad Society's layout is set up at the Alameda County Fairgrounds in Pleasanton.
Hungry railfans attending the open house will be served hot dogs, chips and soft drinks, and Anthony's wife will be bringing her homemade cookies. "Rosita started baking Friday," Anthony said.
The Just Trains Open House will take place from 10 a.m. to 4 p.m. Sunday, Oct. 7, in the parking lot in front of the store, 5650 Imhoff Drive. Just Trains is in Suite H. Those interested may visit the store's website, www.just-rains.com or call 925-685-6566.