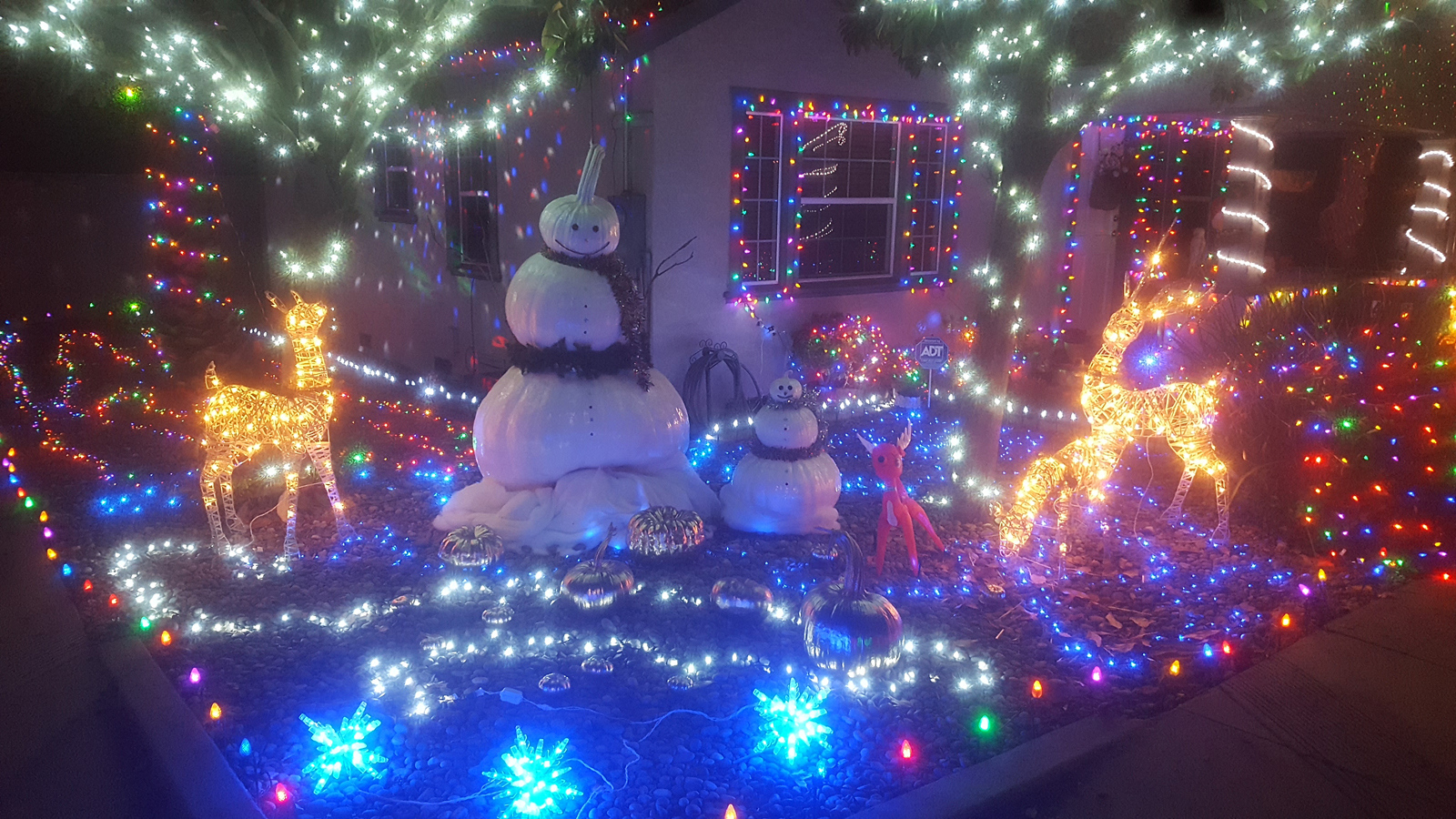 MARTINEZ, Calif. – "I think I am the inventor of the Giant Pumpkin Snowman," Jordan stated. "The way it happened is the real story."
Holiday decorations at his home near the corner of Arreba Street and Berrellesa Avenue have been a tradition since he, his wife Miranda and son Dylan moved in seven years ago. Holidays in their front yard have become a sight to behold since then, and it all began in a Half Moon Bay pumpkin patch.
"That year they had a raffle. If you could guess the weight of a big pumpkin, you could have it," Jordan recalls. "I spent $40 and bought all of the numbers between 150 and 190 pounds. It was 177 pounds….I loved it!"
Somehow they got the pumpkin home and settled it in their front yard with other pumpkins. They decorated for Halloween and turned on the lights. That pumpkin was so big and beautiful that Jordan could not bear to cut it into a Jack O'Lantern. Instead, he just let it sit there in all of it glory for delighted Trick or Treaters and neighbors to admire. Thanksgiving came and went, but because its skin had not been punctured, the pristine pumpkin continued to be the centerpiece of their front garden that fall.
"When it came time to decorate for Christmas, I loved it so much, I just could not cut it up. That's when I got the idea to turn it into a snowman. By doing that, it continues the legacy of the pumpkin," he declared.
Jordan explained that past generations depended on pumpkins for food throughout the winter because pumpkins that are kept cool and not cut, are not a breeding ground for mold. He said they were considered a plant that never dies because they could be eaten in the winter, then their seeds were dried for planting the spring every year.
So the big pumpkin was painted white, smaller painted pumpkins were stuck on top, and industrial adhesive was used to attach the buttons and eyes. It was a smashing success.
Each year the family goes to Farmer John's in Half Moon Bay to get a pumpkin, and each year the pumpkin has been more and more gigantic. "We don't go during the Festival… By now Farmer John and I are friends, and he gives me a special price," JordaN said.
In 2019, it took Jordan and eight other men to get an 892-pound pumpkin into his front garden, which is partly gravel, because he has to drive a truck to the Giant Pumpkin Snowman's spot, slide it off on a palate and position it without breaking the skin.
He remembered the ordeal, naming the loyal crew: my son Dylan, my Grandpa Jerry, and my associates: Kevin and Buzz; and my neighbors: Jeff and Jeff, Thomas and his brother in law.
Apparently the huge pumpkin developed some small perforations because it became moldy and Jordan had to cut it up with a chain saw. After conserving the seeds, he had to go back for a 600 pounder.
Jordan says the Giant Pumpkin Snowman can be a project fraught with obstacles. "The rain is a problem, and if the lights get wet… It can be time-consuming, but Dylan helps me and Miranda loves it," he said. "Well, sometimes she says I care too much about it, and it takes too much time."
He has a white-collar job where he is a problem solver, so the challenges of the giant pumpkins are not too daunting for him. This year, Jordan challenged his friend Gaelan, of Brentwood, by issuing a friendly declaration of the war of holiday lights and decorations. It was written on aged paper and patterned after the declaration used in the War of 1812.
They will be competing to best each other in holiday lighting and decorations. It might be fun to drive by after dark this season, to see how the Giant Pumpkin Snowman in Martinez is doing.