By SCOTT BABA
Arts and Entertainment Editor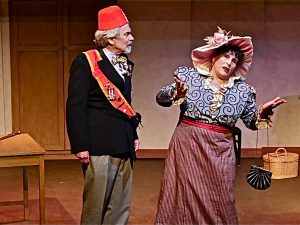 Thornton Wilder's "The Matchmaker," now playing at the Campball Theater in Martinez, defies simple definition.
It would be completely fair to label the play as a farce – it is, after all, extraordinarily farcical, with slapstick, confused identities, ridiculously unlikely coincidences and a brief moment of low-grade accidental crossdressing.
The play is a classic comedy, too, with snappy dialogue, clever situational bits, and zinging one-liners.
It could also be classified as a romance, as there is romance in abundance. And not just a single story about falling in love, but many – all of them exploring different reasons and circumstances and perspectives on why and how affection might bloom.
If you're looking for social commentary you will find it here, with a quiet but biting exploration of economic distress and personal worth and the place and power of women.
In the end, these labels are all inadequate to contain the many myriad elements of this play, which combine to form a delightful whole greater than the sum of its parts.
Though popular in its day – its original Broadway performance ran for over a year and netted two Tony awards – "The Matchmaker" has since come to be eclipsed by its well-known musical remake "Hello, Dolly!" as well as Wilder's more critically acclaimed Pulitzer Prize winning plays "Our Town" and "The Skin of Our Teeth."
First premiering in 1954, it was already old on its first night, being a rewrite of Wilder's 1938 play "The Merchant of Yonkers" – itself an adaptation of an 1835 one-act farce.
Set in the early 20th century, the play follows an ensemble of characters whose lives orbit Horace Vandergelder (John Blytt), an ornery miser who has made his fortune as a goods merchant in Yonkers, New York.
Vandergelder's niece and ward Ermengarde (Anne Baker) is in love with the artist Ambrose Kemper (Nick Sears), but Vandergelder believes that an artist would be incapable of supporting a wife and has refused to consider the match and plans to send Ermengarde away to New York City to separate the couple.
Vandergelder has also planned his own trip to New York with his new apprentice Malachai Stack (Brian Hulse) to explore the possibility of finding a wife for himself, something he desires more for economic reasons than romantic ones.
His quest is being facilitated by the eponymous matchmaker, Dolly Levi (Jeanine Perasso), who has her fingers in everyone's business and appears to have ulterior motives for everything she says and does.
At the top of Vandergelder's list is Irene Malloy (Marissa Clarke-Howard), a young widow who works in the hat shop she owns with her assistant Minne Fay (Melissa Momboisse). Malloy is tired of her business and her lifestyle both, and is willing to consider any means of escape, even Vandergelder.
When Levi stumbles on Ermengarde and Kemper debating a possible elopement, she convinces them to leave for New York together, but to hold off on the marriage until she can arrange to get them Vandergelder's unlikely blessing.
Added to the mix is Cornelius Hackl (Matthew R. King), Vandergelder's chief clerk (recently promoted from chief clerk with no increase in wages, benefits, or time off), who is frustrated with his humble clerk life and takes advantage of Vandergelder's absence to drag fellow clerk Barnaby Tucker (Thomas Spadini) to the city so that they can have at least one night of adventure in their dreary lives.
Before long everyone is in New York, and as the evening wears on their lives bounce and tangle and weave together with rising and hilarious improbability, nudged along occasionally by the mischievous Dolly Levi.
Though a period piece (doubly so, in a way, considering it was set 50 years before it was written, over 50 years ago), the language is surprisingly fresh and modern, and the jokes still land well ("Do you want to earn five dollars?" Vandergelder asks a cabbie. "I don't know," replies the cabbie, "I've never tried.").
What makes the play shine, however, is the characters themselves, who are all both flawed and brimming with hope and potential. Watching as they spin and scramble and try to fly, it is almost impossible not to cheer for them.
Spadini said that the fumbling antics of the characters felt very real to him.
"I think that there's a lot going on in this play that reflects what's going on in our society today," Spadini said, "with questions like: are you worth what you're making or is there something more to you? Is your life just the collection of money that you have or is it the company you keep? Is it the love that you have accrued over the years?"
Director Kim Doppe said that the richness of the characters is something that drew her so strongly to the play.
"That was one of the things that was very important to me – to be able to start out with sort of these strong caricatures, but then have these very solid humans underneath it," said Doppe, "where they're flawed but also wonderful all the way through."
Clarke-Howard agreed, and said that the way all the characters played off of each other was one of her favorite aspects of the play.
"I love the interactions," she said. "I love how we get to just grow as characters together, and find comfort in each other."
The performances bringing these characters to life are also excellent.
King makes Hackl believable as mouse of a man who thinks a night on the town is a last desperate chance to snatch the life he's always wanted from the jaws of mediocrity – and then makes it so. King said Hackl was an enjoyable character to find.
"He's a little bit nervous – I have a little bit of that, that's helpful to bring out," King said. "I love that he loves; his love is a strong one and a pure one so I find that interesting to pull forth because I have a little darkness in me and he has none."
Blytt's Vandergelder is enjoyable grumpy. Blytt said that playing Vandergelder has been a longtime dream.
"I've wanted to play Horace for a long time," B lytt said. "I wanted to play him in Hello Dolly for years and years, but then this came along and he's really a much better character in this as he has lots more to do. I don't get to yell at people in real life, so this is my chance."
The cornerstone of the play, of course, is the matchmaker Dolly Levi, a woman who is part con artist, part puppetmaster, part fairy godmother. Though Vandergelder thinks that he's in control, it's her machinations that drive much of the story, and her gentle pushes that brings everything together.
Perasso said that Dolly was an interesting juxtaposition to play.
"I like the way that she's a mixture of management and serendipity mixed together," Perasso said. "It makes her almost magical, like Mary Poppins, where things just happen, and yet she also works her way around into making sure things go in the way she wants them to."
Ultimately, Levi – and all the characters – bring home a smart, funny, surprisingly tender and deeply human exploration of what it means to take a chance and pursue one's happiness.
"The Matchmaker" should not be missed.