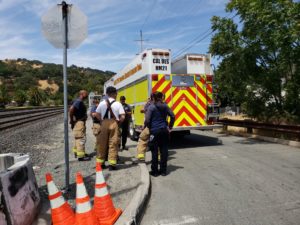 MARTINEZ, Calif. – A dozen units from various agencies responded to a possible chemical release Thursday at a Union Pacific Railroad switching yard northwest of Martinez.
Justin E. Jacobs, Union Pacific's director of Media Relations said the situation has been addressed
A chemical odor was reported about 10 a.m. Thursday at the Ozol Yard, Jacobs said, and railroad employees responded.
"All proper notifications were made, response procedures were and are being followed and railroad and local hazardous materials professionals are on scene addressing the situation," Jacobs said.
However, he didn't give details about the suspected source of the odor. No injuries were reported, he said.
Witnesses said hazardous materials specialists came from Shell Martinez Refinery, Contra Costa County Fire Protection District and Martinez Police.
The fire protection district issued a warning to people to stay away from the tracks near Embarcadero Street and Berrelessa, and said rail traffic also had been paused while workers dealt with the complaint.
"The incident is currently under investigation," Jacobs said.