By CHARLIE JARRETT
Martinez News-Gazette Columnist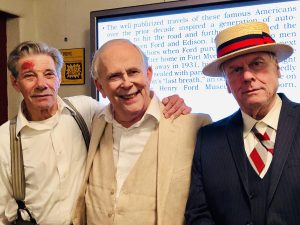 This week's promise of double billed theatrical events has turned out to be two excellent productions being reviewed. However, only one will be available over the next two weekends. The Eugene O'Neill foundation's premier production of Eugene O'Neill's Nobel prize-winning play, Long Day's Journey into Night, opened this past weekend at the Eugene O'Neill National historic site in the hills above Danville. It was so anxiously anticipated that it is completely sold out through the entire run.
A thoroughly enjoyable and historically significant play, "Camping with Henry and Tom", recalls the events of a private informal getaway in the country between longtime friends, President Warren Harding, Henry Ford, and Thomas Alva Edison. It will further confirm our belief that power and political corruption have always been lurking in private meetings behind the scenes of our political institutions.
The Onstage Theater Company is currently presenting "Camping with Henry and Tom", a 1993 play written by Mark St. Germaine, which chronicles the private conversations and events that purportedly took place in 1921 on a camping trip in the woods outside the community of Licking Creek, Maryland. While driving into the woods and searching for a camping location, Henry Ford (Wayne McRice) struck a deer with his car in which all three gentlemen were riding. In this tale (which may or may not be completely accurate) the Secret Service contingent and support staff that would normally accompany a president on any such outing, was derailed when Henry Ford deliberately disabled the vehicle of the Secret Service team, causing them to be left behind. Subsequently, Henry Ford, Thomas Edison (Gary Mutz) and president Warren Harding (Mark Hinds) are forced to struggle to make camp while they await rescue.
As a campfire is finally being created, the discussions range between frustrations over their different family problems and the pressures they are confronted with due to the nature of their business and the state of politics. It soon becomes apparent that this carefully orchestrated private meeting between the three of them was designed by Henry Ford, who was hoping to facilitate the favorable purchase of a dam and other infrastructure, built by the War Department, so that Ford could embark on a very profitable community development project. The tactics he used eventually rose to an attempt of criminal bribery by Ford's knowledge knowledge of the president's extramarital affair with his mistress, Nan Britton. The commentary and presence of a diffident and brilliant Thomas Edison, keeps the potential explosive nature of the discussions from reaching bizarre proportions, as the dark side of Henry Ford, his racial bias against Jews, and his belief that if he were president, he would be the financial savior of America, weighs heavily on the temperament of the gentlemen during these intense discussions.
In light of the divisive politics that Americans are dealing with today, I am sure that you will find this play invigorating and thought-provoking, especially when you realize during this camping trip that these once highly respected people in America, approximately 100 years ago, were involved with corruptions, much as we are dealing with today.
The actors chosen by director Randy Anger are quite excellent, including Joseph Hirsch who plays secret agent Edmund Starling who shows up near the end of the play to rescue the gentleman. Once again, the terrific set design is by Diane McRice and lighting is by Dave Pursley and Todd Drummond. It continues through Sunday, September 29th. Production days are on Thursdays at 730, Fridays and Saturdays at 8 PM, with Sunday matinees at 2:30 PM. The production is being held in the Martinez's Campbell theater, located at 636 Ward St., in downtown Martinez. Tickets are very reasonably priced at $22 for adults, $19 for seniors, students and active military. In addition, all Thursday performances are only $15 each. Tickets may be purchased by going to www.henryandtom@brownpapertickets.com or by calling 925-350-9770. This is a thoroughly delightful play that I strongly recommend.
Even though the Eugene O'Neill foundation's production of Long Day's Journey into Night is completely sold out with no apparent opportunity for you to buy tickets for this current production, it is important that I congratulate director Eric Fraser Hayes for his selection of the actors and his direction of this production, which was, as it should be, thoroughly intense and satisfying.
The story is really an autobiography of Eugene O'Neill's own family trials and tribulations brought upon by his father's tragic upbringing and inability to demonstrate appropriate compassion and love for his wife and children, due to his fear of poverty. Eugene O'Neill's father was noted Irish-American actor James O'Neill, made famous by his portrayal as Edmund Dante in the Count of Monte Christo. In 1833, James O'Neill took over the lead role at the Booth Theater and his performance in that part caused a great sensation with the theater-going public. Consequently, he became the actor in demand to play this part all over the country. He went on to play the role over 6000 times and ultimately found a way to buy the rights to the play himself and to control the profits he made in his acting career. But it is considered that he squandered his art and talent by continuing to play only one principal role. By 1887, the San Francisco Morning Call newspaper estimated his fortune at a quarter of a million dollars. However, this play embellishes his cheapskate attitude, wanting to spend as little as possible for anything, even for the health of his wife and children.
In this play, the father, James Tyrone is played by Kevin Copps; his wife, Mary Cavan Tyrone is played by Carole Swann; the older son, James Tyrone Jr., by Ryan Hayes and younger son, Edmund by Ben Elie. The house servant, Cathleen, is played by Caitlin Evenson. The younger son is the personification of Eugene O'Neill, himself, and his looming health problems. In addition, the play deals with the tragedy of his mother's drug addiction and the consequential devastation brought on by the way the father and the family dealt with her heath decline. The primary substance of this play is about how the four deeply wounded Tyrones confronted their powerful and contradictory feelings of the love, fear, and misgivings that they had for each other. Long Day's Journey into Night is considered by many to be the greatest American tragedy ever written.
For future productions coming up in 2020, you should go to www.eugeneoneill.org and www.villagetheatreshows.com for all local event and ticket information.