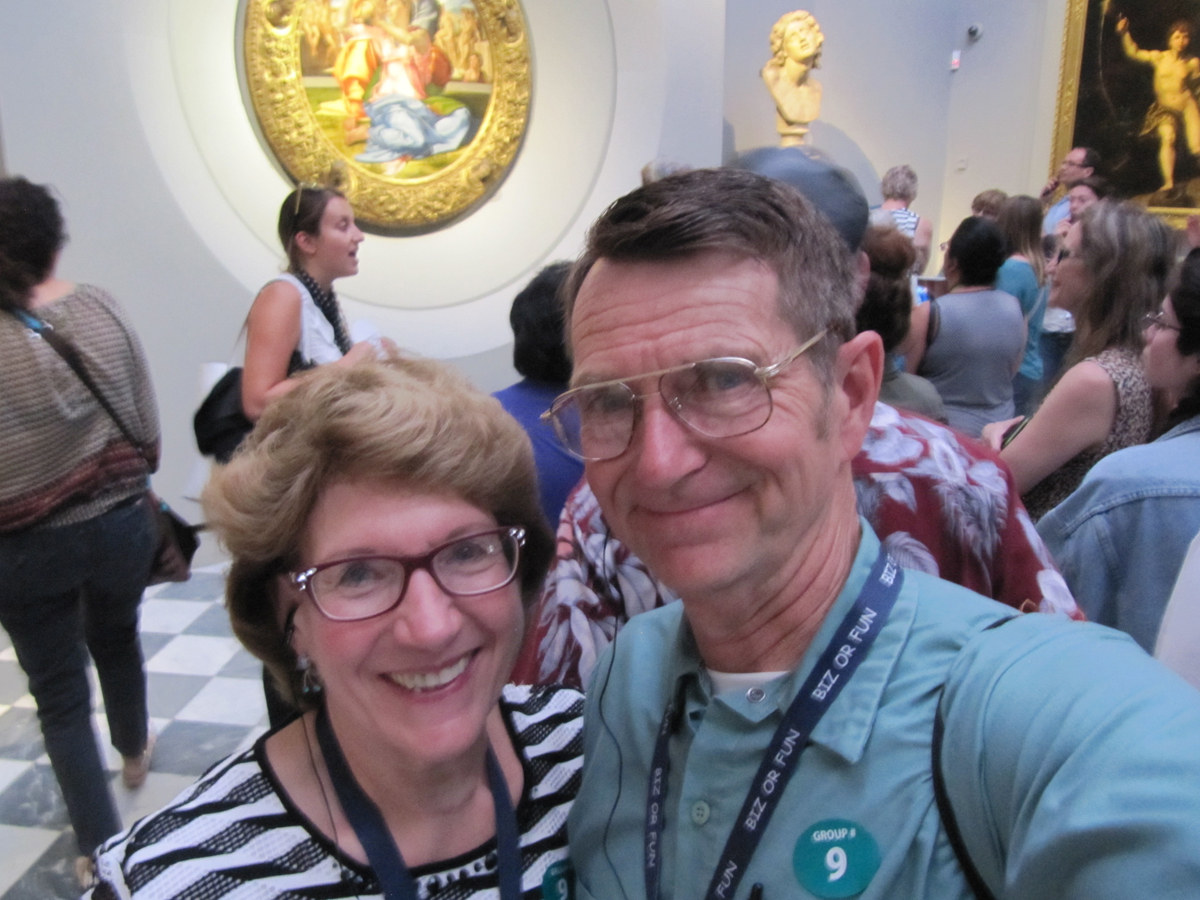 By JEFF ROUBAL
Martinez News-Gazette Columnist
Last summer, we sailed on a Mediterranean cruise to celebrate our 40th anniversary. It was a glorious three week vacation spent visiting exotic ports from Barcelona in the west to Athens in the east. Our favorite city on the cruise was Florence, Italy.  Vivian and I had visited once before in 2008 (for our 30th anniversary) to see the Ponte Vecchio, Piazza Duomo, and the Piazzale Michelangelo. This year, our goals were to visit the Uffizi Museum and the Galleria dell'Accademia to see Michelangelo's Statue of David.
We traveled with several retired friends from Vivian's teaching days at Will C. Wood High School in Vacaville. We've known Chris Sullenger Lindberg (Martinez native, graduating in the Alhambra class of 1963) for more than twenty years. She and Vivian often collaborated  with classes at the high school. Vivian taught home economics and Christ taught French. They made beignets together with their advanced students. Chris's knowledge of French came in very handy on our trip.
Chris's former college roommate was thrilled to join us on our cruise. It is cheaper and more fun to sail with two passengers to a cabin! We met Sharon for the first time at the San Francisco airport. Sharon turned out to be a wonderful traveling companion and a new life-long friend.
Our ship docked at the port of Livorno on June 8th.  Livorno is a seaport city near Pisa on the Tuscan coast once occupied by the most influential family on earth. The Medici Bank,  created in 1397, became the most powerful bank in the world until 1494. The Medici family dominated banking, then trade and commerce in Italy and Europe.  Their influence can still be seen. With their wealth, the Medici family funded many things we now take for granted. They financed the invention of the piano, shaped the development of opera, and paid to construct the Saint Peter Basilica in Rome. They patronized such famous artists as Leonardo da Vinci and Michelangelo, as well as philosophers like Galileo Galilei and writers like Niccolò Machiavelli.
When we reached Livorno, we four packed our cameras and bottled water, bid "Arrivederci!" to our three thousand "shipmates," and boarded the tour bus for a 90-minute ride from Livorno to Florence.
The Medici's global central headquarters was The Uffizi in Florence. Uffizi is italian for "offices." Downstairs, it was all business. Upstairs, the Medicis filled their halls with an astounding private art gallery.  On October 31st, 1737, the Medicis presented the building and the art collection to the Governor of Tuscany for public use – with a stipulation that none of the art could ever be removed from the City of Florence! Today the Uffizi is the world's finest Italian Renaissance art museum.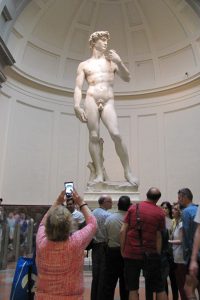 The Uffizi was really crowded when we arrived.  Later I learned that the Uffizi hosts over two million visitors a year, making it the most visited art gallery in Italy.  In high season (particularly in July), wait times can be up to five hours. The line was fifty yards long when we arrived, but it only took 90 minutes for our turn to enter.
It was well worth the wait.  We saw hundreds of works by famous artists like Botticelli, Raphael, Titian, Caravaggio, and Rembrandt.  There were paintings, sculptures, and engravings of the highest quality and historical significance. One that impressed me was The Birth of Venus.  This painting was in all my art books growing up. I stood in front and took a selfie!
Another pair of paintings that inspired awe were a self-portrait of Rembrandt as a young man and a self-portrait of Rembrandt as an old man.  The images were fresh and vibrant even though they were painted in the early 1600s. I examined these paintings from only inches away. The memory still gives me goosebumps,
After three and a half hours at the Uffizi, Vivian, Chris, Sharon and I regrouped for our 15-minute walk to the  Galleria dell'Accademia to see Michelangelo's Statue of David. Thankfully the entry line for this second building was a lot shorter. We walked inside after only 20 minutes.
My first impulse on seeing David was to back up.  He is 17 feet tall and and 6.5 feet across. You can't stand close to something that big and get the best view. I have seen this sculpture before in books and videos but it is not the same thing as seeing it in person.  Everyone moved thoughtfully and kept their voices soft in the presence of something so overwhelming.
My next impulse was to examine every inch up close. The marble looked like it was sculpted yesterday even though it was completed on September 8th, 1504. The veins in his hands stand out. The muscles in his legs are exquisitely cut.  After making two complete circuits around David, I sat down on the bench next to Sharon to study his back.
"What do you think that is?" Sharon asked, pointing to a diagonal line from his left shoulder to his right hip.
"Look at what he is holding in his hand." I instructed while pointing to his right hand.
"It looks like a rock." Sharon replied.
"Yes it is a rock and he is carrying a sling across his back to hold the rock." I explained.
"Kind of like David and Goliath in the Bible?" Sharon asked.
"He IS David in the Bible." I replied.
Sharon was surprised with the sudden appreciation that this man in front of us had slain the Philistine giant Goliath thousands of years ago.  History came alive for her that day. I was surprised by her follow-up retort, "well in the bible he had clothes on."
I am often reminded of an old quote by Saint Augustine of Hippo, "The world is a book and those who do not travel read only one page."  Vivian and I have seen many places in this world and have learned so much from each experience. That is why we travel, to turn new pages in our wonderful world book.