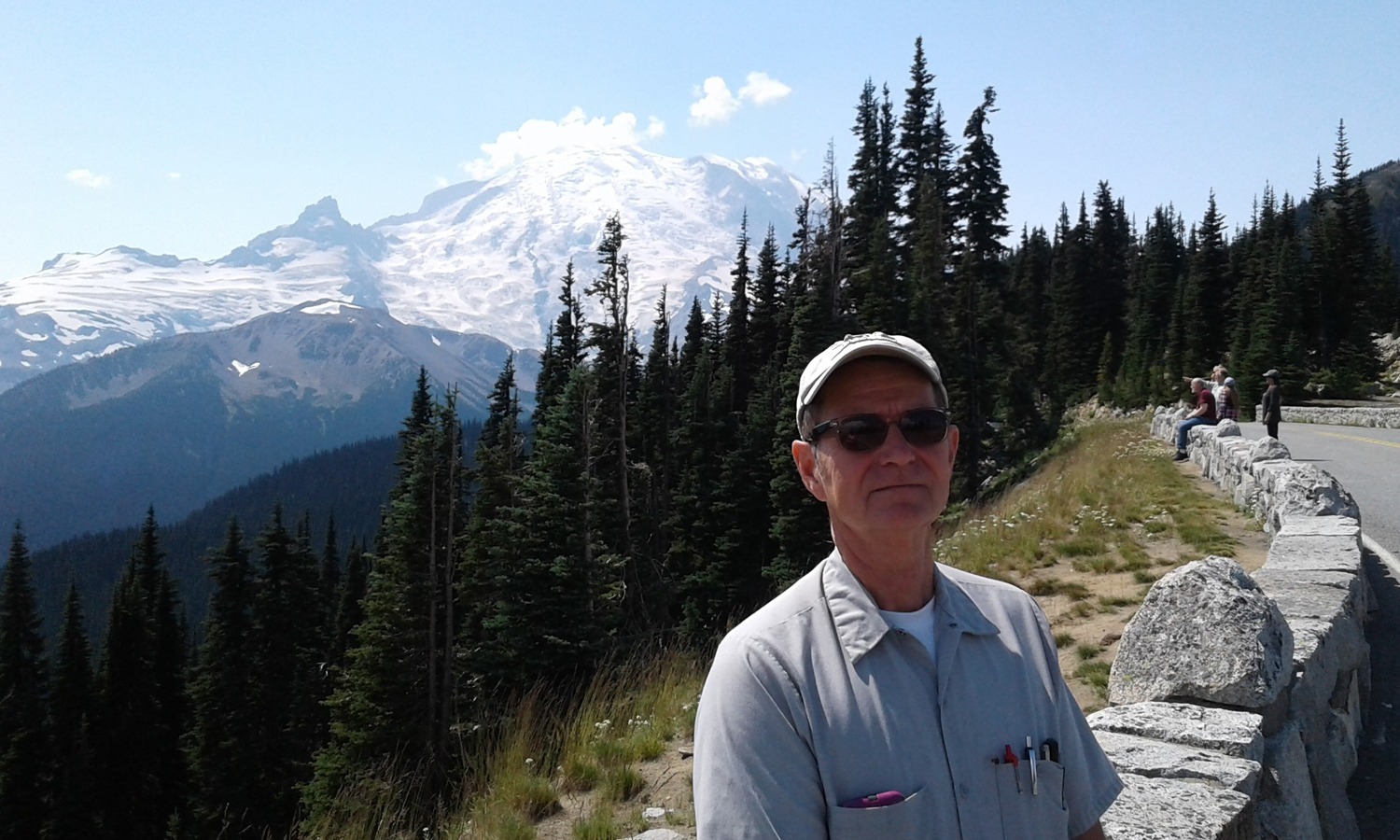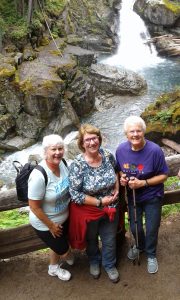 "Wow! Look! You can see the mountain today!" my daughter exclaimed as we drove on Highway 5 north of Seattle. We were heading to Camano Island to celebrate my sister Johnette's 60th birthday. Mt. Rainier, coated in white snow, it's 25 glaciers sparkling in the sun, loomed majestically off in the distance. Mt. Rainier is one of those mysterious mountains cloaked in clouds most days. "It's a good omen." I said, repeating what I've heard my sister Brenda say about the mountain many times during the 45 years since she moved there.
Johnette was celebrating her 60th birthday by zip lining through a forest with friends and family. I went along to hold the coats. It was a lovely day. The sun was shining, the temperature was comfortable and the company pleasant. As I sat at a picnic table chatting with another coat holder, I could hear shrieks of joy (at least I think it was joy) from the tree tops above me. I walked to where the zip line ended and thoroughly enjoyed watching my two sisters, my daughter, and my nieces and nephews come flying in to land on the last forest platform. When they were lowered, one by one, 40 feet down to the ground, each one of them had a smile as wide as the sky. Especially my sister Brenda who just turned 79 years old. It almost made me wish I had tried it. Not really. I like being the coat, purse, wallet and cell phone holder.
Johnette's daughter Ashleigh hosted a fun barbeque after the zip lining. Kids played on the lawn. We ate hot dogs, sausage and hamburgers. We sang happy birthday and Johnette blew candles out on the Cherry Chip cake I made for her. One of the presents Johnette opened was a National Park Passport. Guess who gave it to her.
A couple of decades ago Jeff received a California Parks spiral ringed book for his birthday. The paperback contained information on state and national parks in California. Beside the name of each park there was a blank space. The idea was to encourage us to visit each of the parks and have the book stamped with that park's special stamp. A few years later, Jeff received a National Parks Passport as well. We've tried to go camping at three different parks every summer since receiving the books. We are lucky to have so many parks in California and across this nation! I'm not sure we'll ever get to them all during our lifetime.
We did get new stamps on our trip to Washington. The weekend after the great zip-lining event, Jeff and I met up with my sisters and nieces and nephews at the Ohanapecosh Campground in Mt. Rainier National Park.
Jeff and I went a day early to set up camp. It was a beautiful day and Mt. Rainier was big, white and in all its glory against bright blue skies with only a wisp of a cloud hanging over the mountain like a cherry on top. We drove up to Sunrise, the highest point in the park reachable by car. The panoramic view of the mountain and surrounding peaks was incredible. We got our first Washington passport stamp at the visitor center.
At the Ohanapecosh Campground, Jeff and I opened the box to our new "two-room" tent. No instructions. Just tiny pictures. We examined the poles, slots and holes, and when we had a good idea of how to put it together, we did just that. A snap of the fingers and it was done! After S'mores and a clear evening under the stars we retired to a warm and cozy abode.
The next day the rest of the family arrived. We walked to the visitor center, (got another passport stamp) and hiked an interpretive trail out to the hot springs. Did I mention that Mt. Rainier is an active volcano? By the time we got back to camp, it was starting to drizzle. We set up a canopy over the table where Jeff cooked teriyaki beef kabobs for dinner. We set up a second canopy to cover the ten of us hungry campers as we ate. The drizzle fizzled long enough for us to build a fire and roast marshmallows. Why is it that the smell of an open fire, melting marshmallows and damp fir leaves is so comforting?
Jeff and I slept in one room and my sisters in the other room of our brand new "two-room" tent. Or tried to. As soon as we zipped the tent shut the rain came pelting down! The lightening flashed and the thunder boomed! As each of the bright flashes lit up the tent, I counted to myself – "One thousand one, one thousand two, one thousand three, one thousand-" BOOM! Went the thunder, three and a half miles away. I looked at Jeff. He was sound asleep. I lay in my cozy flannel sleeping bag and listened with excitement for a long time before I drifted off.
We woke to a damp morning but no rain. We assessed the damage to our campsite and found none. At the other campsite, only my great-nephew's tent sprung a leak. He and his girlfriend jumped into their car to finish sleeping. Luckily, his dad had brought a spare tent that was water proof. It rained the next night as well, but no lighting or thunder.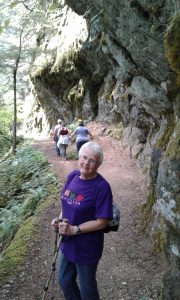 All ten of us went for a hike (According to Ranger Marion, "A hike is a long walk with snacks.") to Silver Falls. It was an inspiring trek through an old growth forest of cedar and Douglas Fir. We saw trees that were a thousand years old and almost as wide as a Coastal Redwood. I've always been a bit snobbish about the beauty of California's Redwood forests. But I have to tell you that the forest on Mt. Rainier could give Muir Woods a challenge in a beauty contest.
When we returned to the campsite, I checked my Fitbit. We had walked 3.5 miles with the equivalent of 47 flights of stairs. My 79-year-old sister didn't keep up with us. We had to run to keep up with her. I'm praying that I inherited the same genes she did.
Starting with a college class in geology and continuing from our many visits to natural museums in parks, I've come to understand a lot of how our world took on the shape it has. Even though I understand it, it still absolutely amazes me. Can you imagine a glacier, just frozen water, slowly inching along for millions of years? Sounds kind of slothful, and yet, that frozen water carved out valleys in solid rock and cooled the edges of fiery lava flows to build up mountain ridges. When I look up at those jagged mountain peaks, I can imagine the quiet cold force working against the intermittent heated violence it took to build Mt. Rainier.
Sadly, our camping trip came to an end after three days. Happily, our new tent fit back in the box almost as easily as it came out. We had a wonderful time, even if Mt. Rainier was "rainier" than we expected. Washingtonians know how to live in the rain, that's for sure!
When Mount Diablo appeared on the horizon on our trip back to Martinez, I said the same thing I've been saying since I was old enough to recognize the mountain. "We're almost home!" Mount Diablo may not be a volcano, have glaciers, or hide under a mysterious cloud, and is hotter than Hades in the summer, but it's our mountain. It's good to be back home.
You too can have a National Park Passport book of your very own. Just stop by the John Muir National Historic site at 4202 Alhambra Avenue, right here in Martinez. Most National Parks, Historical sites, and monuments carry them in their gift stores.