By JEFF ROUBAL
Martinez Gazette Contributor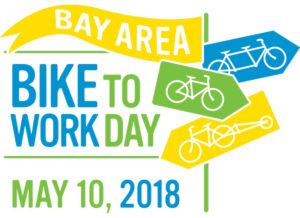 Tomorrow will be our 24th annual Bike to Work Day – a day for everyone to ride a bicycle to work, to school, to run errands, and to play. More than one million Bay Area residents live within five miles of their workplaces, an ideal distance for bicycling. Tens of thousands of our friends and neighbors will do just that tomorrow.
For Bike to Work Day 2018, there will be over 400 Energizer Stations throughout the nine county San Francisco Bay Area where cyclists can stop for refreshments, giveaways, and bicycling information. Some Energizer Stations will be open during morning commute and some during the evening commute.
Biking is a carbon-neutral, healthy, and cost-effective method of transportation. A typical passenger vehicle emits about 10,000 pounds of carbon dioxide per year. Vehicles emit 31 percent of carbon dioxide, 81 percent of carbon monoxide, and 49 percent of nitrogen oxides released in the United States every year. Bike to Work Day annually encourages people to try bicycle commuting as a healthy and safe alternative to driving.
Not sure how to get where you want to go? There is a free Bike Mapper app online at 511contracosta.org/bike. Enter where you want to start your ride and where you want to end. The App will show alternative routes, directions, distance, time, hills, bike lockers, and Energizer Stations plus current temperature, visibility, humidity, and air quality.
According to the 2013 American Community Survey, over 62,000 Bay Area residents use a bicycle as their primary means of getting to work every day. According to the SFMTA, between 2014 and 2015 in San Francisco alone, bike commuting increased by 8.5 percent.
Energizer Stations in Martinez:
– John Muir National Historic Site, 4202 Alhambra Avenue
– Central Sanitary Service, 4797 Imhoff Place
– Martinez American Legion, 930 Ward Street
– Amtrak Station, 601 Marina Vista Road