By BILL SHARKEY III
Martinez News-Gazette Columnist
EDUCATORS more than have their hands full these days trying to stay in business. There always was a time when school boards had more than enough to do to maintain their school buildings. The grounds, a full staff of teachers, other personnel, and appropriate curriculum to meet state requirements, and the local requirements. Now, they have issues of property management, revenue from such properties and how to enhance the revenue. Could we ever imagine that the development of housing on vacant district-owned property might be a possibility?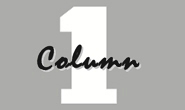 Oh, yes! Throw in a vacant Wendy's fast-food building on their property, with rent revenue no longer coming in, and add one more headache for Martinez Unified School District trustees and staff. Oh, yes, there is one more issue which is pretty much on-going: how much money for schools will be coming from the State of California?
And, just to make certain nothing is ever easy, toss in the efforts to cut $1.8 million from the budget. That's after significant cuts already made.
What's that old song, "School days, school days, good old (something) rule days?" Gee, ain't we got fun? But, maybe not as much!?!
SPEAKING of fun, have you seen the lineup of College Bowl games starting Friday, December 20 with the Bahamas Bowl in Nassau, and ending with the College Football Championship on Monday, January 13 between the winners of the Peach Bowl and Fiesta Bowl games, in New Orleans. If you count from the published schedule, you will find 41 games to be played, many among them with schools not worthy of being in a bowl game. But, the schools need the revenue to finance their athletic programs. Thus, let's have a bowl game.
While we have complained for years about the ever-growing number, and schools with records like 6-6, 7-5 involved, we have seen some very good games played in front of very sparse crowds. So, it will continue.
Incidentally, the Cal Golden Bears have been invited to the Redbox Bowl on December 30 at the Levi's Stadium in Santa Clara. They will play University of Illinois.
Playing Illinois reminds me of the Rose Bowl game on New Year's Day 1950 which I attended as a student Down on the Farm. Very long and tiring weekend traveling, partying, etc. At half time the score was tied 7-7. Game ended Illinois 49, Stanford 7. It was a long drive home. And, the thought of trying to replicate that weekend now causes chills and the need for a nap.
SPEAKING of continuing, the Santa Claus house on Main Street continues to be an attraction for children and parents again this year after some refurbishing during the off-season. Thanks to the crew of city folks who accomplished this feat. What's Christmas without Santa on Main Street?
SPIRIT OF THE SEASON has gotten underway across the nation with full speed ahead at stores and on-line. However, there if little of it to be seen in our nation's capital where animus is seen everywhere. Politics is in full embarrassing view for the entire world to see. Our country, once a glowing example of how to do the right thing, and respected universally, has slipped so badly in a few short years of increased division. Did we always have some division, or did it begin to get underway with the 2016 election of a new national leader? We've seen a lot of 'interesting administrations' in our many years, but nothing like we have seen recently, and currently.
Impeachment is an ugly, but necessary, part of our Constitution. Without such a provision we could have leaders, judges and others who might just think they could do anything they wish, without controls. Oh, did I hear you say we have such a leader now who has expressed his belief that our Constitution allows him the power to do whatever he feels he wishes to do? Really?? Did I miss something? Maybe it's time for impeachment? Or, perhaps a better way is Election 2020! We'll see.
As we meet our deadline for this issue, the House of representatives is debating the issues and whether to impeach the president. It's nasty, but we should know the outcome by the time you read this Column 1.
ALREADY, as 2019 winds down on the calendar, so soon, we are getting reminders of how to deal with taxes to make things better/easier after January 1. Didn't we just go through this exercise? Soon (already, you say?) there will be tax preparers opening offices to assist us. Hopefully, they are trained and knowledgeable of the most recent changes to the tax codes, and their help is not going to cause you troubles. Dealing with the IRS and State Franchise Tax Board is not a barrel of laughs. But, don't let me spoil your holidays. Just a friendly 'public service announcement'.
MUCH MJORE FUN was our watching the film recently which had Bing Crosby, Kathryn Hepburn, Cary Grant, Jimmy Stewart and others. Wonderful movie with romance, great script and not a single gun shot , mugging, killing or violence. What has today's society and culture done wrong? No more fun movies? Have to have killings, explosions and more in every flick?
FLU SHOT time! It's the season to be jolly, and catch a flu bug. We had our shots this week. Please do yourself a favor and get your shot now!
FEELING A RENT PINCH? Did you see single bedroom apartments in SF going for $3,940 a month. Ugh and ouch!
CHEERS for the Salvation Army's Bell Ringers, out and about with their red kettles hoping to raise the funds to make the less fortunate among us happier or less hungry during this season of giving. Please don't pass them by with just a nod, Drop something in the kettle, and smile.