By BILL SHARKEY III
Martinez News-Gazette Columnist
"I MISSED YOUR COLUMN last week." The sweetest words a column writer can hear. A reader who looks forward to a writer's work. That's what happened last week when I saw Edy Pino at Nob Hill. "I look forward to it each week, and missed it last week," she commented. Edy was the office nurse for the late Dr. Ben Whisenand for many years, and widow of Don Pino, a classmate of mine at Alhambra, Class of 1948. Thanks to Edy and my several (?) other regulars (?).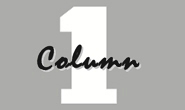 FINALLY, there is some life in the upcoming June election. Not much, to be sure, but some. Signs in yards all over town for the YES on Measure I, the Citizens Initiative to protect open space and parks, according to its proponents. The bright green and red signs pop out at us along the roadway rather curiously as two opposing issues on one sign….interesting approach. The two-issue signs, Yes on "I", No on "F" do stand out, and the colorful mailing piece does tell a story.
With the primary voting just a month away, when will we begin to see some campaigning and voter issues become more exciting? Guess the letters to the editor in Wednesday's edition may have started some heat?
WASHINGTON D.C. action with all the 'characters' involved with the Mueller investigation makes for great TV watching. Would be hard for writers to produce the back and forth intrigue taking place. And, all of this goes on as the Liar-in-Chief travels around in his Air Force One to rallies of his apparent kindred spirit 'base'. What a sham!! While real world issues, as well as our own nation's issues, clamor for serious attention and consideration, our alleged leader is playing golf, attending rallies, bobbing and weaving with distractions, changing lawyers, sending out nasty tweets, and more. And, this week he very modestly claimed from a rally podium that he is responsible for the possible peace efforts on the Korean Peninsula. Hope he finishes it!
SPEAKING of people who have problems with being truthful, the Oval Office occupant railed to the media that Senator Tester from Montana told lies about the Navy Admiral nominated by the White House, ruining his career and his good name. The President roared that telling lies about the Admiral was "outrageous". Something's not quite level when the contender for the most lies on any given day in any given statement or speech, calls someone else's alleged lies "outrageous".
From my background and loyalty to our military, it was very sad to see the nominee for the VA Director's job exposed to the criticism he suffered. However, if any was true, it needed to be said.
MUCH APPLAUSE due for the members of the community who were recognized for their outstanding efforts as "Citizens" working in many ways to enhance schools, businesses, community groups, as well as the civic efforts of young men and women. The expanded program is a good step beyond the earlier recognitions of man, woman, young man, young woman, then added life time achievement. Thanks to you all!

INTERESTING YOUTH program brought to our attention this week is one which sounds like it has great potential in this time of stress and conflict in the lives of our youngsters. Junior Coaches, school youth at the fifth grade level, are part of a program called Play Works. Their mission is to work with other elementary-level kids at school "keeping an eye out" for bullying, students in distress of some kind, conflicts or mentoring when appropriate. Our source, a mother of a Junior Coach at Stoneman Elementary in Pittsburg, attended a conference recently attended by representatives from 30 schools. Kids helping kids!!
MY FAVORITE LETTUCE is taking a pounding as the culprit in the E.coli outbreak which now has apparently been the cause of a death in our state. The growers of romaine certainly are taking a pounding, as well. At what point can someone announce that "all is OK now?"
LOOKING for residents of our county who are interested in history. The Contra Costa County Historical Society, a wonderful organization. New Board members are being sought to fill vacancies. Great opportunity to be part of a very purposeful enterprise. If interested, please send an email to Board President John Mercurio at johnmercurio@astound.net.
SPEAKING of history, please keep in mind the busy efforts to bring the vintage 1901 Pullman-type Executive train car from Walnut Creek to our waterfront to become an exhibit of reknown. Funds continue to be needed to move the 180,000 -pound. 80-feet long car to Martinez. Send to www.gofundme.com/MoveTheTrainCar. OR, mail donations to the Martinez Historical Society, P.O. Box 14, Martinez, CA 94553
CHEERS for one of the many 'stories' told about Barbara Bush following her passing. One evening when son, George, was visiting with his folks, he had his feet on the coffee table reading something. His mother pointedly told him to remove his feet from the table. 'Papa' George said, "Good grief, Barbara, you can't talk to him that way. He's the President of the United States!" Mother's response, "Yes I can. He knows better." 'Mama Bush' was known as the enforcer, we heard.