By BILL SHARKEY III
Martinez News-Gazette Columnist
MONEY TALK this week was, as always, a head scratcher for most of us who are not in the arena of big spenders. Case one: The San Diego Padres signed a deal with an outstanding player for 10 years and $300 million. Name is Machado, and he is a walking bag of money. You'll know him if you see him on the sidewalk ahead of you. His pockets hang way down and they jingle as he walks. Also a give-away are the three big guys in dark suits following him for security.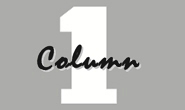 Next case is not for any of us seeking a nice place to live in San Francisco, or anywhere. The penthouse condo is located in the area in SF near the new giant transit center (not now open due to some structure issues holding it up!), but attracting high-end tenants for living and dining. However, if you bought this prime property, you might have to pass up the high-end eating places in the area. The condo, not yet complete and on the market, will have an asking price of $42 million.
If you then want garbage pickup, water, power and the other good things the rest of us have and expect down here on the flatlands, there will be the usual monthly fee for those services.If those homeowners' fees could be forgiven, perhaps there might be more buyers interested? However, if you work in The City, think of the BART and train fares from the commuter trains coming up from Silicon Valley could be saved. And, you could spend more time with the family looking out the window at the great views of San Francisco and the bay. That's after you've had dinner (a meager meal with no dessert), and have tried to figure how to pay the maid services, kids' private exclusive school, including bus transportation to and from classes, dog walker, garage rental nearby, groceries from the very chic grocery on the ground floor and, of course your subscription to the Martinez News-Gazette because you have court cases in Martinez.
"Honey, perhaps we should look for a nice place in Oakley, Manteca or Tracy? It's a two-hour or more each way to my office but, what the heck, I can pay the Gazette bill each month and not be late.."
"Honey, I don't know exactly where Manteca is, but I have heard it is really a nice place, and you don't need a dog-walker.
GIANTS MANAGER Bruce Bochy is headed for retirement, but not until the end of this 2019 season. A good guy. A good manager. His three World Series since 2007 remarkable. Happy retirement to him.
WHAT'S NEXT?? How much more can our nation prepare to witness? How much more can we, a nation of honor, integrity and dedication possibly endure after two years of on-going investigations, revelations, indictments and issuing of prison sentences? All in addition to the hourly (or more frequently!) rantings on Twitter of the Oval Office Occupant whose run for the nation's highest elected office, his unfortunate victory and inauguration on January 20, 2017, a 'day of infamy'. And, as is said, "It ain't over yet." There is always tomorrow.
In addition to all of the appointees named by the Twitter-in-Chief who have lost their favor because of not agreeing with their appointer, and were dismissed unceremoniously, as we sat to write this column, the White House reportedly is looking for a replacement for Dan Coats, the head of the nation's intelligence organization, whose testimony before Congress recently did not please the "I expect loyalty" (not to nation, but to me who got you your job', etc). The fact that the several intelligence organizations provided the report, and Dan Coats was the 'messenger', put him in the crosshairs of the guy whose gut the nation is depending on to keep us safe. Dan Coats' dismissal, apparently, is anticipated any day now. The Oval Office Guy just cannot deal with anyone not following what his gut tells him. (Burp!!)
The nation's interests, and those of organizations and individuals whose future is in the hands of this so-called leader who, almost daily, has earned himself a cell in an institution of incarceration, a studied analysis by so many leaders and experts in mental health issues. How soon could that all occur? For all those who are not part of his 'base' who just cannot believe the daily expose of his and his closest friends and advisers. Of course, it is all fake news, right? Perhaps all of the convicted felons headed for prison terms (one a probable 'lifer' because of age and term length) will reflect on what they did and how they got involved. "Why was I so stupid?" "What did I gain."
CAPS A PROBLEM? Really? Why? Because a shop keeper objected to a patron wearing one of those MAGA caps made popular during the 2016 election campaign by a candidate for the presidential office. The shopkeeper's 'objection is certainly his issue, but not one to cause legal action?
I, being one who grew up in an era where men respected traditions regarding certain issues, but not necessarily still practiced. For those of us from that era, life can have its 'moments'. Wearing caps and hats in doors is one of them. In my humble opinion, it is a lowering of the standards for courtesy. It is another lowering of, in my humble opinion, of course, of the culture of our society. Not saying it is wrong. Just saying I don't like some of what is happening in our society.
Ball caps were worn way back by 'guys' who were baseball players. I recall when kids wore 'Keds' for PE in school. All other times they wore leather oxfords or boots of some kind. Who can recall when girls wore skirts or dresses in high school? And they wore shorts and tank tops for physical education classes? How about flip flops? How about shorts and tank tops today for classes? When did that breach of 'proper' dress fall by the wayside? At the same time, when did some teachers begin a downward move to much of what we see today? Is there a correlation between the appearance of a teacher who is to be a respected figure in her position as a leader of the education of our future citizens, and their students who come to them each day from many homes which may not be able to afford decent clothing for their children?
Many years ago, say 60 years ago, I watched a scene from my window at my news room in the old Sharkey Building at 630 Court Street, directly across from the County Finance Building, a transition to a new policy, then, called 'dress down' Friday, This was a chance for county employees to relax in their dress for that day for 'fun'. I watched from my window as the transition took place. Gradual at first. Then it became that the 'dress down' Friday slowly moved over to 'more days Friday', then to an 'everyday Friday' where the employees in the Finance Building coming down the stairs at noon and 5 o'clock were not necessarily someone who you would be comfortable dealing with your property taxes. Can't report on this situation now, but do not believe that time has improved the situation. With our government on the hot seat in all jurisdictions, from Washington, D.C. to Contra Costa County and Martinez, CA., we feel that the appearance of propriety and honest and effective government is a must. Do appearances count? We believe so!! If we are old-fashioned, tell us. We may not change, but we would love to hear why we should. Try us at bjsharkeyiii36@gmail.com.
CHEERS to our John Muir Historic Site and the visitors it attracts. A recent rainy day we were at the Chase bank across the street and watched a whole group of visitors with umbrellas headed up the path to visit the mansion. What a treasure we have in Martinez, Ca 94553, a jewel of a community which is home for so many of us.