By BILL SHARKEY III
Martinez News-Gazette Columnist
THE ALMOND RANCH, described in a detailed story this week regarding its purchase by the John Muir Land Trust, may lead some in the area to think we are getting into the agriculture business which has been so important in the Golden State in recent years. Not so! But, a great story of more historic land in our area which will continue to be part of our local history and available to our families currently, and for those for generations to come. Open space is so important, and the topic of a ballot measure during this 2018 voting season in Martinez.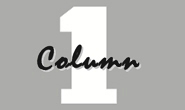 The Almond Ranch, a name familiar to those of us who have been here for eons (maybe longer?), was the working ranch of very popular guys known as Ellie and Vern Almond, two really rugged guys (the type who could wrestle a bear!). Their quiet, but felt, presence in affairs of the Alhambra Valley was important, along with brother, Lloyd. Their dirty pickups, real working vehicles, not glamorous shined show pieces, had hay, ropes and other gear that real ranchers and cowboys have, were seen everywhere as the brothers were very involved. Along with them were wonderful wives, also 'hometown girls' from prominent families.
Being everywhere, mentioned above, included being among the 'first responders' of those days (1930 to 1960s) because the entire area south of Highway 4 (Arnold Industrial Highway) was the area of responsibility of the old Mountain View Volunteer Fire Department, which had two fire trucks (one ?)) located on Shell Avenue near where the 'new' fire station is located.
TIME OUR FOR FIRE DEPARTMENT TALK. Volunteers of that department were on 'standby duty' 24/7 to go where needed when the bell rang, as they say. Actually, the bell was a large siren mounted atop their very tired old building which housed their fleet of one engine (two ?) extra hoses, the old Indian Back Pumps to be carried on the back filled with water, fire clothing for the crews, etc.
When the large siren sounded, heard all over the area, the volunteers hopped into their private vehicles, and headed for the fire station. There were more personnel than trucks, so each volunteer drove his own vehicle to the scene of the fire. Reading this one can imagine what all was involved from alarm to actual fire scene. However, it did work.
The 'second and third or fourth' responders were any and all of us residents in the area who jumped into cars and went to the scene to help in any way we could. My favorite, as a kid, was carrying the Indian Back Pump which was heavy but worked well. My wonderful mother was the driver getting us to the location. She loved the excitement.
Ready? Back to the Almond Brothers. They were real responders with their trucks with water tanks, or their tractors and discs to carve fire breaks across the open areas. The entire operation, mostly with the efforts of those of us, of all ages, prevented the loss of structures, to the best of my recollection, but did burn pasture land which would grow back the next season.
Living in the shadow of Mount Wanda, a part of the former Almond Ranch along Alhambra Avenue from Highway 4 to the split at Alhambra Valley Road, was fun. In the cattle days of the Almond Ranch, there were many grazing cattle in the grassy hills on the west side of Alhambra. In the spring we had many calves born up there. At the appropriate time, the calves were separated from the 'mommies'. The tearful bawling of babies wanting their mommies was an experience. All those hungry little tummies needing to learn to eat spring grass. Sad!
However, Dear Readers (all several of you faithful!), you now know that the Almond Ranch does not grow almonds. It does not even grow cattle anymore. What it will do in the generations to come, thanks to the efforts of the John Muir Land Trust, its benefactors, the East Bay Regional Park District, and you, is be available for those who have the desire (craving?) to get out into the open country, see for distances and breath great air.
MAY THIRD is the National Big Day of Giving, I've been told by my son. Rick, with a request for my donation to his favorite charity up in the Nevada City/Grass Valley area where he volunteers considerable time. His request brought memories of donations in the past in which I was involved in one way or other. The efforts were very meaningful in $$$.
I was a member of the Board of Trustees of the old Mt. Diablo Hospital Foundation, an organization which became part of the John Muir Hospital Foundation when the two hospitals merged. We had many very generous donors from the community who made possible the wonderful medical facilities we have in Walnut Creek and Concord.
One of the names of prominent benefactors of the hospital was Kenneth Hofmann, well known for his real estate development ventures in the Bay Area, and a one-time part owner of the Oakland A's. He and his wife, Jeanne, did so much for the hospital and other worthy benefits over many years. We are talking millions for the cancer institute, for instance. Ken passed away last week at 95. The results of his and Jeanne's generosity are all around us, and his Hofmann Foundation continues to assist the community in big ways.
Several others who were most generous to our Foundation included Dean Lesher, the late publisher of the Contra Costa Times; Winton and Nathalie Jones, a heavy construction firm owner, and Gerald Fitzpatrick, longtime owner of Fitzpatrick Chevrolet in Concord. Over the past decades Martinez families also have been generous to community causes…..Boys and Girls Club, for instance . Every community has, and needs, generous residents to maximize and enhance each community.
So, please give thought to how each of us can help our community during National Big Giving day on May 3. The amount does not mean as much as the act of giving. It all adds up!
EARTH DAY celebration last weekend at John Muir's home was a smashing success, if you had time to check out the cars parked in the Alhambra High School lots, and elsewhere around the area. Shuttle buses were terrific. We were not able to attend, but the comments we've heard have been so complimentary. The activities were creative and super, thanks to the efforts of Historic Site Staff, and helpers. So much to see and do. So much to remind us of the famous man who lived in the mansion on the hill, and what he meant to our nation with his foresight and dedication. You've heard of Yosemite National Park? Of course. Sierra Club? Of course. National Park Service? Thank the bearded gent who trekked the high back country all by himself, as his family lived in Martinez. What's that you say, "Do it again!!" A sure thing, we'd bet.
Interesting side note: Many local residents did not have the greatest respect for John Muir because he went off into the mountains for months at a time, leaving his family here. Fame does have its price!!
HISTORY is all around us in this community. We live on historic properties. We walk along historic walkways. We visit Granger's Wharf where pioneer families lived and docked their fishing boats. We have two historic cemeteries 'up there' on Carquinez Drive, and? (Send me a note at bjsharkeyiii36@gmail.com with other sites, if you wish!) And, join the Martinez Historical Society for much more about our community. (OH, YES. Please help bring the wonderful rail car here!!)
CHEERS and welcome to Matt Chamberlain, our new Alhambra High School Principal, who comes to our community from San Ramon Valley. We know for sure Matt will be very pleased with his decision. As we who have been here, we can say, "What's not to like?" And, congrats to Tom Doppe for his new position as Director of Educational Services for the school district.