By BILL SHARKEY III
Martinez News-Gazette Columnist
THREE NAMES, well-known, respected and liked, passed from the Martinez scene recently, and will be missed by their friends, families and associates. Each left an impact on the community with their personality and dedication to family and Martinez. Each, also, had a connection with this columnist in different ways.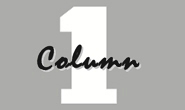 Dudley Knisely, a very personable guy who was looked up to and admired by so many as he went through schools with a wonderful happy personality and happy disposition which he carried into his adult life. It was always a pleasure to meet and visit briefly with him anywhere. Our family knew his loving family through our daughters, Jane and Nancy, who were friends in school.. Jackie, his wife, and I were classmates through school, including Alhambra, Class of 1948. A very respected family, well-known to our community.
Barbara Woodburn, community activist and former City Council member, passed away in Eureka. Her efforts and concerns for the best interests of Martinez, helped with the formation of the Friends of Alhambra Hills, an effort to preserve our hills to the west of us without housing developments. Her connection with the Sharkeys? She bought our home on St. Mary's Street at Serrano in 1972, which later was affected by hill movement above them several years later. Barbara and her son came home from the hospital the night her husband passed away and the doors would not open due to the shifting earth.
Paul Craig, a Professor of Physics at UC Davis, and an activist upon his arrival in Martinez living up on the hill on the east side of town, near the Shell Refinery, became an 'observer' and concerned about the refinery and its operations. He spent much time providing input and suggestions to local Shell management. He became a great activist for the community in many appreciated ways for all of us.
Paul's connection with the Sharkeys? His wonderful wife, Kay, in her first year as a teacher out of college, had our daughter, Jane, in her eighth grade class who became a 'teacher's assistant', as a student. As Kay has told us many times, having Jane in my class was like having a second teacher in the class during my first year of teaching at Martinez Junior High.
As has been said all during my lifetime in this great community, due to its size and closeness, "Be careful what you say about someone because we are all related." We all know what that means, right?
"THE END IS NEAR"!! We all have seen the cartoons of old guys on a street corner carrying the doomsday sign. While his proclamation is always chuckled about as being far out, for those of us who are thinking about what is happening in our nation today, it is not the least bit humorous. We are in a constitutional crisis with a totally unqualified self-indulgent wild man in the White House running roughshod over the laws of the 240-plus year-old nation as he drives his desire to be 'King Kong' without anyone with intestinal fortitude in Congress holding up a STOP sign. Can anyone remember when the demands of Congress have been totally turned down like we are seeing now? Can we recall when the Oval Office Occupant of any political party has ordered personnel to refuse requests to appear before Congressional committees? Why? Because 'the man' is so muddied by his past performances before election to the highest position in the land, and his actions since January 20, 2017, that he will take any steps necessary to cover has sordid past. However, with the latest financial tax disclosures now public, perhaps those who have been supporters or fence-straddlers may wake up as one more chunk of his real person come to light for all to see. Time will tell; but, don't hold your breath. The 'con' job by the misfit in the White House could continue a long time.
SPEAKING of such malfeasance in office, the lack of a coherent foreign policy and our lack of serious relationships with the many nations with whom we have had generations of cooperation, you have heard that the US Navy now has a carrier battle group deployed to the middle east gulf area because of some perceived threat from Iran. With a State Department only partially staffed by veteran professional diplomats ("We are saving money!"), it is no wonder that we are gradually moving toward a third world classification among nations? How low can we get and lose what 'class' we once enjoyed among nations? How long before we make the big move to oust 'King Kong' from his Oval Office? Oh, yes! He has already begun his campaign to add TWO YEARS to his current elected term because he has been so busy he has not been able to get things done. Does this sound a lot like other would-be dictators who denounce the news media, begin ignoring duly-elected ruling bodies, gradually take control of parts of government with proclamations signed with self-promoting over-sized felt tip pen signatures, etc.
Scary as it can be. But, will anyone with guts do something?
WOULD YOU PAY $10 a month to a fund to help improve the climate situation? Make life better for all of us? A survey reported that 68 percent said NO! So much for helping save the planet!
CHEERS to Alhambra High School's faculty and students for being named in the latest U. S. News and World Report's survey as one with a 96% graduation rate, and 602nd standing in California. Wonderful to have earned the recognition! GO DOGS!!!