By BILL SHARKEY III
Martinez News-Gazette Columnist
WHILE THE NATION scanned the results from Senate and House races, along with statewide races, our community was waking up to local results, the most surprising for many being the apparent upset of Councilmember Debbie McKillop by John Stevens, a political newcomer. The difference in the tally of votes being only 25, the first results in print we saw Wednesday morning. Who has said "my vote does not count?" If you did not vote for Debbie because you did not vote, or did not go to the polling place, but meant to vote for her? Our congratulations to Councilmember-elect John Stevens.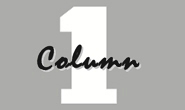 Not surprising to most of us was the successful run by Mayor Rob Schroder for another term. His opponent, Yazmin Llamas-Morales, a first-time candidate for a political office, who was 'recruited' to oppose Schroder, it was reported at the time of her announcement. Schroder's margin of victory was 5,162 to 2,768. Councilmember Lara DeLaney was not opposed in her bid for re-election.
Two House elections meaningful to our area were the successful races by Congressmen Mike Thompson and Mark DeSaulnier. Their total vote majorities were 77.7 % for Thompson, and 60.8 % for DeSaulnier over their opponents.
As election night wound down, and most national and state race results became known, or projections of victories had been made by the radio and TV networks, speculation became the topic of the evening. Once the Democrats achieved sufficient House victories to take over the House, the 'game' of trying to guess what the Demos would do began. All guessed that Nancy Pelosi would again be the Speaker of the House. If that be the case, then what? Some supporters on TV became almost giddy with the prospects. Would there be a move to impeach the current chief executive? Would health care or taxes be a top priority? Who would chair the important committees? What would those chairs do to counter some of the GOP policies? Such a fun time if one is on the winning side of the much-anticipated mid-term elections for 2018.
We can now begin the guessing as to who will be throwing hats in the political ring for Campaign 2020. Yipeeeee!
LOCAL RACES of real importance to Martinez were Measure X to provide additional revenue for the City of Martinez, and Measure Q to assist with our schools in tight financial times for most agencies. Both were successful, once again showing the caring and generosity of Martinez residents. Over the years they have come to support such issues, including bond issues for education. A sign of a good and strong community spirit. A great place in which to live for young and older.
Now, who takes down their campaign signs first??
HEALTH CARE was high on many polls during the campaigning season, and rightfully so, as you probably agree. Costs for health care seem to be more the topic and the cost of getting care needed. Drug prices are always a topic for discussion, and how to get pharmaceutical companies to provide them cheaper. Interesting example of what we are talking about: a prescription received this week had a notation attached which said, "Your insurance coverage saved you $342.89 for this prescription". Hot dog!! But, what does that do to premiums for coverage? This RX was for a salve in a small tube.
STREET WORK is progressing. A trip along Center Avenue…(bump, thump, bang, etc.) eastward this week shows signs of improvement as work is under way with curb enhancement for handicapped persons, and curbs. When finished it will be super. Meanwhile, new pavement or surface of some kind has been laid closer to Nob Hill shopping center. White striping is being applied as we speak.
WEATHER IS TOO NICE for this time of the year. Yes, folks are happy and cheerful. However, when that old needed rain does not begin soon, we will be faced, again, with water shortages. For those who have made reservations for ski country over Thanksgiving, not a happy time. Also, an expensive time. Time for rain dances??
TODAY IS November 11, 2018, Veterans Day recalling and honoring the military veterans who have gone to battle over the 200-plus years of our nation to preserve our way of life as it was designed 'way back' in the days of the American Revolution and since. With great hope for the future, and with tremendous gratitude for the veterans of all our past wars and involvements, we send a grateful THANK YOU to you and your families, many of whom has endured years of anguish and sorrow during those days and years when today's veteran was gone from home and family serving his or her homeland. 'We' owe so much!!
WHAT NOW?!?! What next??? Whatever, it has started with a political bomb drop leaving Attorney General Jeff Sessions in the unemployment line. Although most everyone has expected this to happen, it certainly happened in dramatic fashion while we all were going over the results of the mid-term elections, feeling pleased, not pleased, downright unhappy and considering a move of residence to Canada. On Wednesday, while the election results were still being counted in many areas, the speculation began as to the what comes next?
YOU WILL BE GLAD to know that the Oval Office Occupant considers himself to be 'a moral person'. He proclaimed such at a long press conference on national TV Wednesday from the White House, during which he had contentious moments with members of the media who pressed him pretty hard on many issues which he is not willing to discuss. The most contentious moment was a verbal exchange with Jim Acosta, a CNN White House reporter, who has been one to ask tough questions at press sessions with Sarah Sanders, the Press Secretary. 'They' do not like CNN, and do not hesitate to state such at every opportunity.
An interesting 'added attraction' to a press briefing Wednesday was something not usually seen, especially with the president. On some of his comments or responses to questions there was an audible 'grumbling or muttering' from the media members. Most unusual!! It could mean some of them may not be 'invited' back. It happens.
Flash: Jim Acosta has been banned from the press sessions. Bad!! But, one of the steps we have mentioned on the route to authoritarian rule by bad guys like Adolph Hitler, Benito Mussolini…and the guy from New York City? Let us all be alert! (How about the Mussolini jutted jaw we have mentioned before?!?)
CHEERS for our eldest granddaughter, Devin Blair Sharkey, who will, by the end of this day after 4 p.m. in Nevada City, be married to a great young man, Shaun, a Marine Corps veteran. May they have happiness and peace henceforth. (A wish from proud grandparents!)