By BRITTANY ROGERS
Teacher at St. Catherine of Siena School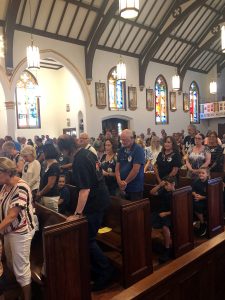 As grandparents and VIP's walked through the historic doors of the oldest Catholic church in Martinez, smiles of excitement and anticipation beamed on all faces as the students searched for their loved ones. On September 13, the students of St. Catherine of Siena School celebrated their grandparents and VIP's with a day full of love and fun. Grandparent's Day has become a tradition that is eagerly looked forward to by students, grandparents, families, and the community. Each year, students, staff, parents, and community members plan the celebration of a day with great love, devotion, and care.
The students at Saint Catherine start each day with a pledge stating that they show 'service toward others, are academic learners, involved Christians, and love one another.' It was in this spirit and with these values that the entire school came together to celebrate those most important to them.
The day began with a gathering in Saint Catherine of Siena Catholic Church, located adjacent to the school, with a prayer service in honor of these very important visitors. During the service, readings from the bible, songs, and prayers were presented to grandparents and VIP's by each class, preschool through 8th grade. At the conclusion of the service, grandparents and VIP's received a special blessing by all in attendance. The half day celebration continued in the school yard with games, fellowship, and a lunch. Despite the heat, laughter could be heard throughout the neighborhood signaling to all that Grandparent's Day was in full swing at Saint Catherine's. Grandparents were invited to visit their grandchildren's classroom and were given a small homemade gift as a token of their student's love and appreciation.
At the conclusion of the lunch, students were dismissed to an afternoon with their loved ones to continue the hugs and kisses and to reflect on the morning spent in appreciation of family, friends, and school.
"It truly is wonderful to see the families of our students being so welcomed in the Church and by the school," said one grandparent looking over the assembled families. "You just don't get this in a public school – especially not today! I just had a conversation with my grandson's teacher – that's practically unheard of where my other grandkids go to school."
While some grandparents traveled far distances to celebrate this special day with their grandchildren, a visitor would be hard pressed to find one who would pass up this annual event.
St. Catherine of Siena School in Martinez, California is a Catholic school in the Diocese of Oakland. The school has a Preschool and serves students in Kindergarten through Eighth Grade. We will be celebrating our 70th anniversary celebration on October 5th following 4:30 Mass. We are proud to be part of the Martinez community.