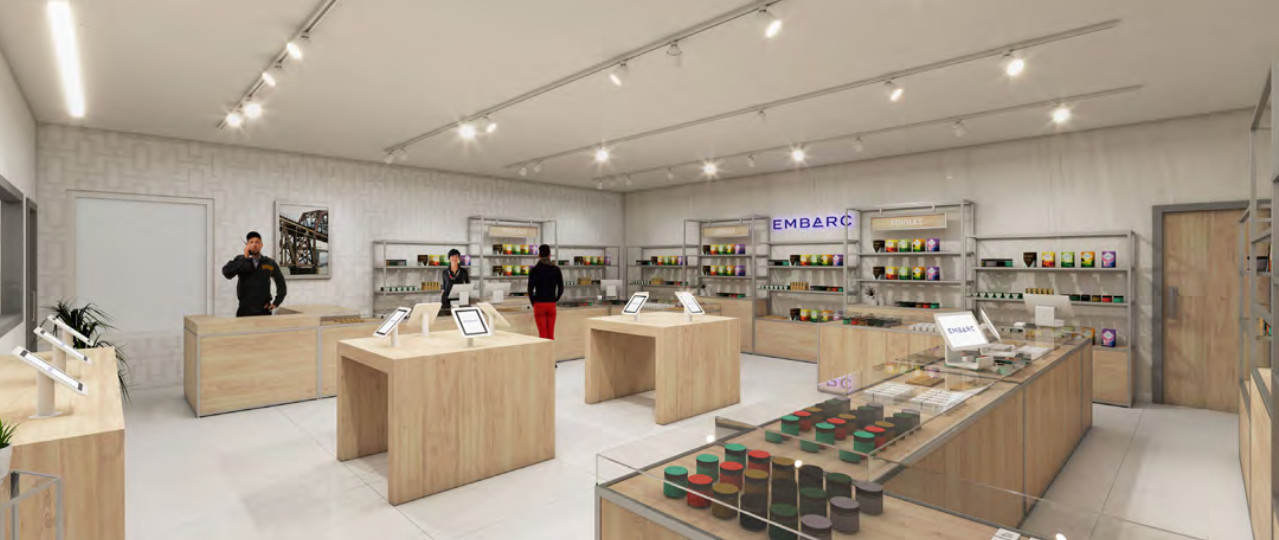 MARTINEZ, Calif. – After three hours of presentations, discussion and fiery public comment the Martinez City Council approved a resolution awarding a retail cannabis store near Alhambra High School.
Embarc, whose proposal was scored the highest by a review committee, was awarded the conditional certificate for the site at 3501 Alhambra Avenue, formerly California Collectible Books.
Two Martinez Unified School District (MUSD) employees strongly objected during public comment to awarding a permit close to MUSD property.
School Superintendent CJ Cammack said the district received "zero communication at any point" regarding the proposals and was shocked to learn that the city would allow marijuana to be sold so close to schools. Cammack said while the Council and school district are separate entities with separate missions "we both share the community and share the youth."
He said a parking lot at the adult school, which shares a property boundary with the proposed Embarc site, is used for overflow AHS parking. Helen Rossi, MUSD assistant superintendent of administrative services, explained that district-owned property that formerly housed Wendy's would be less desirable to tenants or for school purposes because of the adjacent cannabis operation.
Three years ago, when the municipal code was written, city council determined that 600-feet away from a school was far enough for a marijuana business. The chosen site is just over 1,000 feet from AHS.
The council's decision to choose the locally connected, 18-month old  Embarc cannabis business near the school, over Authentic 925, a long-established, financially stronger, and vertically integrated company located further away (4025 Alhambra Avenue, currently Donuts & Deli) only added fuel to Cammack's fiery arguments against their decision.
There were four well-qualified firms competing for the last of two conditional permits to sell cannabis in a retail store in Martinez. They had been given a numerical rating by city staff, including the police chief. All of them scored above 95%, but two were eliminated quickly.
On October 2, 2019, the City Council awarded one permit to the Firefly Health Corporation to be located at 4808 Sunrise Drive.
Mayor Rob Schroder recused himself from Wednesday's cannabis discussion because one of the applicant partners, Bradley Bernard of Freedom Heating and Air Conditioning, is an insurance client of the Mayor's business.
When it came time for decision-making, all three women on the council said it was a difficult choice, but Councilman Mark Ross sided with Embarc from the beginning.
He told stories of his youth and said kids will find such things no matter where they are, citing his own experiences. Ross admitted, "There probably could have been more engagement (with the school district)."
One of the Embarc partners is the son of former Congressman George Miller, and has the same name. Mr. Miller said the family name was on the line and the town could count on him helping to make Embarc successful in Martinez. Other members of the firm have extensive experience in the cannabis business, according to the Embarc presentation to the council.
There was an in-depth analysis of the security measures, including cameras, man traps (access-controlled vestibule at the entry), sally ports (a controlled vehicle entryway), bulletproof glass, monitored surveillance, "track and trace" cybersecurity, and a separate exit. Both applicants rated high on security.
During public comment, several neighbors reminded the council that although the store near the school is on Alhambra Avenue, it is in a residential neighborhood that is already having quality of life problems where the police have to be called. One parent said the need for that much security meant that it was too dangerous to have near a school. Vice-mayor Noralea Gipner said it really is not dangerous, based on what she learned from similarly sized city officials in Oregon and Washington, where recreational marijuana sales have been legal for some time.
Councilmember Lara DeLaney was concerned about the financial power and business track record of Embarc, in comparison to Authentic 925. It is common knowledge that some new cannabis operations are failing now because competition from cheaper illegal suppliers and the costs of strict state regulations and fees, and often they must pay union wages or higher to staff.
She reasoned, with city hopes for increased revenue from taxes and percentage of profit, the risk of business failure would be less with a financially stronger, well-established firm. Firefly, the company that was already approved for a retail operation in an Arnold Drive business park, is also a new company with local connections.
Embarc proposed to give city six percent of gross revenues, plus two percent of gross for a public safety fund, and one percent for a community benefits fund (contributions to local non-profits) with George Miller to chair a community advisory board for the fund.
The Council passed a resolution awarding Embarc the conditional certificate with conditions the company consult with MUSD on issues of security, boundary lines and parking.