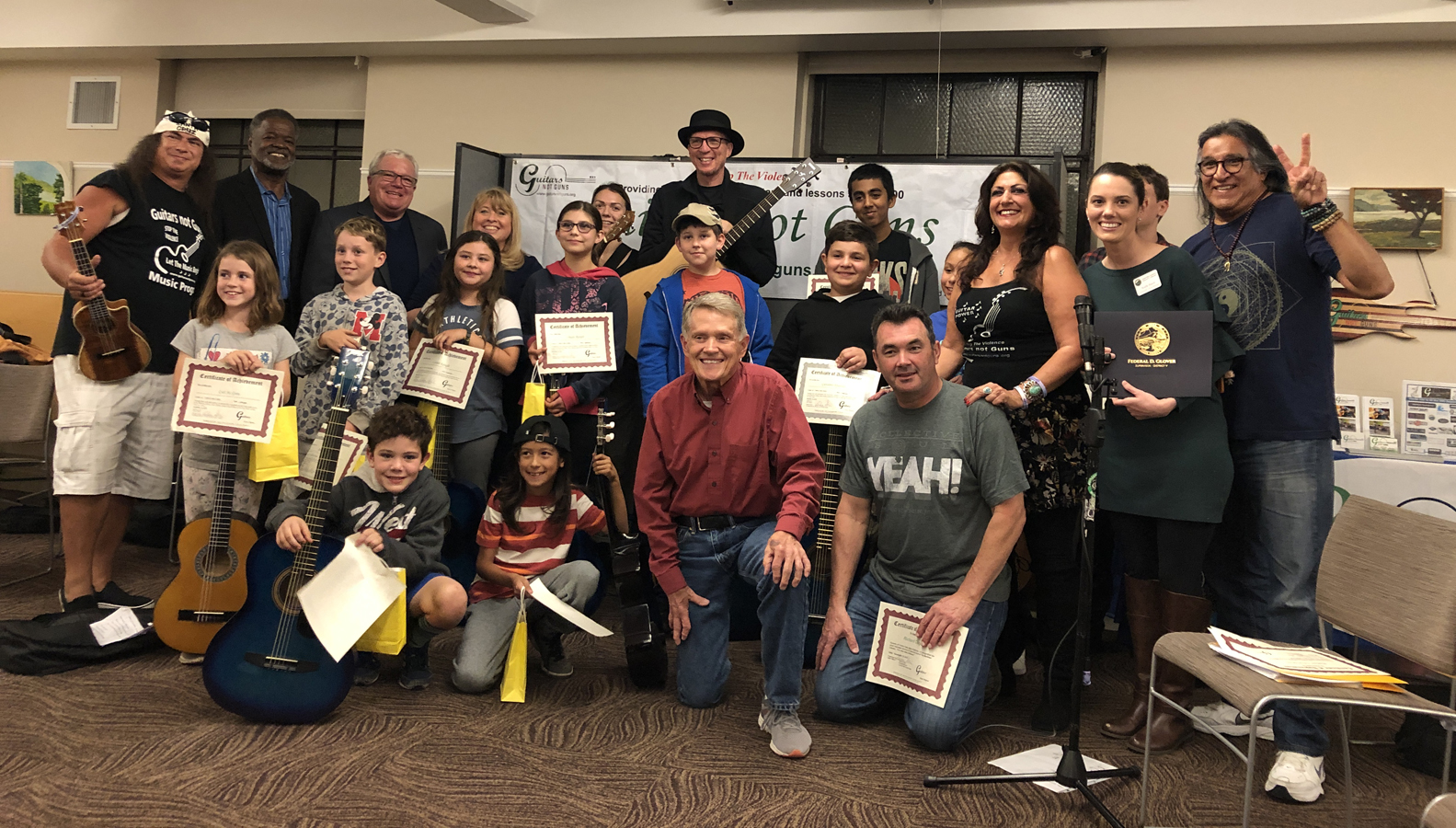 MARTINEZ, Calif. – It was quiet upstairs, but downstairs there was a party going on at the Library. Contra Costa County Supervisors Diane Burgis and Federal Glover, and Mayor Rob Schroder came for the graduation celebration Guitars Not Guns. (GNG)
The students had just completed a free eight-week course of study. They entertained the audience with a rendition of "Three Little Birds," accompanied by their accomplished teachers.
One of them was Richard Clayton. Diane Burgis is an Alhambra High School graduate who still loves Martinez and is married to Clayton. He credited Burgis with recruiting him to the cause.
"The kids have a chance to find their passion. They learn math, analytical skills and integrating with adults," Clayton said. "It's wonderful to see their faces light up when they discover they can play."
All of the students who completed the course were given a certificate of graduation but the big surprise was, they got to keep the guitars on which they practiced. Students must have followed through on their pledge to attend class, practice, and take good care of their instruments.
The guitars are paid for by donations to the non-profit, much of it from fundraising events such as the coming Nov. 30 show, with five bands performing at Vine's Bar and Grill in Concord. "Breedloves, with Jay Kirkland, who is our local Director of Projects, will open the show," Gorin said. She is a professional 12-string and rhythm guitar player in that band and president of the GNG Contra Costa Chapter.
One of the items they will have for auction at the event is an autographed Gibson Les Paul electric guitar signed by the entire "Collective Soul" band.
"Some of the bands that have performed for us in the past are Heart, Blondie, Flash, Sting and Collective Soul," she recalled.
Gorin never misses a chance to recruit teachers, and local musicians often come to fundraiser performances. "We usually have about 12 (teachers), but we need two teachers now," she said. All of the teachers are volunteers who teach once a week for an hour.
GNG is a nationwide non-profit program with 19 Chapters. It was founded by guitar player, Ray Nelson, after the Columbine school shooting in 2000. According to the GNG website, his intent was to provide students with a secure environment where children could develop a feeling of empowerment, open up to their own creativity and build a relationship with a dependable, engaged, authentic mentor.
Gorin became involved with the program in 2005. "Students learn so much more than music and how to play the guitar," Gorin remarked. "At the end of the hour, they don't want to leave."
Elizabeth McGinn confirmed that. She and her husband, Jason, came to the graduation party to hear their two children Cali and Aiden perform. "Aiden was shocked when he was able to play a song," Elizabeth said. "It is great. They practice together. It's a bonding thing."
There was a documentary film crew at the party. John Busse is making a film about street music and he plans feature the organization in their project.