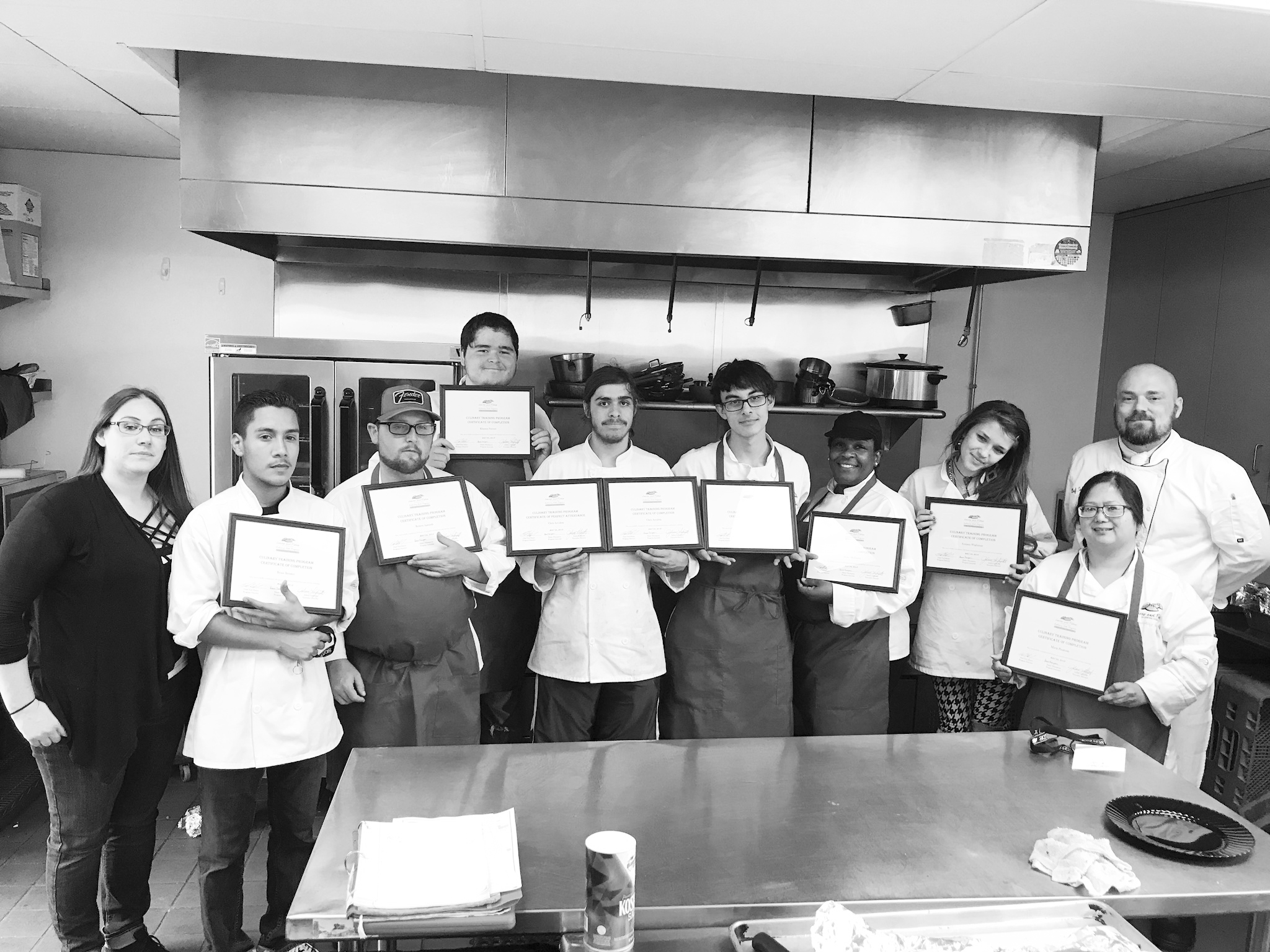 MARTINEZ, Calif. – A magician, a son following his parents' enthusiasm for cooking and a student who already has landed a job as a chef are among the eight graduates of the 10-week Loaves and Fishes Culinary Arts program that primarily offers training to Vicente High School.
This session, three adults also participated. Robert Aamodt discovered the program after the current session had started, but worked hard to qualify for his program diploma. Maria Picatoste came with a wealth of Filipino recipes, but now has a broader perspective. And René McHenry, who had been cooking for her church, has been hired as a chef for a major company in San Ramon.
Chris Arculeta not only earned his program diploma, he also was recognized for his perfect attendance. The other graduates are Brian Benitez, Auriana Wightman, Klayton Farmer, whose parents also enjoy cooking, and Bodhisattva Bowman, who is developing a stage magic show that involves hypnotism, but also likes close up illusions.
Chef Ted Elsner, who has taught classes as chef instructor for nine years at Le Cordon Bleu College of Culinary Arts, has been the program director this year, and has plans for expanding it in the future.
He focused on basic skills, from how to slice a potato to dividing chicken into eight parts. Students learned to saute, braise and roast, and even made some sushi during class.
The students learned more than cooking, however, said Joleen R. Lafayette, executive director of Loaves and Fishes of Contra Costa. They were guided in writing resumes and participated in mock job interviews.
The day before Thursday's ceremony, they served meals to about 80 people at Loaves and Fishes, and did the same during their graduation, presenting meals and desserts to friends and relatives who came to witness the awarding of diplomas.
"To watch them grown in 10 weeks has been amazing," Elsner said.
Loaves and Fishes of Contra Costa County operates one of its dining rooms at 835 Ferry St., where anyone who is hungry can be fed a hot midday meal. It offers the basic culinary arts program free to those experiencing barriers to employment and who are interested in the food industry.
Those earning their diplomas may enter jobs upon graduation or may continue their education through Diablo Valley College's culinary arts program, Lafayette said.
The next culinary class will start Sept. 11.