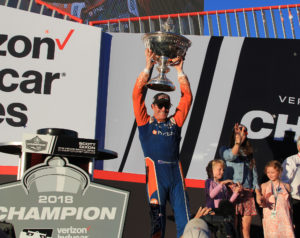 Sonoma Raceway saw its last IndyCar race weekend conclude Sunday night the crowning of five-time series champion Scott Dixon.
It also awarded the Grand Prix of Sonoma trophy to Ryan Hunter-Reay, a driver who led the race virtually from green to checkered flags, and it introduced fans to Patricio O'Ward, a 19-year-old rookie who achieve two important career goals on his first try.
Scott Dixon finished the race second behind the dominating Ryan Hunter-Reay, who started from the pole and stayed out front except for pit stop breaks. But the runner-up spot was all Dixon needed to earn his fifth Verizon IndyCar Series championship. "It's cool it happened," he said.
"We had a lot that weighed against us. We didn't qualify well," Dixon said about the challenges he faced Sunday. "I had to try not to mess it up."
He worried about the "silly things" that had allowed other championships slip through his fingers. "None of it happened today. It was a smooth race."
For team owner Chip Ganassi, Sunday capped a winning weekend.
His Xfinity driver, self-described Florida "watermelon farmer" Ross Chastain led 180 of 200 laps in the No. 42 DC Solar Chevrolet and withstood challenges in three late-race restarts to win the Las Vegas race also sponsored by D.C. Solar. Plus, his car brand, Honda, won the IndyCar manufacturers award for the season.
Ganassi celebrated by crowd-surfing the Sonoma Raceway fans. "A lot of people egged me on," he said.
Dixon's multiple championships speak of the dedicated community, the family, that make up Chip Ganassi Racing has become. "I can't tell you what the team means to me," he said.
Dixon was once a reticent, shy 21-year-old, but one who works closely with those who keep his race car in their hands and on their minds, Ganassi said. "Scott and I are so lucky to have this bunch of people," he said. And to see his driver become a multi-year IndyCar champion? "To be a part of this, along for the ride, is special."
Dixon, a New Zealand native didn't see when his championship rival, Alexander Rossi, hit teammate Marco Andretti and damaged his car on the first lap. Rossi eventually was shuffled to the back of the pack and lost a lap during the race before fighting back to a seventh-place finish.
Rossi's impressive comeback wasn't enough to beat Dixon to the championship. But Dixon never let his guard down.
Dixon trails only A.J. Foyt, who earned the title seven times, in IndyCar championships. In a sport where younger drivers are nipping at veterans' heels, Dixon said, "I'm 38. I'm not the young buck I was." While he didn't speculate on capturing more championships, he said he loved motorsports, IndyCars in particular.
"It's the best racing in the world. It's fierce, with the toughest competition," he said. "There are no small teams anymore. It's extremely tough to win."
He praised Rossi as well as last year's youthful champion, Josef Newgarden as well as the rookie Patricio O'Ward, the 19-year-old 2018 Indy Lights champion who made his IndyCar debut Sunday in the No. 8 Harding Racing Chevrolet.
The selection was so last-minute, O'Ward, a native of Mexico, wasn't included in the race's program. Before the weekend's practice sessions, O'Ward had never driven Sonoma Raceway's 12-turn tricky road course, with conditions that can change from lap to lap through wind, temperature and tire wear.
Yet he started in one of the coveted "fast six" spots, and finished ninth, in the top 10. Optimistically, he had set those as his first-race goals against the IndyCars' best races. "I achieved them," he said.
But the track held surprises for the first-time rookie. "This first race was so hectic!" he said. "It was a completely new learning experience." Speeds and aerodynamics are far different from Indy Lights cars.
Practice sessions in his new ride hadn't prepared him for passing. He was driving a bigger, more powerful car on an unforgiving track that demands to be driven with precision. Surrounded by a field of 25, many of them veterans, he found himself dropping back in the pack.
Partway through the 85 laps, O'Ward figured it out. "I passed them back – most of them, anyway."
He was pleased his team owner seemed happy with the debut. Meanwhile, O'Ward has set more goals should he get another shot in an IndyCar. "I expect to be way stronger next time."
Not forgotten in the celebrations, Hunter-Reay called his race victory "Awesome." Keeping his car in front for 80 of the 85 laps gave his No. 28 DHL Honda clean air nearly the whole way and gave him control of the race.
"It's nice to lead," he said. "It was an ideal race."
He acknowledged this would be his last IndyCar event at Sonoma Raceway, something that made his victory bittersweet.
"I'm missing this place – I'll definitely miss this place. Everybody loves coming here. Auto Nation has 80 people here. Everyone loves to come here," he said. Earlier this year, the series announced it was switching from Sonoma Raceway to Laguna Seca, marking its return to the more southerly track.
"Laguna is a great track, a fun track," he said. He and James Hinchcliffe teach fans to race and participate in events that raise money to combat cancer there.
"But there's room for both on the schedule," he said.
Order of finish in the IndyCar Grand Prix of Sonoma Sunday afternoon was 1. Ryan Hunter Reay, Honda; 2. Scott Dixon, Honda; 3. Will Power, Chevrolet; 4. Simon Pagenaud, Chevrolet; 5. Marco Andretti, Honda; 6. Sebastien Bourdais, Honda; 7. Alexander Rossi, Honda; 8. Joseph Newgarden, Chevrolet; 9. Patricio O'Ward, Chevrolet; 10. Ed Jones, Honda; 11. Santino Ferrucci, Honda; 12. Tony Kanaan, Chevrolet; 13. Jordan King, Chevrolet; 14. Zach Veach, Honda; 15. James Hinchcliffe, Honda; 16. Pietro Fittipaldi, Honda; 17. Jack Harvey, Honda; 18. Carlos Munoz, Honda; 19. Mattheus Leist, Chevrolet; 20. Colton Herta, Chevrolet; 21. Max Chilton, Chevrolet; 22. Charlie Kimball, Chevrolet; 23. Graham Rahal, Honda; 24. Spencer Pigot, Chevrolet, and 15. Takuma Sato, Honda.