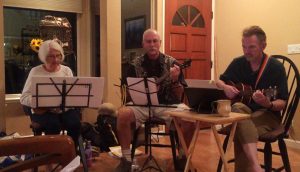 MARTINEZ, Calif. – When Sharon Stimson picked up the ukulele three years ago, she decided to join the Martinez Senior Center's Friday jam. But soon she realized she wanted more playing time.
It turns out others thought the same. Now they're members of the Martinez Ukulele Group (MUG), which meets the second and fourth Tuesdays of each month at her home.
"We only started in August of 2018. It's not so much of a class as it is a jam group," Stimson said. "I would have started MUG sooner if I could sing – and play better. Finally, I said, 'What the heck!' and with the encouragement of a friend, it all began."
She started a Facebook page and created a website. Then she put notices on Nextdoor. "That is how I find members." Some members found MUG through Ukulele Magazine, that has a group search for musical gatherings.
Players of all abilities and ages are welcome. "I'd say the average age is about 55," she said.
If newcomers are beginners, she has them arrive at 6:30 p.m. on MUG jam nights, and introduces them to basic chords so they can join the fun.
Stimson said she and her husband, Darrell, are hosts of the group, "but we are all teachers of some sort. We take time to practice strums and chord changing and the like."
One member, Eddie Valdehueza, is a professional musician. "He has been the glue that helps us play better." Another member, Ron Phillips, makes ukulele and guitars.
MUG musicians choose the songs for their repertoire. "We play all kinds of music," Stimson said. "Old stuff from before we were born to classics, oldies and Hawaiian favorites. The group suggests songs for our playlist and I put it all together and email it out to everyone."
The ukulele generally is a four-stringed instrument that looks like a small guitar, although some models have sets of paired strings for additional sound and volume. They also come in various sizes, from the smaller soprano to baritone models, which are tuned like the four highest strings of a guitar.
Often associated with Hawai'i, the ukulele originated in Portugal. Madeira and Azores immigrants introduced the instrument to the Hawaiian Islands in 1879, where it gained a Hawaiian name that translates to "jumping flea."
During his reign, Hawai'i's King David Kalakaua popularized the instrument through its use in royal performances as well as by his encouragement that others learn to play.
Later, the ukulele becames a Tin Pan Alley favorite. It's versatile enough be incorporated into many contemporary songs as well as for playing classical music.
Stimson understands how the ukulele has drawen aficionados worldwide. "It is easy to play, it makes you smile just to play it and hear it. It is small and travels easy and it is not terribly expensive to purchase one – or you can spend thousands."
While MUG focuses on the ukulele, other instruments are welcome at the jam sessions, Stimson said.
"We usually have a guitar and bass player at our jam, which makes it lots of fun!" she said. "We even have folks that come just to sing."
They share their love of music at the Alzheimer's Respite on Ferry Street, where they give monthly performances.
"I can imagine our group being involved in a lot of things, but no grand tour or recording," Stimson said. "There are so many great outlets in the Bay Area for us to enjoy, we can just ride along on our happy train of playing and singing together."
On the other hand, she has a few dreams for the group. "I do imagine being in the Fourth of July parade, perhaps in 2020, and even being involved in organizing a big uke play-along at the amphitheater," Stimson said.
"I would love the readers to know that playing the ukulele is a lot of fun, even if you aren't good at it. There is actually a song called, 'Can't Help But Smile,' by Jim Beloff, that embodies exactly how we feel. It is impossible to be in a bad mood when you've been playing the ukulele, especially with a group of like-minded ukulele players."
Those interested in MUG may visit its website, www.martinezukulelegroup.com, or visit the Martinez Ukulele Group Facebook page. The group meets at 7 p.m. the second and fourth Tuesday of the month at 253 Briar Drive. Stimson can be reached through the website's contact length or by email at martinezukulele@yahoo.com. I can't imagine us ever being a closed group," Stimson said. "We like to share our love for ukulele playing."