John Sparacino
July 25, 1925 – April 3, 2018
Resident of Martinez, Calif.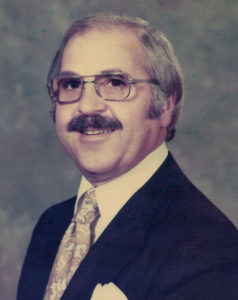 John Sparacino passed away peacefully at his home on April 3, 2018. John lived his entire life in Martinez. He was an outstanding member of this community and was admired and respected by all he came into contact with.
John served in the U.S. Navy during WWII in the Pacific. He was very active in the Veterans of Foreign Wars and the Veterans Memorial Fund.
He was a member of the Martinez Historical Society, a strong supporter and member of the Aahmes Shriners, a supporter of the Martinez Police Department Athletic League and a past member and Master of the Martinez Masonic Lodge No. 41. He also served as Associate Guardian of Jobs Daughters Bethel #72 for several years. He was a member of the Knights of Columbus, the Elks, Druids and Sons of Italy. John served as Chairman of the Contra Costa County Grand Jury and received a lifetime achievement award from the Martinez Chamber of Commerce.
John was a member of the Martinez City Council and was also the first popularly elected Mayor of Martinez, serving two terms. He helped organize the PAL program in Martinez and was a great mentor to many.
John graduated from Alhambra High School in 1943 and attended college in Idaho before joining the Navy. He then returned home and worked for Middleton Marchi Men's Clothing before starting Sparacino's Menswear with his brother, Nunzio.
After Nunzio's death in 1972, John entered the banking business serving as Vice President of Eureka Federal Savings and Loan, now US Bank, until his retirement.
He enjoyed spending time with his family, fishing, golfing, and boating. He was a past member of the Martinez Yacht Club and the Sportsman's Club.
John was a mentor, an advisor, a genuine friend to all and a wonderful man. He will be truly missed by all who knew him.
John is survived by his loving sister, Nina, his niece Diana Hogan (Tim), his nephews Robert (Janet), Ron, Dick (Marge), and David. He also has nine great nieces and seven great nephews and many great, great nieces and nephews. He was predeceased by his Grandparents, Nunzio and Rose Sparacino, his parents Giuseppe (Joe) and Anna, his sister Rose, and his brothers, Nunzio, Joe, Frank and Peter.
John will be laid to rest with military honors and, as per his request, the funeral services will be private with only immediate family in attendance.
The family wishes to thank Hospice of the East Bay, Dr. Roger Barrow and especially, Claudia, Elizabeth, Sandra, Karla and Pita.
Donations may be made, in his memory, to any charity you feel to be appropriate.