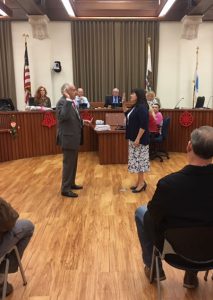 MARTINEZ, Calif. – Martinez election results have been certified by County Clerk Joseph E Canciamilla,and the three returning incumbents have taken their oaths of office.
District 1's Council race was not in doubt since Lara DeLaney was unopposed and got all 3,090 of the votes cast. Mayor Rob Schroder, with 63.78 percent of the vote, handily defeated his challenger, first-time candidate Yazmin Llamas-Morales, 10,180 votes to 5,782.
But the District 4 Council race came down to the wire.
Incumbent Debbie McKillop faced stiff competition from former Martinez Chamber of Commerce executive and businessman John Stevens, who for much of the time appeared headed to the Council seat after the Nov. 6 election.
However, earlier this month, McKillop not only narrowed the margin, she passed Stevens by three votes.
As the counts and canvassing continued, she finally finished with 2,326 votes, or 50.26 percent of those cast, to Stevens's 2,303 votes, or 49.74 percent.
While she congratulated her fellow members of the panel, praised those who turned out for the election as showing "a lot of engagement" and expressed gratitude to those who returned her to office, she also spoke about the District 4 contest itself.
"This was a very close race. Each vote mattered," she said. Waiting as the vote totals were computed made for "long weeks" for her and Stevens. She then commended Stevens for an enthusiastic campaign. "We were friends before….and we'll be friends after," she told her challenger. "Hat's off to you."
Schroder also thanked voters for returning him to the dais, then turning to Stevens, said, "I have to commend you for your grace and professionalism in this race." The two attended the Holiday Frolic Light Parade, and the mayor noticed how Stevens congratulated his successful opponent. "That doesn't always happen. It shows something about somebody – class."
DeLaney expressed her own gratitude for four more years on the Council, during which she will engage in such challenges as addressing its marina as well as help promote the continuing renaissance of the downtown shopping district.
She said she "deeply appreciated" voters' support of Measure X, the half-cent general fund sales tax that will help Martinez bolster appropriations for public safety and its water system infrastructure.
Measure X passed by 12,320 yes votes to 4,590 votes against, or by 72.86 percent.
The Council declared and certified the election results by resolution Wednesday at the special meeting during which City Clerk Richard G. Hernandez administered the oaths of office. From there, results will be sent to the California Secretary of State. Those interested in by-precinct results may visit the Clerk-Recorder-Elections Department website, www.cocovote.us.