By EMMA MALLO & STEPHANIE MOORE
St. Catherine School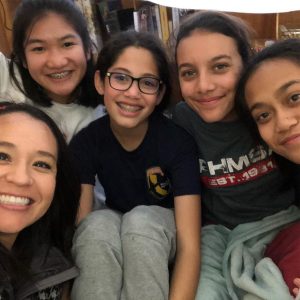 St. Catherine of Siena was once the go-to parochial school of Martinez; the kids of our community being molded into upstanding citizens in its jam-packed halls. Today, you can find SCS alumni at the Contra Costa Supreme Court, Sheriff's Office, and at the Chamber of Commerce as local entrepreneurs. But in the past few years, St. Catherine School has experienced a lack of steady leadership, resulting in a decline in morale and enrollment. That is why, in July of 2018, parents were eager to find out what the new Principal, Jessica Griswold, would bring to the table.
Since then, Mrs. Griswold has used her thirteen years' experience as an educator, leader, and Bay Area parent to help rebuild the foundation of the school, and transform it from the classic Catholic school of 1949 to a modern education experience of 2019. From day one, Jessica made it her goal to understand the unique needs of our students and strategize the best way to make critical adjustments to the program. She connected with parents directly, listened to their concerns, and strived to address the needs of today's students, today. Because of the small class sizes and institutional autonomy, she has been able to pivot and adjust as needed, with a true opportunity to implement change, and give our children a rich student experience, including music, art, and social awareness.
In addition to updating curriculum in reading, math, science, and social studies, she is pressing her team of teachers to emphasize character building, community involvement, academic rigor, and personalized learning. "I have been pushed to be a better teacher, to branch out and try new things so that I can reach every kind of learner," says Jan Wilkinson, faculty of 18-years and SCS alumni, "through Jessica's leadership, I am able to create a class of confident and successful learners. I am proud to be part of a school that has so much interest in growing the whole child."
It isn't just teachers feeling the change; parents are noticing the growth in their kids as well. "Because of the small class sizes, my daughter is getting the attention she needs to overcome an academic hump she was experiencing at her previous school," says a 4th grade mom.
"My kindergartener started the year strong, but was getting more wiggly and easily distracted toward the middle of the year. I was relieved when the teacher reached out to let me know that she found a solution that worked for my son, and that he was back on track," says one kinder mom.
The real proof is in the students themselves. Mrs. Griswold set a goal to grow the youth of Martinez into respectful, socially conscious, and emotionally intelligent young adults, and if you walk by the school today, you will see the fruits of her labor: students of all grade levels treating each other with kindness, treating staff and visitors with courtesy and respect, always thinking of ways to give back to the community. This year, the junior high students have driven campaigns resulting in generous donations to the Mountain View Family Shelter, veteran's food drive, and to the victims of the fires that plagued Northern California in the fall of last year.
Because of Mrs. Griswold's effective change leadership, St. Catherine School is starting to shine bright once again. She is creating a sanctuary that allows teachers to thrive as expert educators and students to thrive as multi-faceted learners. Her vigor and ambition vibrate throughout the entire school, and as these students continue to branch out into the greater community, we look forward to experiencing the true benefits of a whole-child education.
St. Catherine School is located at 604 Mellus St., next to City Hall. Contact the school: jgriswold@csdo.org (925) 228-4140