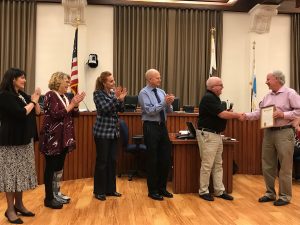 MARTINEZ, Calif. – Tim Tucker, Martinez's city engineer since 2001, is retiring.
He recently was recognized by the Martinez City Council for his year of service to the city and for the accomplishments that happened during his watch.
Among those are the citywide improvements to Martinez's parks and the local library financed through the $30 million Measure H bond issue approved by voters in 2008.
Waterfront Park's recent renovation is the largest of these, but other projects took place at Rankin Park and the municipal pool, Nancy Boyd Park, Hidden Lakes soccer field and elsewhere.
Also under his tenure care the landscape and street project on Marina Vista Avenue, the construction of the intermodal parking lots with a vehicle bridge and the addition of a pedestrian bridge that will be finished soon. A new trail spur was added at Reliez Valley Road.
Tucker worked for two years to help pet owners get a temporary dog park that accommodates both large and small animals until a permanent site can be found.
He also has been instrumental in developing lists of road repair projects that are underwritten by the Measure D half-cent sales tax as well as Senate Bill 1424 and fuel tax revenues.
Tucker, a native of Casa Grande, Ariz., and grew up in Southern California. After attending Harvey Mudd and California State Polytechnic University, Pomona. He began his career in 1984 at the city of Tustin. He moved to Martinez in 1988 to rear a family. At the time he worked for Orinda and Walnut Creek until he was hired by his home town.
He won't be completely retired. He'll work part time for the San Francisco Giants, which he watched play in his childhood home of Casa Grande, when that city was its spring training base.
He also will be spending more time with his wife, Valerie, and his family, including his grandchildren.