By JEFF ROUBAL
Martinez Gazette Contributor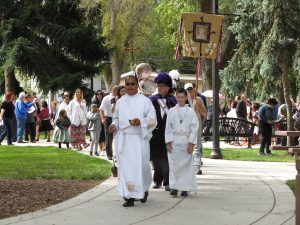 More than 200 worshippers from Saint Catherine of Siena Catholic church processed through the streets of downtown Martinez on Saturday morning to celebrate the 145th anniversary of the Martinez church and the feast day of Saint Catherine of Siena. Parishioners walked and sang with images of Saint Catherine, celebrated mass in the Church, and then enjoyed a catered lunch.
Saint Catherine of Siena (1347-1387) is one of the most influential and popular saints in the Catholic Church. She was instrumental in restoring the Papacy to Rome after 67 years in Avignon, France. She also established a monastery for women outside of Siena, Italy in the old fortress of Belcaro.
Saint Catherine's church was dedicated in 1873, but the Catholic community in Martinez dates to before 1853. Worshippers initially celebrated at Brown's Store then two temporary buildings. In 1868, a permanent steepled wood frame church was erected on St. Catherine's current site at Estudillo Street and Mellus street. The City of Martinez was later incorporated in 1876.
The historic Saint Catherine's church building we see today at Estudillo Street and Mellus street was completed in 1940. This building will be open in October as part of the annual Martinez Home Tour organized by the Martinez Historical Society. The tour will be on October 13, 2018. More information and tickets are available at www.martinezhometour.com.
In addition to Saint Catherine's church; the tour will include 6-8 private homes and gardens, four museums, vintage cars, musicians, exhibits, and displays. Tour tickets cost $25 in advance and $30 on the day of the event.