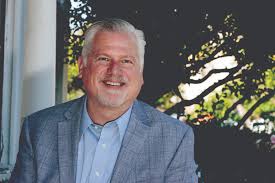 John Stevens, a resident of Virginia Hills and former CEO of the Martinez Chamber of Commerce, has announced his candidacy for Martinez City Council.
He lives in the newly formed District 4 area which includes a western portion of downtown and runs southward beyond highway 4 where most of the district lies.
He ran unsuccessfully in 2016, in a four-way race that included an open council seat. At the time he expressed optimism and a vision for how the city could stimulate downtown business, promote public safety and overcome the issue of homelessness.
Stevens says he has significant knowledge of Martinez and the issues important to its residents. "My experience at the Martinez Chamber of Commerce and subsequent community activism has given me daily contact with the public and insight into the city's issues and solutions."
After leaving the Chamber Stevens became the COO of a medical policy research institute. Before joining the Martinez Chamber, he owned a successful business and served on numerous local and national nonprofit boards, including the Human Rights Campaign. He currently serves on the Shell Community
Advisory Panel to stay abreast of activities at Shell and to keep Martinez residents informed, and on the Martinez Kiwanis board.
Stevens vigorously supported increasing County Connection transportation in Martinez. He advocated for senior citizens and disabled people, recommending express buses to serve downtown and frequently visited drug and grocery stores, the County Hospital, Kaiser and the Veterans Hospital. His work resulted in what is now Route 3 which serves that area.
He pointed out that, among the issues in the forefront of the city is the continued and dire financial position with mounting debt for the city. "It is one that our city has been slow to address. The factors that are known to have created this situation need to be better managed. Another tax increase is a band aid, it is not the ultimate solution. We need a new approach."
"I believe my professional and community experience, combined with my passion for making Martinez a better place for residents to live and do business, will allow me to bring fresh ideas to the City Council," Stevens said.
-Press release