By BILL SHARKEY III
Martinez News-Gazette Columnist
102 YEARS is a long time to live. Verner R. Anderson, long time Martinez resident, did it, passed away on June 20 at his home. He was a quiet dignified dapper gentleman who, with his lovely wife, Barbara, were well known in the community. A lovely friendly couple. Barbara preceded Vern in death.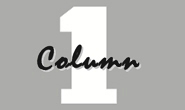 Vern came to Martinez in 1938 having been transferred by the Bank of America from his position at the Livermore Branch to the Martinez Branch. In 1942 he enlisted in the Navy and served as a Medic in the Pacific Theater until 1946. He returned to Martinez. After leaving the bank several years later, Vern joined the automobile sales field.
While at the Martinez Branch, Vern loaned me the money to purchase my first car in 1950; a blue Studebaker convertible with red leather interior and a white top. Total cost was $2,700 out the door. Not bad for a working college student!
Services were held Thursday, June 27 at Oakmont Cemetery.
INTERESTING dilemma over the proposed downtown sports store. We all hope for additional viable businesses in town. But, so many of us are, you might say, frantic, about guns and gun laws with the continuing string of mass shootings across the nation. What to do?
The airing of ideas and opinions was a healthy exercise in civil discourse for the community held last week. Martinez residents have never been shy about expressing their opinions. The open meeting at City Hall was no exception. What will result will be interesting. Will the proposed enterprise become no longer 'interesting' to Brandon Varise if too many obstacles occur? Will a reduced operation be practical for him? Time will tell as the community mulls over the proposals. Could Martinez lose a prospective new business because of overly concerned residents?
SPEAKING of concern. Have you been near one of these e-cigarettes when the smoker exhales, and a huge cloud of white 'stuff' envelopes the area? Yikes!!! In our humble opinion, San Francisco took the correct action this week in voting to ban the sales of such atmosphere polluters. Why should our communities be subjected to such atrocious habit-satisfiers? We shouldn't!! Those opposed to banning sales argue that smokers wanting to purchase the e-cigarettes will just go to the next city to make a purchase. So be it. No reason to make it easy. Will Martinez be next? Why not?
PBF ENERGY, the prospective buyer of Shell's Martinez Refinery, made a very good 'move' recently by holding a meeting at which community leaders, Shell employees and others attended. The purpose was to discuss plans and intentions of the new owners as they come to town. As we would anticipate, many questions were asked and answered.
These are, and will continue to be, 'exciting' times for the community as well as for Shell's employees. The more we can learn now, the better it will be for all of us, especially for employees whose lives are important. Speculation and apprehension are not good for anyone.
I spent nearly 30 years representing Shell in every type of situation. As my first manager in San Francisco told me, as I have stated before, "Bill, when you represent Shell you will never have to be embarrassed to say you represent Shell. We have a great reputation of which we can be proud." Now, some 55 years later, after many contacts locally and elsewhere, I feel the same as that day in 1964. I hope the new representatives coming to Martinez will feel the same..
SPEAKING OF CONTACTS, some more come to mind dating back from the mid-70s. One concerned several calls from nearby neighbors regarding 'yellow globs'. Some cited this 'stuff on windows', another on a lovely blue pickup. After taking a look myself, I asked one of our Lab Chemists to go back with me to see what it might be, thinking that our sulfur plant may have 'coughed'.
My 'professional associate' took some samples to show his wife, another professional who knew lots of good stuff about such things.With our professional assessment in hand we returned to the folks who had called us to report our findings. All were satisfied with the answer.
One gent on the back side of the refinery, the fellow with the pretty pickup, had the most dramatic reaction answering his question, "What have you guys done now?" The simple straight fore ward answer from a professional scientist brought a response of "IT'S WHAT?!?!
"Yes, Sir, it's bee poop!" His next comment was great. "If that's bee poop, I'm going to buy a shot gun because those are the biggest damn bees I've ever seen."
Thanks to the expertise of my associate's associate's expertise, we solved the yellow glob mystery. That time of the year, many bee hives were in the area, thus a lot of the yellow globs did appear from very busy bees. No sulfur!. End of story.
TAKE HEART, those of you who have a DMV visit in your future. Did you read where all DMV offices will close for a half day in July for 'training' to make each employee more efficient in their duties helping the public who need their services. Great decision! But, only a HALF DAY?? The good news is that things have not been as bad as we seem to hear from customers for many months.
Half day of training? OK, but no coffee or rest breaks, ya hear?
DID YOU WATCH the televised 'debates' this week? Interesting, but for those who are not 'into' elections and campaigns, how long before they suffer burnout with still a year to nominating conventions? How long will we all become disgusted with the 'politics' of slamming other candidates? At the same time, we will be 'treated' to the nastiness of tweets from the White House, many probably denigrating the Democrat hopefuls with nicknames, physical fun-making like in 2016 (Little Marco). This time it is already 'Sleepy Joe' Biden. With many more to come. The fight will be between 20-plus well-meaning citizens of widely-varied talent hoping to occupy the Oval Office, and the no-class current occupant whose New York business experiences with his same type has been brought to the public arena, at home and internationally, to the chagrin of us all, except for his so-called base who apparently share his views. Such a shame!
THE MENTION of disasters cannot overlook the humanitarian debacle taking place on our southern border, as we speak. As children from toddlers to teenagers living in conditions unfit for any humans, except those who are disliked by the current administration. To hear about just the soap and toothbrushes situation, alone, makes my skin crawl. Then, to hear that funding has not been available to provide better food, better living conditions, the soap and toothbrushes because of 'appropriation processes' in Congress, or DHS, makes us want to buggy whip those standing in the way of the funding. The hell with process. Someone write a check. Take if from the stupid 'wall account'.
CHEERS to SF Giants Catcher Buster Posey, a symbol of greatness and civility, a clean-cut young professional who came to San Francisco some years ago (who's Buster Posey?) to replace a veteran catcher, also a popular player. He's proven his value to the team. Now, to help youngsters in need of a life-brightener, has given some 1,000 baseball gloves. What a guy!! Thanks, Buster, for who you are and what you have provided our Bay Area community.