By BILL SHARKEY III
Martinez News-Gazette Columnist
BLESSED ARE WE who live in the United States of America. Be we citizens, non-citizens, legal, not legal. We all benefit from the umbrella of security over us by being here. Not many across the globe can say the same and be certain of it day-to-day. Some never have security. With the chaos and craziness almost 24/7 in our nation's capital, and beyond, facing us, we would like to talk about a couple things.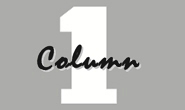 Two events this past week brought into focus how fortunate we are.One event last week. One in the past. One was live. One was history. Both waved the flag for me, a very proud American!
Some 700 folks, including the Sharkeys, were in attendance on a breezy rainy day at Yerba Buena Island on March 2 when the Coast Guard's newest cutter was commissioned. The USCGC Robert Ward (WPC 1130) became part of the Coast Guard fleet to operate in the Eastern Pacific along the coast of the U.S. down to Central America. The namesake of this new 154-foot high-tech Fast Response Cutter (FRC) was Robert Grattan Ward, a Silver Star recipient for heroism during the Normandy Invasion in World War Two on D Day. This newest class of vessel was brought to life to honor a young man responsible for saving crews of two landing craft destroyed in the initial landing on Utah Beach on June 6, 1944. He was 30 years old, a Seaman First Class, from Bridgeport, Connecticut, born September 14, 1916.
After unloading troops from the troop ship USS Dickman, Coxswain Ward was returning from the beach and noticed two landing craft which had been destroyed by enemy artillery, their crews in the raging surf. He returned to the beach through the gunfire, saved the other crews and returned them safely to their ships. He later was selected to attend the Coast Guard Academy, was commissioned and completed his career. He passed away November 4, 1987.
The Cutter Ward is one of 58 planned to honor enlisted personnel heroes recognized for their feats here in the U.S. as well as abroad. Their mission will be the same as all the Coast Guard vessels afloat, including law enforcement responsibilities, unique to their service.
The pomp and military ceremony is always a thrill (and a tear!) for this retired Navy guy. The pride of country. The pride of seeing Old Glory presented, followed by our "Stars Spangled Banner", the ceremonial salutes and honors, all of which we wish all Americans could witness at least once. The experience could make more of us believers in the exceptional nation we have inherited from our Founders. Bless them!
THE BUSH YEARS on CNN is a wonderful story of the Bush family going back to the early days. It is a fun story, one which can be enjoyed by members of any political persuasion for the history and the accomplishments of an outstanding family with which many of us 'lived'.
Watching the family, from before the political aspect, was interesting for those of us who did not know some of the details of who was who, and when. Watching this American family of such prominence grow into a family of even more prominence was fascinating. Watching the progression pf George Herbert Walker Bush from a youngster, to brief college student, to teenage war hero, to early-day political person, to higher political office-holder, to world-class diplomat, to a highest level appointed office holder, then to the top as vice president and to the top elected job in our nation, was so fascinating. Of course, we had known much of the progression, but seeing it happen in minutes in a documentary on TV was great.
While 'we' were not always pleased with George W. Bush and his decisions, we always had warm and confident feelings for "Papa" Bush. He gave us a feeling of confidence because of his quality background starting with his college, Navy aviator war experience, his early days as an office-holder in the House of Representatives, his appointments as UN Ambassador, Director of the CIA, and more. Then, as Vice President, he made his reputation really known.
All the while, the Bush family continued to grow as Jeb became Governor of Florida; George W. became Governor of Texas; all became wealthy in various business ventures, and the others were in the 'picture', but not so prominent. However, the family we saw in family photos appeared to be a happy group.
Barbara Bush did wield the 'gavel' of discipline. No doubt, from all stories told. A great story we heard after her death went like this: George W. was visiting his folks. At one point Mama said, "George, get your feet off the coffee table." Papa Bush said, "Barbara, you can't talk to him that way. He's the President of the United States!" Mama's retort was not recorded, apparently.
This was a happy and informative program which plays again this evening. We enjoyed it and it gave us a nice feeling about good people.
OUR COMMUNITY is so fortunate to be the home of two terrific organizations of history of the city and the county. We have the Martinez Historical Society and the Contra Costa County Historical Society. Both are available to the public to be used and enjoyed. Both also have planned programs of interest on a variety of topics available for the public as well as for members. Good programs and exhibits to enhance out knowledge of who we are and what we have been as a county and community. Suggest you visit and learn.
A recent mailing from the Contra Costa Historical Society was a reprint from February 15, 1969 featuring Golden Spike History, a speaker on the topic by author, David F. Myrick, for a general membership meeting. Of special note for me were some of the officers of the Society.
Society President, Justice A. F. Bray of Martinez; VP Louis L. Stein, noted historian and pharmacist from El Cerrito; Secretary James B. Jory, owner of Morgan's Hardware at Ferry and Escobar Streets; Walter T. Helms, longtime superintendent of schools in Richmond; Bertha Hellum, County Librarian; Ruth Galindo, a prominent civic leader, Concord; Professor Rowland of Reliez Valley. Some other members I could not identify. The impressive list of the leaders of the Society has continued as the resource continues to serve the community at 724 Escobar Street. Open Tuesday, Wednesday, Thursday, 9 a.m. to 4 p.m., and Saturday 10 a.m. to 3 p.m. Call 925-229-1042.
GOODBYE CLIPPERS? Sorry to hear of the legal issues surrounding the Martinez Clippers. As someone said, "It was fun while it lasted!" However, let us hope (pray?) that the Clippers will rise from the dust of the diamond at Waterfront Park and give us back our shot at being a baseball city. The attendance figures for the early day were encouraging. The win/loss record was looking better in the latter days. Let us say we are at a count of 3 balls and 2 strikes? TIME OUT!?!?
GRAND JURY is looking for you! Applications are being sought for citizens 18 and over, residents of the County and willing to spend about 20 hours a week, or more, serve an important service, and keep your mouth shut about what the Grand Jury is doing. A very worthy service to our community. Deadline for application is March 22 for Contra Costa County. Contact www.cc-courts.org/civilgrand-jury.aspx.
Come on, Guys, if you really want applicants, make it easer than that email? How about a simple phone call to someone you can talk to, if you have questions?!? So much for talk-less communications!!! Grrrr!
Grand Jury duty is not only a great civic duty, but a great civic experience. Changes or improvement in procedures and practices can be suggested as the result of Grand Jury hours of study. Give it a try for the community we live in. Make our community a better place to be.
SPEAKING of making our 'community' better, when will 'we' make our bigger community better and toss out the current rambling, incoherent narcissistic scary elected CEO of our nation? For those who heard it live, or hear it later, the unbelievable two-hour 'speech' in front of the Conservative Political Action Conference brought shivers up the spine as we recalled so vividly the hours-long rants of Fidel Castro in his control of Cuba. It seems that we are now beginning to hear much of the same from the would-be wannabe authoritarian "don't cross me' bully in the White House Oval House. Every day we now hear of another illegal move by 'him' or a member of his Cabinet, a staff member or, allegedly, a member of his family. Talk about a can of worms!!! Slimy and slippery best describes our national leadership.
Oh, yes, there is the current scandal regarding security clearances for the 'kids' in the family who were turned down for Top Secret clearances for some reason. Question: why? Who cares if you are Daddy's kid?? You know, the kids with no experience in this business, not sure what the job is, and being in positions which can jeopardize national security big time. Again…when and how do we dump Trump?
CHEERS for all of us who remembered to turn the clock AHEAD one hour last night. For those late to church…sorry!