By BILL SHARKEY III
Martinez News-Gazette Columnist
BUSINESS DOWNTOWN has shown some 'spark' in recent years. However, there is much more to be done to bring it to a viable level attracting shoppers, diners, visitors in greater numbers. Ask any merchant if he or she would like to see many more customers.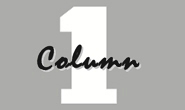 A proposal on the docket for the City to consider seems like something unique to our community, and something which could attract shoppers interested in the outdoors and the equipment which is part of being in the outdoors. The proposal put forth by Brandon Varies, a resident putting considerable money into the downtown, sounds quite unique; not a store like a super market attracting dozens of food buyers each day, but one where a particular clientele can browse, find just the right item, buy it and be off happy.
The uniqueness of the "Off Trail" sporting goods store with its variety of 'outdoor' aspects would be a first for Martinez. One of the aspects of that uniqueness is a proposed indoor below street level shooting range, something which has stirred concern by some of the attendees who took part in a public meeting and expressed those concerns, some of which appeared valid, and some which appeared more emotional than real. However, all had the opportunity to take part in the discussion. That's the way our democracy is supposed to work!
While possible uses could include a practice facility for law enforcement personnel to practice with fire arms, as well as civilians who have guns which they wish to enjoy, all under the supervision of an accredited instructor, as is the case in a number of localities mentioned.
The proposal has been sent back to City Staff for a look-see without the shooting range included.
The idea of a viable new business in Martinez sounds like something worth a very serious consideration without emotional fears involved. There is too much to be gained for the community to allow 'afraid' as a reason to deny the necessary positive action to get the job done.
Incidentally there was a time not too many years ago when the 600 block of Ferry Street was nearly solid liquor establishments. From my newspaper days I recall that 'they' collectively caused more concerns and action by the police department, and many in the community, than an underground shooting range will cause. No fights, brawls or what!
THE MARINA continues to be a major problem for The City, as it has been since the 1950-60 era when it was developed. The new marina replaced an 'ancient' yacht harbor which had many fine craft docked there. It reached the point of much disrepair and not viable. Thus, at a cost of $1,200,000, borrowed from the State of California, a wonderful new marina was designed and built.
Two major problems occurred: insufficient money loaned by the State, and local politicians getting involved in the project where they should have, as the saying goes, "kept the hell out of it." The State caused problems when they loaned us $1,200,000 when 'we', The City, had asked for $1,300,000. The shortfall necessitated eliminating a breakwater wall on the east side (upstream) of the new marina, which would have greatly reduced the silting with which the facility has suffered ever since; now more than 60 years of constant issues with boaters not being able to enter and leave the facility at certain tide levels, and boats sometimes sitting on the mud while docked.
Silting over the years has hampered operations, and has continued making the marina much less desirable than other locations to which boaters have moved. Dredging operations have cost millions of dollars.
Political in-fighting continued as solutions to the silting problem were sought. One longtime know-it-all elected official brow beat others causing delays, requests for more State money and a major fight with a faction of the Chamber of Commerce.
Development of restaurants and other facilities which make marinas attractive have come and gone for several reasons. A firm contracted with to make the marina a successful endeavor has, apparently, not been successful. So, what do we do now?
I was one member of a five-member committee appointed by the late Mayor John Costanza to explore attracting facilities to come here. That was in the late 1950's. The results were not encouraging as the marina was not progressing as had been anticipated. Again, we say, what do we do now after several negotiated changes to the loan borrowed so many years ago?
MORE PUBLIC input is sought by the City regarding the development of a new park for the community. The proposed new park, some nine acres at the former Pine Meadow Golf Course, and future location of some 65 new homes, will be called Traditions at the Meadow, according to a press release we received. It's the result of the agreement of a 'coalition' of several groups on how to develop the former golf course. Wonderful idea to have the community involved in a gathering called a "charette" to begin design proposals for the new park.
Meeting will be at noon, August 10 at City Hall. Public is invited.
HAVE A FAVORITE out of the 20 Democrat contenders for the job of President of the United States? Do you understand the details and specifics of all the health plans kicked around during the two-evening debate sessions? Costs, percentages of people covered, the billions of dollars the public pays for medications, who will be left behind if one plan or the other is adopted by the next president? In the Navy we described these conversations as a 'lash up'.
A couple observations from this humble columnist: Too much time spent on health plans which very few can understand in back and forth spurts of conversations, although terribly important to all of us. Too much Bernie Sanders, Elizabeth Warren, Kamala Harris, Joe Biden and a couple others to the detriment of many others who had something to say. However, under the rules set forth, all was done right, I guess.
As has been said by others before, it will be a long election season, except for some of us 'nuts' who have grown up with politics in our past and find it fascinating. We will take stock of our fervor later!
THE NATION copes once again with a massacre of innocent citizens, this time in Gilroy, a small city having a lot of fun at its annual Garlic Festival. Three killed, many injured, many traumatized, many families impacted forever. Why? Why did a nineteen-year-old decide this was something he needed to do? What could have changed his mind? How many others like him are running around needing help? The scary answer: Way too many! But, what is the answer, the remedy?
CHEERS to Kinders, a very popular eatery in the county, for its recognition of active and retired military personnel with a 15 percent discount on purchases. A very nice gesture we appreciate as a retired Navy guy for some 44 years. Any others we missed?