By BILL SHARKEY III
Martinez News-Gazette Columnist
ITALY had 'Il Duce'. Germany had 'Der Fuehrer'. The United States has 'The Donald'. The first two took over their countries with a terribly cruel hand with proclamations, edicts and executive orders. Then they destroyed their nations in World War Two. Their inhumanity to man, their citizens and others, continues to live in infamy. Thanks to our nation and its allies, the two autocratic dictators were defeated and the world was saved from the two tyrants and their followers.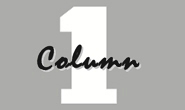 The admiration for autocrats ('strong leaders') is espoused repeatedly by 'The Donald', much to the concern, distress and anguish of many in this nation. Except, we are finding, the Republican members of Congress and the Make American Great Again (MAGA) devotees who continue to hoot and holler at the too-many rallies in selected areas.
Who's watching the 'hen house'? Is there not a leader of this nation with intestinal fortitude? No one with the guts to call out 'The Donald' as he struts about issuing executive orders, proclamations and total lies each day? What is happening is we (all of us!) are allowing a modern-day autocrat to continue plowing his way across the countryside stomping on the Constitution to suit his impulses and his wishes to do harm to certain groups with which he is unhappy. How can we, Mr. and Ms. Citizen, allow this to happen? How do we stop this narcissist who has, in a year and a half, brought more chaos, turmoil, division and unhappiness than this wonderful nation has ever experienced, across all spectrums of society. And he continues to do so many bad things all the while leading his non-thinking cheering sections with his stupid juvenile-like hand clapping.
Of course, there are those who quickly point out what a great job he has done with the economy. " Look at the stock market," they say. "And, look at employment", they continue. "How about the big deal tax program he got Congress to pass?" (Who appears to be benefitting?)
Then there are those ugly programs being planned or put in place to ruin the environment! Cutting back on any and all Obama programs which were designed to make our country cleaner, safer, more healthy and more pleasant. Oh, and don't forget the monstrous immigration fiasco pulling families apart; some are here, some are back south of the border, and will they ever get together under the ill-planned (if at all!) program. If I were a parent who did not know where my child (of all ages) was I would be more than distraught and frantic. However, we still get assurances from the politically-appointed bureaucrats (most with no other qualifications than their large donations to the GOP!) that all is well or, if not right now, it will become well soon. We can only hope so for the sake of those undocumented persons who migrated north looking for escape from terror and poverty in their home lands.
Interesting 'twist' this past week about the circumstances with Melania Trump's parents receiving citizenship. While we wish them 'welcome' to their new home, they are one of the 'chain immigrants' which their uncaring son-in-law has blasted as being undesirable…that is allowing family members to come here on the 'shirt tails' of those already here.
Then, someone had the audacity to inquire/question the First Lady's presence in the good old USA. She is pretty and adds class to the ugly administration, which does need a lot of class. But, what was the controversial message on the back of 'the jacket' recently on a trip?
As was pointed out in a recent editorial in the S.F. Chronicle, "The march to autocracy can be step by step." As the authors of a book, "How Democracies Die", stated, "Often the assault on democracy begins slowly." Is 18 months of chaos, turmoil and lies 'slowly'?
P.S The Oval Office Bully's two very close associates, "They are very good people and are being treated terribly," are guilty. One was found guilty by jury verdict; the other plead guilty. Both faced very serious felony charges, and lost. There are still more charges to come from a "fake witch hunt', as proclaimed by their elected leader and promoter. When does the old lady on the broom come flying across the White House?
MARTINEZ ELECTION season has begun. It looks like it could become a 'spirited' time. Contentious letters to the editor have already begun. However, there will be more as there are strong feelings from the previous election cycles. Perhaps justified? Remember, we are a rather small but strong community with 'feelings'. (As I grew up here, I always remember the "be careful what you say about someone, because we are all related.) So true, but not so much as yesteryear. Now, just say it, unless you have a 'dog in the fight' that you don't want hurt. We all have ideas. We all have friends. We all have favorites. But, we all really need to take part for the betterment of, not only our city, county, state, and nation, but the world is really looking toward us now with so much uncertainty because of the confusion and chaos "AT THE TOP".
It will be interesting to know which voting district we are now in. Then we can begin being serious about candidates and their ideas. Meanwhile, the County Elections Department has notified some in the city that they will be receiving mail-in ballots, and will not have a polling place assigned to them, necessitated by requirements of the new by-district polling. Mail-in ballots can always be dropped off at any polling place, officials reminded voters. As usual, there are unhappy voters who have voiced their unhappiness to elections officials.
WILLOW STREET has some neighbors very unhappy with the proposed construction on the 'Detention Center' right across the street. Too close, they say. Also too high. What to do?
CHANGING THE NAME of Alhambra Park at Alhambra Avenue and Marina Vista to honor the late Mayor John Sparacino sounds like a great idea. Too many Alhambra this and that things and places now. John was a favorite of ours. He was a dedicated citizen and leader.
Will it become John Sparacino Park? Johnny Sparacino Park? Sparacino Park? Mayor John Sparacino Park? Mayor Sparacino Park? Which ever, it will be appropriate and noteworthy.
OUR TOWN lost a well-known and loved citizen recently with the passing of Mary Rangel at age 97, after a very full and active life. She was part of a large extended family, and devout church member. She was a widely recognized cook who shared her 'goodies' with many. During WW Two she worked at the Benicia Arsenal. A more recent activity was participating in the San Francisco Giants 5K run at age 91. She was quite the lady as mother, grandmother and great-grandmother. RIP, Mary Rangel.
SEA SCOUT SHIP Albatross' crew provided a community service recently when it built and presented a new sign to Martinez Bait and Tackle Shop at the Martinez Marina. A nice gesture from a group of young people whose ship and crew have been a part of the waterfront here for many, many years. I had friends who were members in the 1940's. A wonderful organization as part of the Boy Scouts of America. (A good photo in Wednesday's Gazette.)
CHEERS again to the City Council which is pushing ahead with work on streets and roadways. Traveling on some 'new' streets is great. Our nerves and vehicles will all last longer. Thank you, City Council! and Staff.